White House Looks to Harden Farm Country Against Climate Change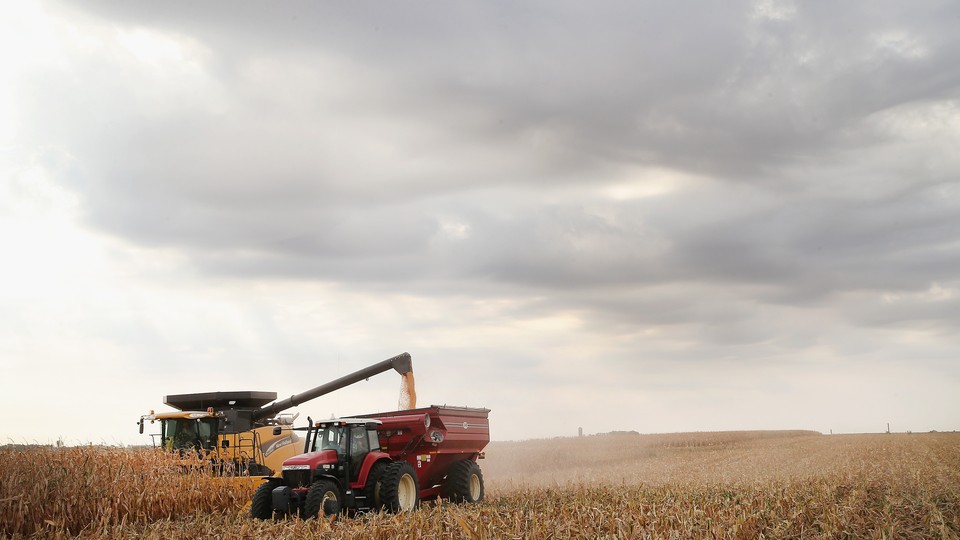 The Obama administration is creating seven regional organizations--dubbed "climate hubs"--designed to help farmers and rural areas adapt to drought, increased fire risks, and other problems linked to global warming.
Wednesday's announcement of the Agriculture Department-led hubs is part of the White House's efforts to use executive actions to battle climate change. The White House is promoting the initiative, and Agriculture Secretary Tom Vilsack will tout the effort at Wednesday's White House press briefing.
" 'Climate Hubs' will address increasing risks such as fires, invasive pests, devastating floods, and crippling droughts on a regional basis, aiming to translate science and research into information to farmers, ranchers, and forest landowners on ways to adapt and adjust their resource management," an Agriculture Department summary states.
The "hubs" will be in Colorado, Iowa, New Hampshire, New Mexico, North Carolina, Oklahoma, and Oregon. And there will be "sub hubs" in California, Michigan, and Puerto Rico.
The hubs are designed to provide information to farmers, forest owners, and ranchers about ways to reduce risks and help link them "climate forecast data," among other services.
According to the summary, they're envisioned as a place that draws together various strands of information and expertise.
"They will ... link a broad network of partners participating in climate-risk adaptation and mitigation, including universities; nongovernmental organizations; federal agencies such as the Department of Interior and the National Oceanic and Atmospheric Administration; Native Nations and organizations; state departments of environment and agriculture; research centers; farm groups and more," the Agriculture Department said.
The changing climate is high-stakes business for farmers and the public they support, officials emphasized. Fire seasons are much longer than they were 30 years ago, while drought cost the U.S. $50 billion between 2011 and 2013, according to the department.
"If we are to be effective in managing the risks from a shifting climate, we'll need to ensure that our managers in the field and our stakeholders have the information they need to succeed," Vilsack said in a statement.
The announcement follows this week's congressional approval of the massive farm bill.