When It Comes to Weed, Wendy Davis Has Company
She was just one of three gubernatorial candidates to back marijuana reform this week. Even the GOP is getting into it.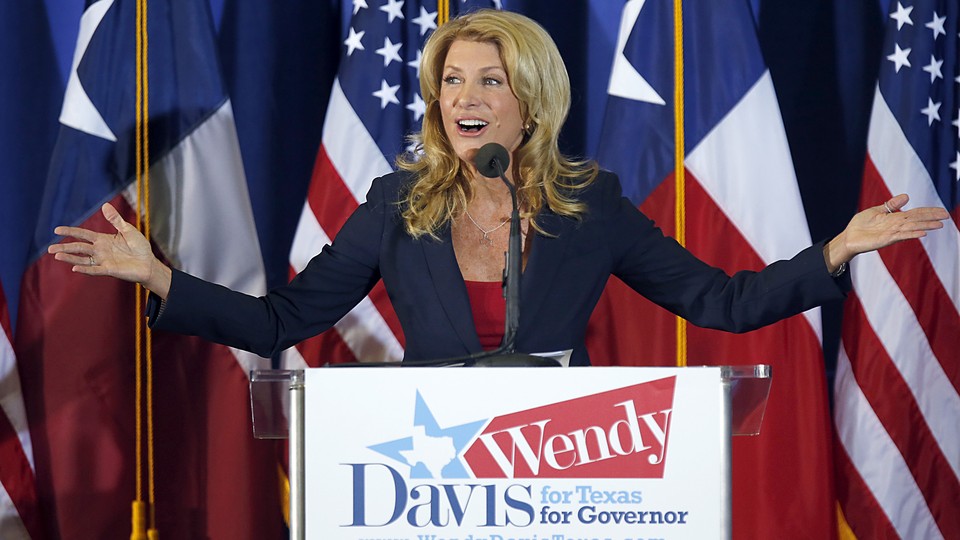 Texas gubernatorial candidate Wendy Davis, she who may or may not be able to "Have It All," made headlines Tuesday for her vocal support for medical marijuana and easing the legal penalties associated with possession of small amounts of the drug. Her views sound a lot like what sitting Texas Gov. Rick Perry said at the World Economic Forum in Davos, Switzerland, last month when he highlighted his work toward decriminalization (currently marijuana possession is a class B misdemeanor punishable by fines and jail time).
"I do believe that Governor Perry's approach is a reasonable approach," she told the Dallas Morning News, "that we as a state need to think about the cost of that incarceration and, obviously, the cost to the taxpayers as a consequence of it, and whether we're really solving any problem for the state by virtue of incarcerations for small amounts of marijuana possession."
Sure, the drug is already legal for medical purposes in 20 states and the District of Columbia and fully legal in Washington and Colorado. But the fact that reform is resonating in Texas, a state known for its ornery conservative ethos, is something of a victory for advocates. (Davis's Republican opponent Greg Abbott is in favor of the status quo.)
Another victory? In Maryland, gubernatorial hopeful Lt. Gov. Anthony Brown just came out in favor of decriminalizing the drug, calling the state's marijuana laws "costly, ineffective, and racially biased." Brown's decriminalization remarks came at the prompting of one of his primary opponents, dark-horse candidate Heather Mizeur, who's made full legalization a centerpiece of her campaign. The Maryland Marijuana Decriminalization Act, which would reduce penalties for carrying an ounce of the stuff to a $100 fine, will be coming up for a vote, and Mizeur, who introduced the measure in her capacity as a Democratic state delegate, wanted Brown to weigh in. Mizeur said Monday Brown's words are not enough: "If he truly cares about the people who are currently negatively impacted by our marijuana prohibition laws, then I expect him to accept my invitation to put politics aside and join me in testifying in favor of this legislation at the bill hearing."
And in Pennsylvania, gubernatorial hopeful Rep. Allyson Schwartz, the front-runner in the race for the Democratic nomination, said she supports medical marijuana and would be open to decriminalization (her primary opponent is for full legalization, but unlikely to win). "I do believe that marijuana is over-criminalized. And what we should do is decriminalize possession," Schwartz said.
This at a time when, as Dave Weigel noted in Slate, an increasing number of conservatives are getting ready to shed the GOP's law-and-order image. Late last month, the Senate Judiciary Committee approved the Smarter Sentencing Act, cosponsored by Sen. Mike Lee, R-Utah, he lawmaker who gave the tea party's response to President Obama's State of the Union address this year. And Sen. Rand Paul's recent speech railing against the criminal-justice system was surprisingly warmly received by more traditional conservatives.
Off the Hill, sitting governors are getting smart to the idea of reform: Charlie Crist recently endorsed the medical initiative in Florida, calling it an "issue of compassion"; New Jersey's Chris Christie in his second inaugural address last month slammed the war on drugs; Bobby Jindal said he'd consider legalizing medical marijuana in Louisiana; and Oregon Gov. John Kitzhaber described legalization as "inevitable."
"It's nice to see so many politicians finally starting to realize that marijuana reform is a political asset and not a liability," said Tom Angell of the pro-legalization group Marijuana Majority. "For too long, elected officials who supported changing marijuana laws kept their thoughts to themselves."
{{ BIZOBJ (video: 4721) }}