Wanted: A Super-PAC Sugar Daddy to Back a 2016 Presidential Run
The invisible primary isn't just about lining up top donors anymore—would-be candidates are seeking mega-donors who can bankroll independent-spending groups, too.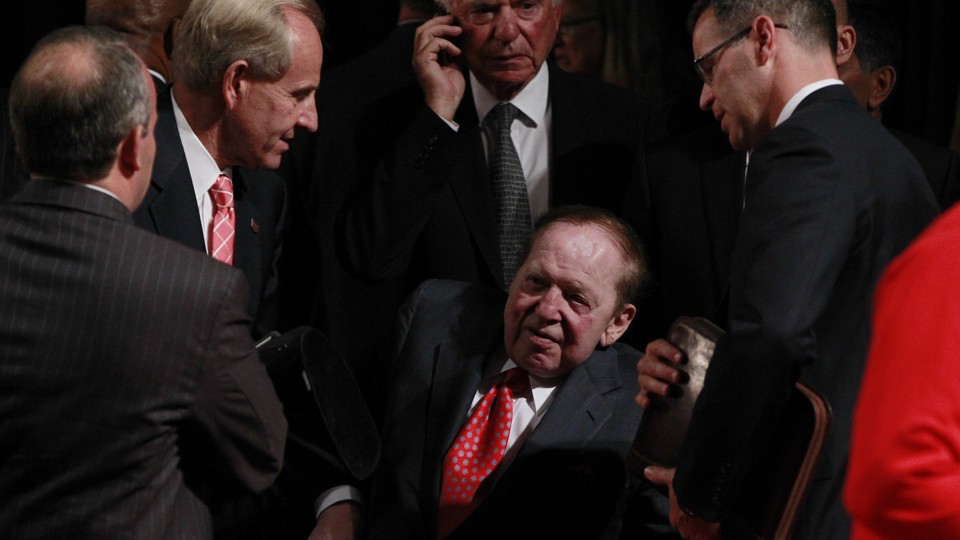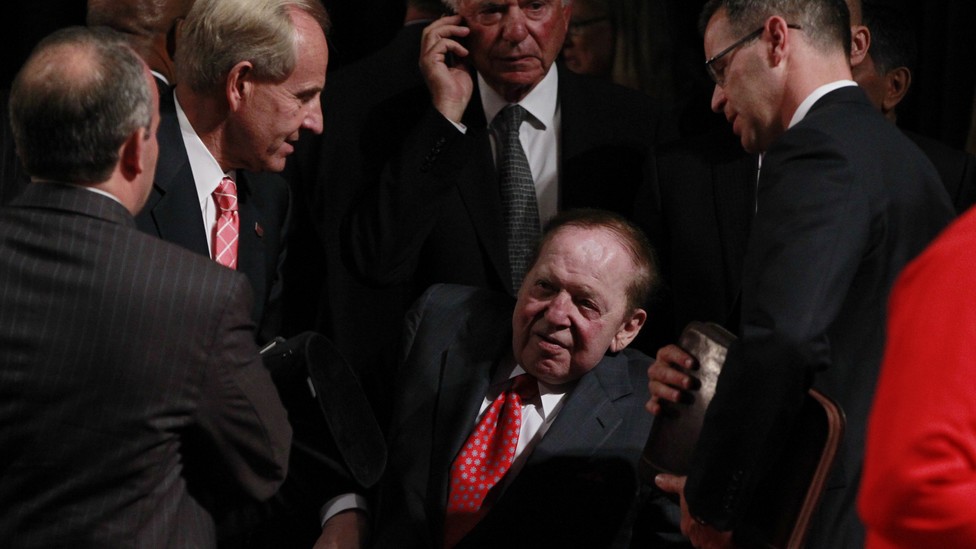 Forget Des Moines. The epicenter of the 2016 Republican presidential campaign last week was in Dallas.
Harlan Crow, the real-estate magnate and conservative financier who calls the city home, arrived there fresh from watching the Super Bowl in New Jersey Governor Chris Christie's private box. On Tuesday, Wisconsin Governor Scott Walker flew into town for a reelection fundraiser at Crow's $24 million mansion. Later in the week, Senators Ted Cruz of Texas and Rand Paul of Kentucky shared a flight from D.C. to Dallas—and then bumped into each other outside the office of one of the city's GOP donors whom they were both wooing.
"Rand and I are good friends," Cruz said, "and we run into each other a lot."
Two years before any primary votes will be cast and long before any official campaign launches, Cruz, Paul, and others are already crisscrossing the country to win the hearts and wallets of the wealthiest Americans.
The race for a 2016 super-PAC sugar daddy is on.
"If I were running, I would think: Who is likely to want to fund a super PAC?" said Roy Bailey, a Dallas Republican who served as national finance chairman of Rudy Giuliani's 2008 presidential run. "A lot of people are financially capable. But who likes to play the sport? And who would be able to do it? I'd be all over 'em."
The rise of super PACs has amplified and accelerated the quadrennial donor chase. Candidates now know a single billionaire can make or break their fortunes—as they saw in 2012, when mega-donors Sheldon Adelson and Foster Friess propped up the candidacies of Newt Gingrich and Rick Santorum.
"You may want to just wear logos if you're running for president: 'sponsored by so-and-so.' I mean it's going to get to be like NASCAR where everybody should put logos on your suit," said Senator Lindsey Graham, R-S.C., who, of course, has a super PAC dedicated to reelecting him this year.
"Basically, if you can get an ideologically aligned rich person who believes in you ... and they want to be a player in politics, you can keep a campaign going as long as the guy's willing to write checks," Graham said. "Which changes everything."
GOP political fundraisers and strategists said that Walker, Cruz, Paul, and Christie have been among the most active and consistently aggressive in nationwide donor outreach in the last year. It is a matter of supply and demand: There are a lot of GOP presidential hopefuls and not so many moguls with a history of investing in political campaigns.
"There are a very few number of major finance bundlers and donors that can swing elections," said Jim Lee, a national finance cochairman of Texas Governor Rick Perry's 2012 presidential campaign. "You're really talking about less than 400 or 500 people in the country who, including bundling, can account for 80 percent of the money. It's a very narrow universe."
The Ricketts family—including Joe Ricketts, founder of TD Ameritrade, and his politically active son, Todd—is in that universe. Among those GOP politicians who have found time to meet with the Ricketts family in the last year, according to a person close to the family: Christie, Cruz, Paul, Walker, 2012 vice presidential nominee Paul Ryan, and former Florida Governor Jeb Bush.
One event that is penciled into many 2016 aspirants' calendars is the March leadership meeting of the Republican Jewish Coalition, a gathering of some of the wealthiest GOP donors in the nation. The group's board includes Republican rainmakers such as Adelson, investor Elliott Broidy, hedge-fund manager Paul Singer, and Wayne Berman of the Blackstone Group, among many others. The gathering is held at The Venetian, Adelson's Las Vegas hotel. Among the expected attendees: Bush, Christie, Walker, and Ohio Governor John Kasich.
"It's like the early bird always gets the worm. The early courtship usually pays off," said Ken Duberstein, a former chief of staff to President Reagan and current chairman of the Duberstein Group, one of Washington's leading lobbying firms. "People like being cultivated, being reached out to, flattered."
So there was Friess, Santorum's biggest backer in 2012, attending the State of the Union as Ted Cruz's guest.
Had Friess flipped allegiances? "I'm a Rick Santorum guy through and through," Friess assured Fox News' Neil Cavuto. When Cavuto asked if he ever tired of all the Republicans "sucking up" to him, Friess let out a belly laugh. Then he rattled off all the prominent Republicans with whom he had had a recent audience: Cruz, Paul, Walker, Indiana Governor Mike Pence, and Louisiana Governor Bobby Jindal. The goal for all those Republicans, if they run, is clear: to limit Friess' willingness to spend against them, if Santorum is in the 2016 field.
The contours of the 2012 Republican primary are fresh in the mind of every GOP strategist plotting a potential 2016 campaign. They watched as front-runner Mitt Romney was unable to bury Gingrich or Santorum because super PACs funded by Adelson and Friess, respectively, paid for enough television ads to keep those candidates afloat.
"Those two men alone were single-handedly able to keep those candidates' campaigns alive longer than they would have been in 2008, when super PACs didn't exist," said Sarah Huckabee Sanders, who served as political director for the 2008 presidential bid of her father, former Arkansas Governor Mike Huckabee, and as a senior adviser to Governor Tim Pawlenty during his short 2012 run.
These days, Huckabee Sanders is helping lead the American Principles Fund, a super PAC seeded with nearly $400,000 from Sean Fieler, a New York hedge-fund manager. There is talk the group could morph into a pro-Huckabee super PAC, if he were to run again.
Huckabee Sanders said her super PAC "wasn't set up and created for the purposes of trying to establish relationships with donors for a potential 2016 campaign" but to support socially conservative candidates now. "We feel like a lot of Republicans have avoided social issues because they think they are losing issues," she said. "We disagree."
Cash shortages plagued Huckabee in 2008, and the former governor told The New York Times in December that the rise of super PACs would be a factor in his decision to run again. "I've jumped in a pool without water before and it's a hard hit at the bottom," he said.
Other potential 2016 candidates have set up fundraising apparatuses that keep them in touch with the donor class. Allies of Perry, who is winding down his time as governor, have established a 501(c)(4) nonprofit, Americans for Economic Freedom, that could be a vehicle to support a Perry 2016 run.
Candidates crave any kind of pretense to meet with wealthy donors other than overt (and nakedly self-serving) 2016 politicking. Veterans say such ambitions are best left unsaid.
So when New York Jets owner Woody Johnson, one of Romney's biggest financial backers, opened up his home for a Republican National Committee fundraiser last fall, a huge portion of the potential 2016 field—Christie, Ryan, Paul, Walker, and Senator Marco Rubio of Florida, among them—made sure to show up to schmooze.
Rubio said his donor outreach is about raising money to influence "three or four" key 2014 races. "We certainly meet with a lot of people that are interested in limited government and free enterprise from the perspective of our PAC and the efforts we're undertaking," Rubio said. "So I'm meeting with people as part of that."
GOP strategists say Christie, even with the ongoing traffic-jam scandal, has an advantage in wooing the donor class as the chairman of the Republican Governors Association this year. It's his job to court big GOP contributors. So when Christie invited Harlan Crow and Paul Singer, among others, to his Super Bowl suite, he could legitimately argue he was doing so for the good of the Republican Party. Christie also recently completed an RGA fundraising swing through Texas and Illinois.
"The governor's clearly-stated purpose for 2014 is fundraising for the RGA," said Bill Palatucci, a Christie confidante and former law partner, who was at the Super Bowl suite himself. As for 2016, Palatucci declined comment. Christie is "very clearly sticking to his knitting, and the future will take care of itself," he said.