Video: Ronald Reagan's Press Conference After 'Bloody Thursday'
An angry governor shows no patience for his critics following a confrontation between Berkeley students and the National Guard.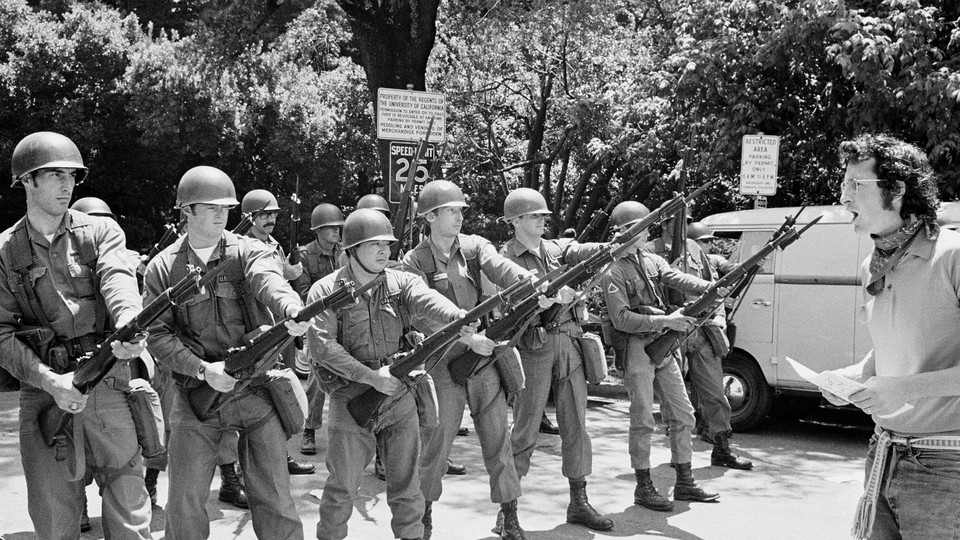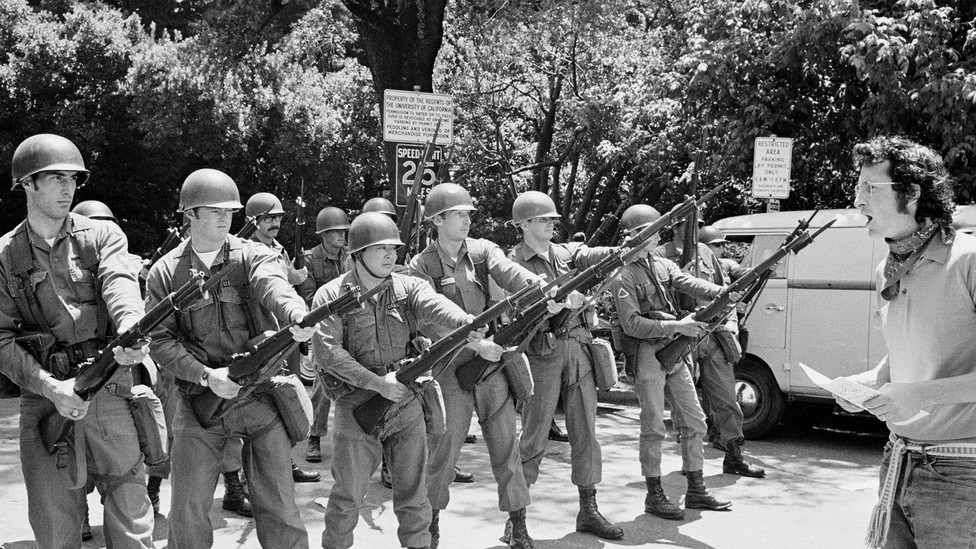 This article is the 10th in a series featuring clips from the American Archive of Public Broadcasting, which is working to digitize television and radio pieces so that they may be preserved for years to come. For more about the project, see our introduction to the series, where you'll also find a handy list of all the series' pieces so far.
---
May of 1969 was a terrifying and unsettling time for students at the University of California, Berkeley. Activist efforts to turn an unused plot of university land into a park, "People's Park," were met with, at first, mild bureaucratic resistance, but tensions soon escalated, and, ultimately, Governor Ronald Reagan decided to break up a rally by sending in California's National Guard.
As the university explains in a guide for students today:
The rally, which drew 3,000 people, soon turned into a riot, as the crowd moved down Telegraph (Ave.) towards the park. That day, known as Bloody Thursday, three students suffered punctured lungs, another a shattered leg, 13 people were hospitalized with shotgun wounds, and one police officer was stabbed. James Rector, who was watching the riot from a rooftop, was shot by police gunfire; he died four days later.

At the request of the Berkeley mayor, Governor Ronald Reagan declared a state of emergency and sent 2,200 National Guard troops into Berkeley. Some of these guardsmen were even Cal students. At least one young man had participated in the riots, been shot at by police, gotten patched up, and then returned to his dorm to find a notice to report for guard duty. In the following days approximately 1,000 people were arrested: 200 were booked for felonies, and 500 were taken to Santa Rita jail.
Soon thereafter, a hostile, contemptuous Reagan hosted a press conference on the incident, which San Francisco's KQED televised. The broadcast has now been digitized for preservation, and a portion of it—enough to convey Reagan's mood—has been provided to The Atlantic as part of our series on the history of American public media.
According to James Day, author of The Vanishing Vision: Instead the Story of Public Television, "City and university officials later cited KQED's extensive coverage of the crisis, and particularly coverage of the crucial council meeting [a meeting lasting for many hours that occurred in the days following Reagan's press conference], as a critical factor in the dispute's peaceful outcome."