U.S. Calls Out Gay-Rights Violators Around the World
Violent quelling of protests and antigay laws highlighted in the State Department's annual report.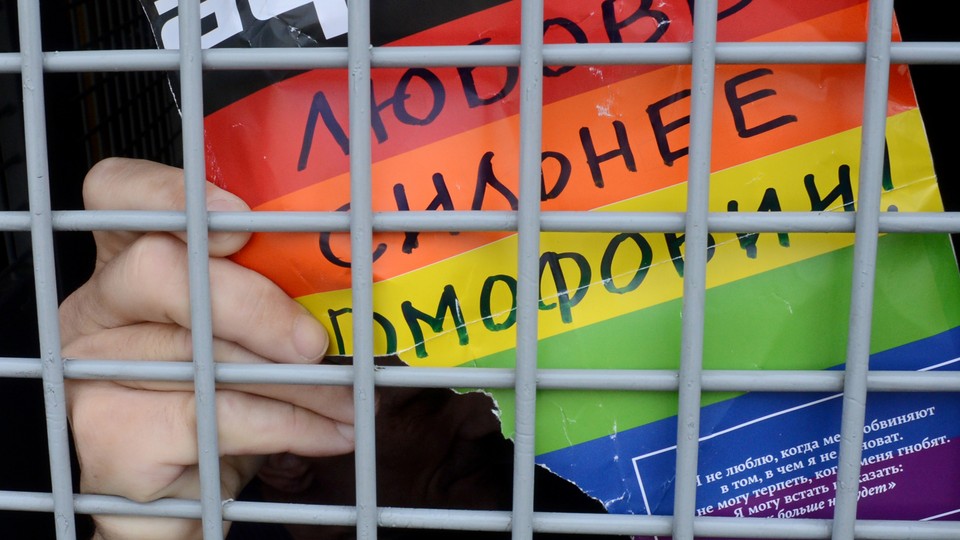 The United States is putting nearly 80 countries on notice: If you take away the rights of members of the LGBT community, there are consequences.
In announcing the State Department's annual report on human rights, Secretary of State John Kerry highlighted the persecution of same-sex persons around the world, especially in light of a bill signed by Uganda's president that criminalizes homosexuality.
"These laws contribute to a global trend of growing violence," Kerry said Thursday. "They are a front to every reasonable conscience."
Kerry further called for a world "where professing one's love does not lead to persecution."
Violations against same-sex rights have been a priority for the U.S. in recent years, which particularly came into focus in the run-up to the Winter Olympics in Sochi. Russian law "effectively criminalizes public expression and assembly for anyone who would advocate LGBT equality," the State Department report says. The report also goes after other nations for criminalizing same-sex sexual activity in African nations such as Nigeria, Uganda, Cameroon, and Zambia.
Kerry detailed these violations, along with others seen around world, especially in nations that are superpowers. It's hard for the United States to ignore its strategic relationships with countries such as China and Russia, as both are key players on economic and diplomatic issues. But they are also two of the worst violators of human rights.
China is criticized for its tight control of the Internet and for breaking up protests that criticize government corruption. Russia, for its part, is criticized for going after government opposition, while also violating the rights of religious and ethnic minorities, and the LGBT community.
This report, required by law, is often used by Congress to make its decisions on whether to pass sanctions or provide aid to other nations. Kerry conceded that there's even an "ongoing struggle" here in the United States, listing LGBT rights and equal treatment of women.
"We don't speak with arrogance but concern for the human condition," he said.
What should be concerning for the U.S. is that several nations the Obama administration has expressed faith in continue to violate human rights, including the new nation of South Sudan and an increasingly unstable Egypt, which the State Department notes has used "excessive force" to quell antigovernment protests.
Kerry also mentioned Ukraine; even before it was in the news for cracking down on pro-European Union protests, the Ukrainian government was increasing its pressure on civil society, journalists, and protesters, he said.
Obviously, the report cited the usual suspects, including the alleged use of chemical weapons by the Syrian government and the continued oppression by the governments of North Korea, Cuba, and Iran. The State Department calls these violations "deplorable" and does not detail any progress in these places. On Iran, officials say there has been "little meaningful improvement in human rights from the Iranian government" since President Hassan Rouhani took office.