Tracking Voters in Real Time in Colorado
The state's "electronic pollbook" makes the precinct system obsolete.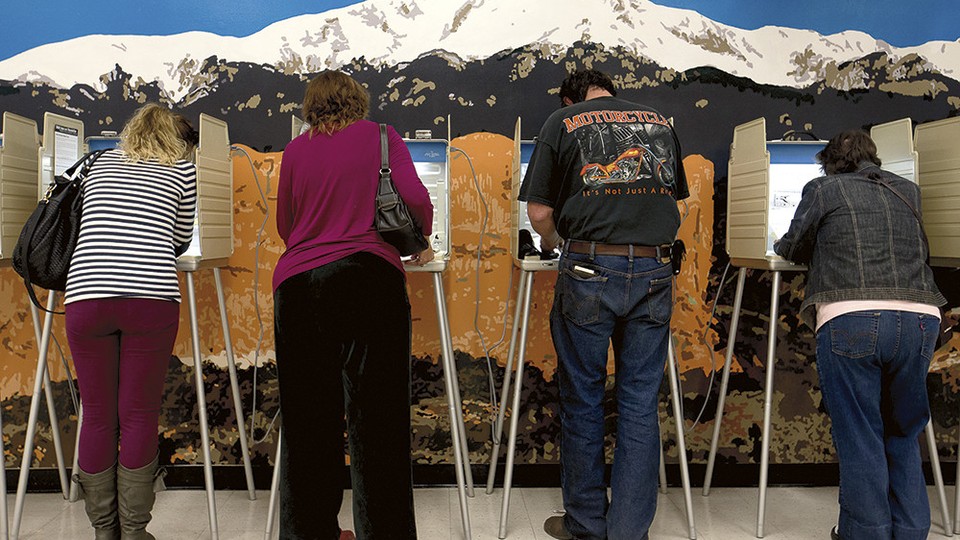 Hoping to make voting accessible without opening the door to fraud, Colorado is turning to technology.
In 2013, the state Legislature created Colorado's own "electronic pollbook," a new real-time voter-tracking system that allows the state to combine an all-mail election with traditional in-person voting, maximizing the opportunities for residents to cast ballots.
Colorado already had a robust vote-by-mail system — about three-quarters of the state's voters mailed their ballots in 2012 — but now, every registered voter in the state, including previously "inactive" voters, will receive a mail ballot in upcoming elections. Yet unlike in Washington state or Oregon, which run all-mail elections, Coloradans can still vote in person if they choose.
Instead of being tethered to a local precinct, voters can cast ballots or return their mail ballots at any "voting center" in their county, where poll workers can check them in using the real-time connection in the new e-pollbook to ensure they haven't already voted using a mail ballot. The process is spread over a couple of weeks of early voting and Election Day itself to reduce crowding and wait times at polling places.
Colorado's new law also contains more provocative elements, including allowing Election Day voter registration, which led to party-line votes in the Democratic-controlled Legislature. But supporters say the e-pollbook mitigates security concerns typically associated with same-day registration.
"We've never had [same-day registration] in Colorado, and that frightened the clerks who'd have to deal with it because we knew our precinct-based system couldn't make sure a voter hadn't voted someplace else," says Donetta Davidson, a former Republican secretary of state who is now the executive director of the Colorado County Clerks Association.
Putting real-time voter info at the administrators' fingertips allayed those fears and allowed them to abandon the precinct system. At the voter centers, "we can look them up live," Davidson said, whether to cancel an unused mail ballot and issue an in-person one or to find out if someone had voted in another county already.
"I don't know of any other state doing this," Davidson said. "And a lot are really interested in what we're doing."
Not everyone in Colorado is as complimentary of the state's efforts, especially current Secretary of State Scott Gessler, the Republican in charge of administering Colorado's elections. He says that although the e-pollbook has "potential," he hasn't gotten the money to implement it properly to handle the huge usage spikes during elections.
Mostly, Gessler contends that the new law was unnecessary and, especially on residency requirements, introduced security holes into an election system that was working fine. "When it comes to vote fraud and security, the electronic pollbook works great to stop people voting twice using same name," Gessler said. "But it doesn't stop someone from voting in a 'district of convenience' or voting twice under two names."
"What was the burning problem that Colorado had? If you look at our voter turnout in 2012, under my purview, we were one of very few states that saw an increase" while others dropped off compared with 2008, Gessler continued. "So what's the motivation for these massive rewrites of Colorado election laws with no support from the other side?"
The new law got its first real trial run at the end of 2013, when Coloradans held local elections and voted on statewide ballot measures. Turnout rose considerably since the last comparable election in 2011, although growing voter rolls and intensity over issues like fracking and taxes could have more to do with that than the new election procedures. Davidson said the clerks thought voting went well.
Colorado already performed near the top — though not in first place — in the Pew Charitable Trusts' Election Performance Index, which measured a broad range of data on election administration in 2008 and 2010. Data coming in over the next few years will help determine how much Colorado's technical innovations will affect both participation and security in the state.