Top Dems Grapple for Waxman's Post
Eshoo and Pallone square off for top Energy and Commerce job.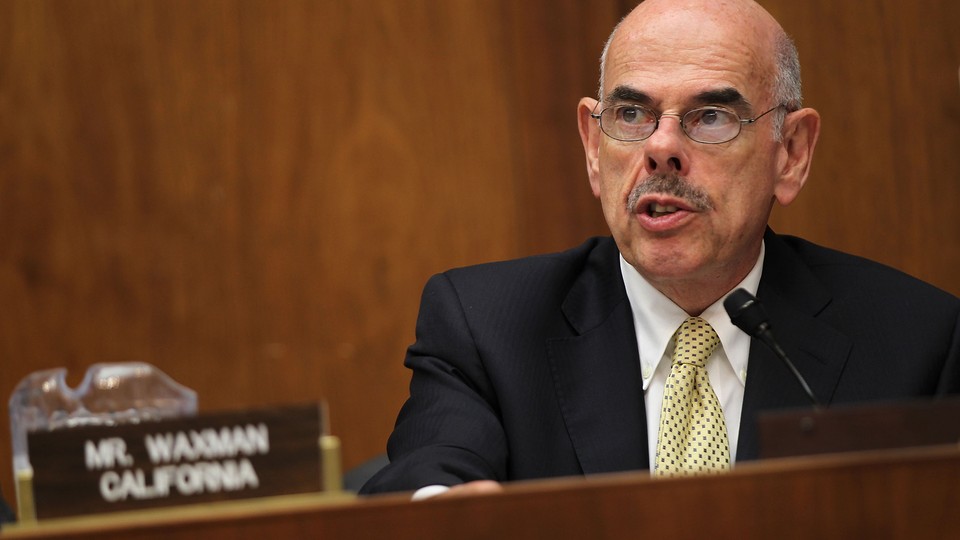 Two senior House Democrats announced Monday that they both want their party's top job on the powerful House Energy and Commerce Committee, setting up a showdown to replace Rep. Henry Waxman.
Rep. Anna Eshoo, who represents much of Silicon Valley and is a close ally of House Minority Leader Nancy Pelosi, and Frank Pallone, a New Jersey Democrat who has focused on environmental and health issues, both are gunning for the position. Waxman announced last week that he will retire at the end of the term after 40 years in Congress.
Pallone, the more senior of the two lawmakers, said he has begun calling his colleagues about the job, while Eshoo said she has received the "encouragement of members of the committee and the caucus to seek this position."
In a statement, Eshoo said the panel, which handles a sweeping array of policy issues including telecommunications, energy, and health care, is the "Committee of the Future."
"It is key to shaping America's future, just as my Silicon Valley congressional district is," she said.
She is currently the ranking Democrat on the panel's subcommittee on Communications and Technology, which oversees the Federal Communications Commission and deals with other technology issues.
She is close with technology giants including Google and Facebook, and a vocal supporter of issues important to them like net-neutrality regulations.
Pallone, a 13-term lawmaker, has focused heavily on environmental and energy topics. He's currently the top Democrat on the panel's health care subcommittee.
Pallone is an ally of green groups who has long battled to prevent drilling off the Atlantic Coast, and has called for reinstating a tax on oil and chemical companies to help pay for Superfund cleanups.
Ascending to the committee's top slot would thrust Pallone into battle with Republicans seeking to dismantle or greatly soften White House climate-change policies, especially planned carbon-emissions limits for power plants.
In a statement, Pallone said Democrats should pick a "leader with strong relationships on both sides of the aisle."
"Even in the often divided climate of the last several years, I have worked to find common ground with my colleagues to get things done because I believe that our government can still do good things that will help Americans and make our nation even stronger," he said.
Another possible candidate for the post is Rep. John Dingell, the longest serving member of Congress in history and the former chairman of the committee who was ousted by Waxman in 2008.
In a statement, Dingell left the door open for a possible run at his old job.
"I look forward to continuing to give this thoughtful consideration, speaking with my colleagues upon my return, and from there I will find the absolute best ways in which I can serve the people of Michigan's 12th Congressional District," he said.
Ben Geman contributed