To Change How We Look at Women, Change How We Look at Men
Sheryl Sandberg's new photo partnership aimed at depicting women in more empowering ways features a lot of men. Men with Baby Bjorns, that is.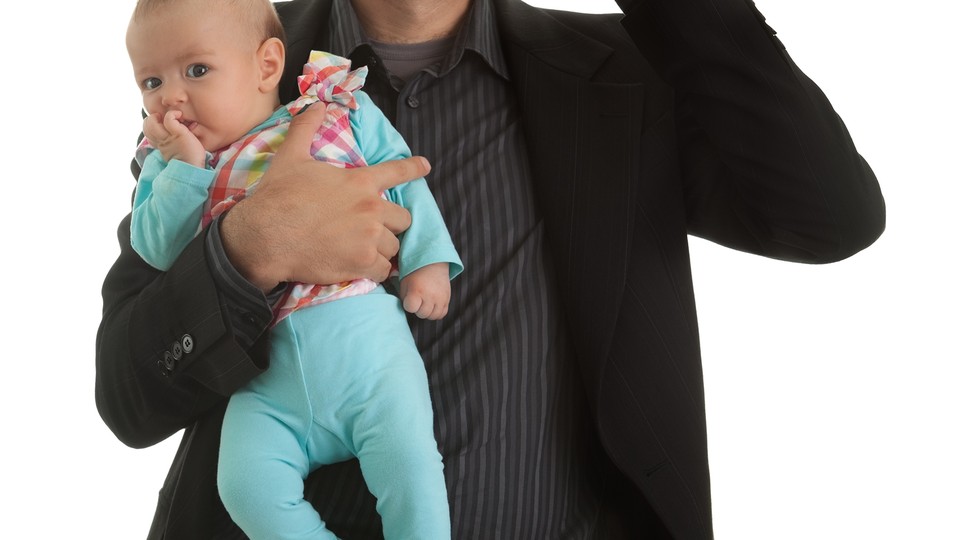 Any bloggers who've ever tried to pair a stock photo with a story know the limits of the genre. There's the cheery woman serving her blond children breakfast in a sunlit kitchen; the woman in a black power suit, climbing the cold stone steps of careerism; the woman at her desk juggling a baby and a laptop, maybe also a spatula.
Feminist bloggers have enjoyed poking fun at these hackneyed images for quite a while now (think Edith Zimmerman's "Women Laughing Alone With Salad" classic in The Hairpin or Emily Shornick's compilation of pseudo-feminist stock photos in The Cut). Now it's reached the attention of people inclined to do something about it.
On Monday, Sheryl Sandberg's organization, LeanIn.org, announced a partnership with Getty Images, one of the biggest providers of stock photos, aimed at depicting women in more empowering ways. "When we see images of women and girls and men, they often fall into the stereotypes that we're trying to overcome, and you can't be what you can't see," Sandberg told the The New York Times. (Note: Getty provides most of the editorial photos used by National Journal.)
There are 2,500 photos in the collection and a lot of attention has been paid to the women who've been portrayed as soldiers, painters, and weight lifters, tattooed and wrinkled and covered in sweat. But just as important to the project, and so far largely ignored, is the role of men. One photo portrays a dad with his daughter thrown over his shoulder under a leafy green canopy; another shows a father skewering a roasted marshmallow to help his daughter make a s'more; a third shows a father lifting an admittedly disgruntled baby into the air and kissing her fat cheek; a fourth shows a dad changing his kid's diaper.
It's the visual corollary to what The New Republic's Marc Tracy described in his piece about the rise of the so-called "Daddy Wars," wherein men begin to expose themselves to the same work/life balance pressures women have been grappling with for decades. We see it in the founding of Kindling Quarterly — a journal devoted to the subject of fatherhood founded by two Brooklynite thirty-somethings — which was subsequently written up as a "Talk of the Town" subject. We see it in Esquire in Richard Dorment's response to Anne-Marie Slaughter's "Can Women Have It All" classic: "Why Men Still Can't Have It All." And now ... we see it in stock photos.
"One of the quickest ways to make people think differently about something is to change the visuals around it," Cindy Gallop, who started the United States branch of Bartle Bogle Hegarty advertising agency, told The New York Times. "The thing about these images is they work on an unconscious level to reinforce what people think people should be like."
This won't stop people from writing terrible think pieces about whether women can work and have kids and not be robots or evil-power Smurfs who crush men under their pointy heels. But at least the authors of those stories (and others!) will have some better photos to choose from.