The Unintended Dark Side of Testing Kids
Roundup: Rep. George Miller, a force behind the No Child Left Behind legislation, says he never anticipated the landmark education law would ignite a testing obsession.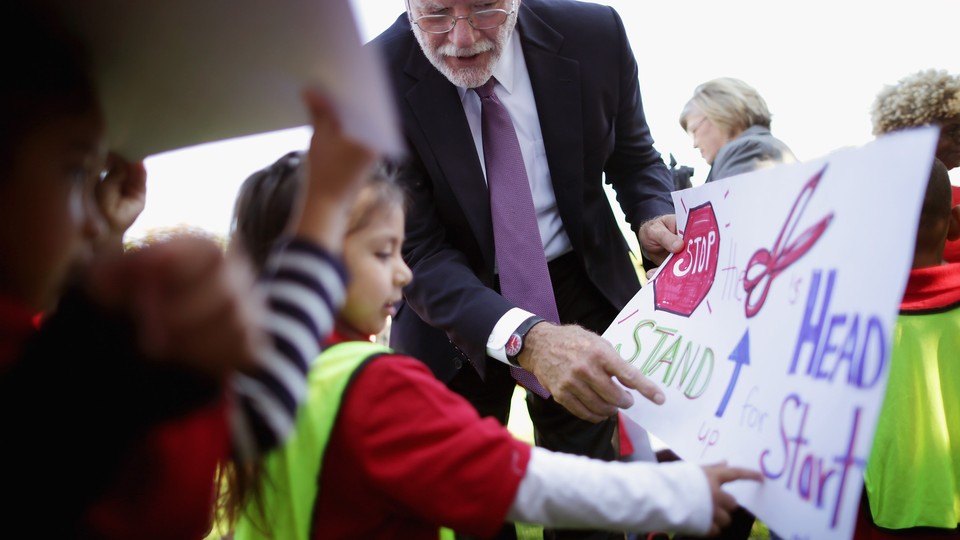 The Next America produces a weekly roundup of education stories relevant to diversity. These stories date from Jan. 27 to Feb. 2.
NCLB COAUTHOR: I NEVER THOUGHT LAW WOULD FORCE TESTING OBSESSION. Rep. George Miller, D-Calif., a leading architect of the No Child Left Behind legislation, says he never anticipated that the landmark education law would ignite the testing obsession that engulfed the nation's schools, leading to what some have charged is a simplistic "drill and kill" approach that subverts real instruction. EdSource interviews the congressman, who represents a majority-minority district in Contra Coast County. Hechinger Report
Also on Hechinger Report

FOR-PROFIT COLLEGES
NEW PROBES TARGET FIRMS OWNING FOR-PROFIT COLLEGES. Probes of companies operating for-profit colleges by more than a dozen state attorneys general may give pause to potential students or investors, but one analyst says the bigger concern is increased federal scrutiny. Chronicle of Education

AROUND HIGHER EDUCATION
STEEP TEXTBOOK COSTS UNDER SCRUTINY. With the average college student paying about $1,200 a year on books and supplies, an advocacy group Is investigating why some texts cost as much as $200 each and why book costs have climbed 82 percent — nearly three times the rate of inflation — since 2002. NBC News
STUDY: HIGH LEVEL OF 'FOOD INSECURITY' NOTED AMONG COLLEGIANS. A startling 59 percent of college students at an Oregon university were "food insecure" during the school year, with possible implications for academic success, physical and emotional health, and other issues. Contrary to concerns about obesity and "the freshman 15," many students do not get enough healthy food because of high costs and fewer food or social-support systems. Activist Post
FOR HBCUs, THE PROOF IS IN THE PRODUCTIVITY. Nearly half of the top 25 U.S. institutions that produce eventual black doctoral graduates are historically black. Huffington Post
THE ADMINISTRATION AND EDUCATION
IN STATE OF THE UNION, OBAMA SELLS RACE TO TOP, EARLY-CHILDHOOD EDUCATION. President Obama placed education at the center of a broad strategy to bolster economic mobility and combat poverty — calling on Congress in his State of the Union speech to approve previously unveiled initiatives to expand preschool to more 4-year-olds, beef up job-training programs, and make postsecondary education more effective and accessible. Education Week
WHY MORE INFORMATION MAY NOT GREATLY HELP GRAD RATES. To try to prevent students from dropping out or assuming too much in loans, the federal government has introduced many tools to give prospective students more information, but some observers claim that may not help students very much. Chronicle of Higher Education
K-12
STUDY: READING GAP WIDENS BETWEEN WEALTHY, POOR STUDENTS. The difference in reading proficiency between lower- and higher-income fourth-graders has grown by 20 percent in the past decade, says a report by the Annie E. Casey Foundation. Eighty percent of lower-income fourth-graders do not read at their grade level, compared with 49 percent of their wealthier counterparts, according to the report. NBC News
A THIRD OF WORLD'S SCHOOL KIDS NOT LEARNING THE BASICS. About 250 million school-age children worldwide can't read, write, or do basic math, although 130 million of them are enrolled in school, a UNESCO report says. New Statesman
INTENSIVE SMALL-GROUP TUTORING, COUNSELING HELPS STRUGGLING STUDENTS. Half of all black eighth-grade boys have not mastered the most basic math skills that educators consider essential for their grade level, a study of federal test results shows, but an approach that includes intense mentoring and behavioral counseling has shown good results. New York Times
PLAN WOULD TRACK STUDENTS FROM PRESCHOOL TO WORKFORCE. The New York state education department is creating a system to share student data with colleges and some other state agencies so that New Yorkers can be tracked from preschool to college to the workforce and, potentially, "throughout their lives." Westchester County (N.Y.) Journal via USA Today
CAN THE RACE PROBLEM IN DISCIPLINING AT AMERICA'S SCHOOLS BE FIXED? Nationwide data from the Office for Civil Rights found that black and Latino students are more likely than their white peers to receive harsher punishments for the same type of behavior, and a new federal report has offered four solutions to address discrepancies in disciplinary policies. Rolling Stone
AROUND THE STATES
CALIFORNIA VOTERS TO REVISIT AFFIRMATIVE ACTION. Under a proposed constitutional amendment that passed the California state Senate on Thursday, voters would reconsider affirmative-action programs at the University of California and California State University systems on the November ballot. SCA5, in place since 1996, made California the first state to ban the use of race and ethnicity in public-university admissions as well as state hiring and contracting. Diverse Issues in Higher Education
LANDMARK CALIFORNIA TRIAL IS DEBATING WHETHER TEACHER-PROTECTION LAWS FAIL STUDENTS. In the much-anticipated Vergara v. State of California trial, nine students from Los Angeles Unified, Oakland Unified, and three other districts are challenging long-standing legal protections that their attorneys say lead to hiring and keeping "grossly ineffective teachers." EdSource
MASSACHUSETTS LEADS NINE-STATE EFFORT TO MEASURE WHAT STUDENTS LEARN IN COLLEGE. State higher-education officials detailed a new project in which Massachusetts is leading a group of nine states in developing a way to measure and compare what students learn in college by looking at their actual work, from term papers to lab reports, rather than using a standardized test. Boston Globe
COLOR BARRIER DIVIDES IOWA'S PUBLIC-SCHOOL TEACHERS, STUDENTS. The Storm Lake Community School District in northwest Iowa is the state's most ethnically diverse, with 80.38 percent of its students identifying as nonwhite. Both the Storm Lake and Des Moines districts have initiatives in place that are designed to identify and support people of color who aspire to become educators. The Gazette
N.M. HISPANICS TOPS IN AP TESTS. Hispanic students in New Mexico schools rank No. 1 in the nation for their participation and success on Advanced Placement tests, which prepare students for college and allow them to skip certain introductory college courses. Also, New Mexico's low-income students ranked second for their success on the exams. Albuquerque Journal
ICYMI: Recent Next America Education Stories
What If More Colleges Were Like Amherst? Despite a White House call to action, elite colleges face incentives not to enroll low-income students. By Sophie Quinton
When Fewer 4-Year-Olds Go to College. Roundup: As the U.S. moves toward minority-majority, colleges face fierce trade-offs when the nation producers fewer 18-year-olds with aspirations for a bachelor's. By Jody Brannon