The Simple Power of a $12-an-Hour Job
A mock interview, a pair of glasses and a Michigan workforce program help a 25-year-old secure his first-ever job. Finally, he says, "I wasn't a burden on anyone. I felt useful, and I had a purpose for the first time in my life."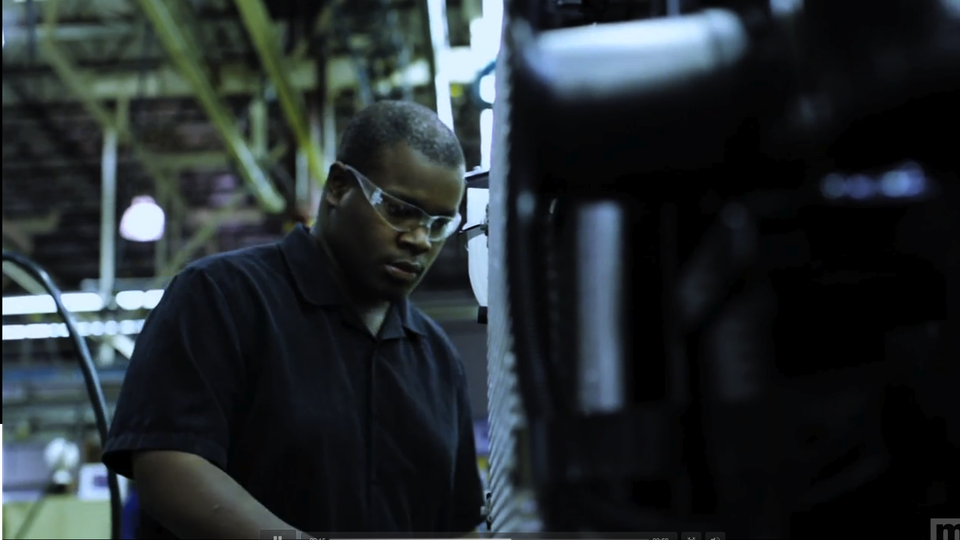 During the recession, Travis Butler, 25, was among the thousands of black men in the Detroit area unable to find a job — until he learned of Community Ventures, a workforce development program spearheaded by Michigan Gov. Rick Snyder, a Republican in office since January 2011.
Since its launch in the autumn of 2012, the program, associated with the workforce development initiative Michigan Works, has helped more than 1,200 Michigan residents secure a job with one of 75 participating employers.
Earlier this month Butler passed his one-year anniversary as a line worker for Detroit Chassis, earning $12 an hour, but, more importantly, giving him a sense of confidence and optimism about his future. Earlier, his experience was documented in a video.
This interview, conducted by Jody Brannon, has been edited for length and clarity.
Two years ago I was unemployed, looking for work every day. And I was in the process of moving and living with my mom. I was taking classes at Wayne County Community College, but I took a break from that because I needed money. I was pretty much looking for anything — [a job in] retail or factory-like work but willing to take anything at an entry level. I had two interviews over the course of a year, and I probably submitted maybe 50 applications to different places. The interviews [at McDonald's and a work-study job at the WCCC library] went well — I thought they went well — but they didn't hire me.
Travis Butler works at Detroit Chassis. (Michigan Economic Development Corp.)When I moved to a new house with my mother, my new neighbor referred me to Michigan Works. So I enrolled and started going there, and they helped me get the job at Detroit Chassis. They helped me create a resume and improve upon it, and [conducted] mock interviews. It helped me a great deal. In the Chassis interview, I looked the interviewer in the eye, which I didn't do in the previous interviews. I was more direct, and I did a better job in explaining my resume.
Cheryl Sanford of Michigan Works was extremely helpful in [me] becoming employed and getting information for things I needed, like an optometrist who was providing free exams and getting money to buy glasses. I'd never had glasses before. Not having glasses hindered me. It changed my life for the better, much more than I thought it would. I can see a lot better, and it helps me in my job.
It's been interesting and fun, informational and educational even. I've learned some vocational skills. It's been more than just the money. it's been a very positive experience.
After I started working here at Detroit Chassis, my superiors made me feel appreciated. I felt I was contributing and providing value to the company, and I wasn't a burden on anyone. I felt useful, and I had a purpose for the first time in my life. Before I got hired, I felt like a burden on my family, being unemployed and maybe a burden on the state. I didn't feel that anymore after I got hired and was paying taxes. I didn't feel like a burden to society and that has improved my self esteem. So that was a big deal for me. My self esteem wasn't too high before I was hired.
I give 10 percent of my income to a charity that I thought I might have to go to before I was hired. They're called Crossroads of Michigan. And I've been able to help out my family, my mother, and I'm paying rent, so it makes me feel a lot better.
I've been able to buy new clothes, get my hair cut and keep it cut — things I wasn't able to do when I was unemployed. My quality of life is improved. I've been able to get a phone and a phone number which was [a problem] when I was looking for work
I definitely want to go back [to school], basically as fast as possible. I'm working with a social worker on a schedule. I want to continue working here while I go to school in computer science. It's something that's useful, and I know how important it is to the nation, but I've always been interested in it.
When I was on my way to work this morning [he rises at 4 a.m. to catch two or three buses to get to work by 7], I was listening to NPR and they were talking about how few jobs were added in the last quarter and how difficult it is for people to find work even now. In hearing about people who are interviewing and how difficult it was to find work, right now and how long they'd been out of work and while walking to work I felt very lucky.
I've been bragging about [my job], so much so that some people are jealous. My siblings have told me they're proud of me. That makes me feel good. This past Christmas I was able to give my little brother a gift [a Kindle Fire HD], and that felt pretty good.
The plan was that I would continue working here and re-enroll at Wayne Community College and pursue an associate's degree in applied science. Then, when I graduate there, enroll at a university, maybe Wayne State, and pursue a bachelor's in computer science and then maybe a master's and start out my own company, specifically a video game company — a tech company.
If everything I was dreaming about came true, I would have a philanthropic arm in the company that would focus on a program to get African-American men and women into the tech industry. I don't think they are enough of them — enough of us in the tech industry — and I want to get more of them in it. I believe that's a way out of poverty.
Before I started at Detroit Chassis, I wanted to work for a tech company but after working here and being interviewed by the CEO [Michael Guthrie] and getting to know him, it'd rather start a company. It's possible for an African American to run a successful business and run it properly. I've now seen that it's been done and maybe I can, too.
He's been like a mentor to me — Mr. Guthrie — and he's just been incredible, a really nice guy, and he's been very kind and generous and he's been helping me look for an apartment. I haven't had a role model before. None. That's what Mike does. He gives back to the associates.
[Working here] makes me independent. I like the fact that I didn't have to borrow money from anyone. so it's helped me feel a great deal more independent than I have ever felt before.
The Next America welcomes first-person perspectives from activists, thought leaders and people representative of a diverse nation. Email us. Also, please follow us on Twitter and Facebook.
---
Jody Brannon contributed to this article