The Senate Has Raised the Debt Ceiling. Are These Constant Battles Over?
Congress has passed a debt-ceiling raise weeks before hitting the deadline. But this doesn't mean the fight is permanently over.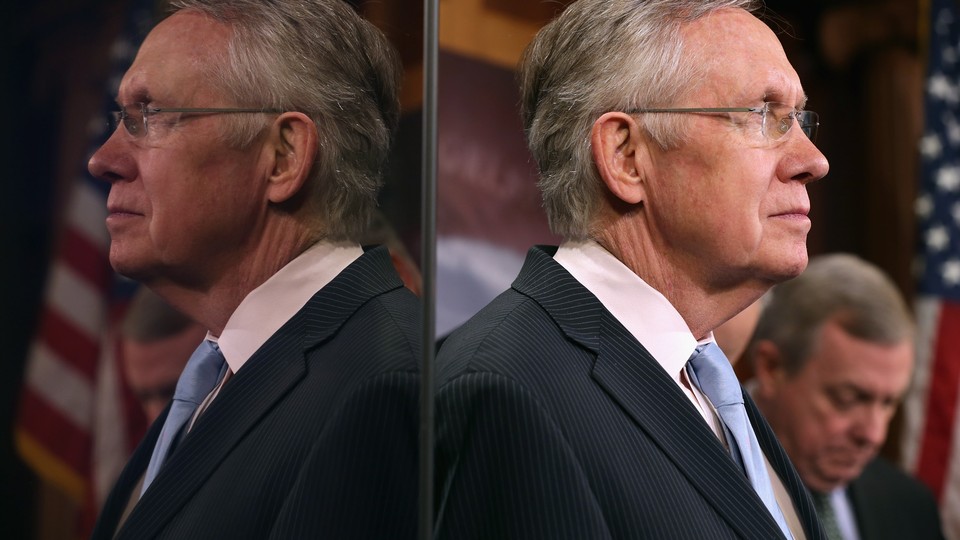 It took an act of God to get Congress to move quickly on the debt ceiling, but move quickly it did. The Senate passed an increase in the debt ceiling Wednesday, 55-43, more than two weeks before the nation was set to default. And it happened with little uproar, forecasting an end to the debt-limit brinkmanship that has nearly crippled Washington annually since Speaker John Boehner took the gavel in 2011.
With snow threatening to pummel the Washington area, Congress moved up its schedule Wednesday, introducing debt-ceiling legislation in the House on Tuesday morning and passing it within hours, with a majority of Democrats and 28 Republicans joining together.
The Wednesday Senate vote didn't come without drama. Sen. Ted Cruz objected to allowing the debt-limit bill to pass with a simple majority, which would have spared any Republicans from having to vote for it. And the cloture vote to shut off debate was tense, lasting almost exactly an hour as Republicans tried to find the votes for passage.
There was a lot of wrangling on the Senate floor during the cloture vote. Sens. Lisa Murkowski and Bob Corker stayed by the Senate clerk's desk, looking tense. When Cruz walked in to cast his vote, Murkowski turned away from him and then walked away from the desk.
Republican leadership worked the floor as they searched for votes. Finally, several Republican leaders exited the cloakroom and changed their votes, as if to say "let's all hold hands and jump together." First, Senate Minority Leader Mitch McConnell and Minority Whip John Cornyn cast yes votes, with the latter having initially voted no.
Then, one by one, John Barrasso,  John McCain, John Thune, Orrin Hatch, and Jeff Flake changed their votes to yes. The final vote on cloture was 67-31, with 12 Republicans joining Democrats to end debate.
Sen. Mike Johanns, R-Neb., who was the first Republican to cast a yea vote on cloture, credited McCain, Murkowski, and others with organizing the vote flip. He also praised McConnell and Cornyn for their votes. "They're great leaders," he said.
Sen. Bob Corker, R-Tenn., another early yea, called his 11 fellow members "responsible," but criticized Cruz for threatening the nation's credit rating.
"If anybody should be concerned about us not getting fiscal reforms as part of the debt ceiling it's me," Corker said, adding that he planned to oppose the final bill. "We could have had a 50-vote threshold," Corker said. "There was no end-game there, there was no outcome that was ever discussed."
"You know, we can put the country through two weeks of turmoil or we can get this vote behind us.... Was there some other debate that we were missing here? The fact is, the House could only pass a clean debt ceiling," Corker added.
McCain also praised GOP leadership for voting for cloture. "I must say it was a very courageous act especially for Sen. McConnell who we all know is in a very tough race," McCain said. "He knows he's the leader, the elected Republican leader." McCain wouldn't recount what exactly went on in the cloakroom, but said, "We had good conversations," and again praised Cornyn and McConnell, as well as Thune, for their leadership.
Those votes to end debate could come back to haunt the GOP leaders, as both McConnell and Cornyn are facing primary challengers in their reelection campaigns this year. The Senate Conservatives Fund is already tweeting that "Kentucky deserves better." And it wouldn't have had to happen if not for Cruz.
"I think his memory doesn't seem to last longer than six months," Sen. Chuck Schumer, D-N.Y., said of Cruz's pushback, referring to the Texas Republican's support of the government shutdown last October.
Cruz wasn't apologetic.
"If you look historically, the last 55 times the debt ceiling has been raised, 28 of those times Congress has attached meaningful spending restrictions. It has historically been the most effective leverage Congress had and today Congress decided to abdicate that leverage, abdicate its leadership," a visibly frustrated Cruz said.
Asked whether McConnell should keep his job as minority leader, Cruz said only: "That is ultimately a decision, in the first instance, for the voters of Kentucky."
President Obama has indicated that he will sign the legislation, which will allow the nation to pay its bills through March 15, 2015.
The debt limit has been the defining characteristic of a gridlocked Washington, with the nation coming to the brink of a default several times, most recently saved by a last-minute deal last October. But don't expect Congress to do much with more than a year without an impending deadline on its plate; the rest of 2014 is pretty much filler.
Though the vast majority of the House Republican conference opposed the measure, conservatives quickly gave up on using the Feb. 27 debt-limit deadline as leverage to cut overall spending, acknowledging that the president was not willing to negotiate over the matter. President Obama and Senate Democrats have long said that they would accept only a clean debt-ceiling lift.
Amid arguments among the House majority conference, many Republicans conceded that they would not be able to attach any conservative measures to the debt-ceiling increase as long as Obama remains president and Democrats control the Senate.
"It's just a matter of keeping the funding going consistent with the omnibus until the November elections and hopefully we have more Republicans, we control the Senate, and maybe we can start some of these reforms," Rep. John Fleming, a member of the conservative Republican Study Committee, admitted last week.
Sen. Pat Toomey, R-Pa., bemoaned the fact that his party wasn't willing to put up more of a fight for concessions from Democrats over spending, arguing that the GOP will have to stand its ground if it hopes to do better in the future. "Republicans will need to be willing to fight for it, if we're going to get that," he said.
A number of Republicans don't see the debt-limit-as-leverage tactic going away in the long-term, but in the short-term many are accepting the political reality. Republican Rep. Darrell Issa, who voted for the debt-ceiling increase, said there is no mechanism for Republicans right now to bring down spending and deficits. "We don't have one under this president. This is a tax-and-spend president."
That's good news for the nation's credit rating, which was downgraded in 2011 during the tense negotiations of the debt-limit increase. Democrats are encouraged by Republicans' move to pass a clean debt ceiling, particularly with room to spare before the deadline. "I hope [that this continues]," Sen. Claire McCaskill, D-Mo., said Wednesday. "I think John Boehner showed real leadership.
Sen. Patty Murray, D-Wash., was similarly optimistic. "I think we will go back to the responsible way of making sure that our country does not default," she said.
But that optimism is tempered by the knowledge that just because Democrats held the strongest hand this time around, it doesn't mean they will maintain it. What goes up must come down.