The Most Polarized Congress Ever: 2013 Congressional Vote Ratings
Who are the most liberal and conservative senators and representatives in Washington?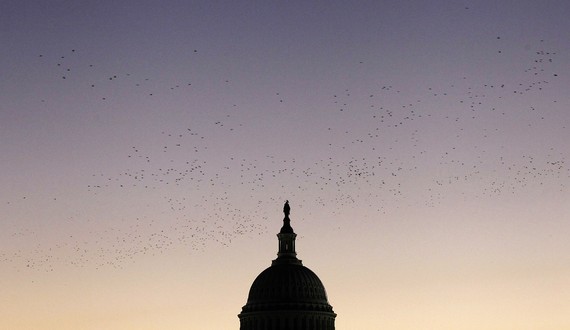 The Blue Dog Democrats boasted some exciting news last month—the addition of four new members to replenish their depleted ranks. But the recruitment of Representatives Kyrsten Sinema, Ron Barber, Cheri Bustos, and Nick Rahall was as much a sign of existential crisis as it was reason for celebration.
While all ranked among the Democrats' more moderate members in National Journal's 2013 vote ratings, none was a logical fit to join a group of fiscally conservative Democrats who want to rein in government spending. Earmark-lover Rahall was first elected in 1976 and never showed any interest in joining the Blue Dogs before facing a serious reelection challenge in West Virginia this year. Arizona's Sinema, Illinois's Bustos, and Arizona's Barber are all freshmen who haven't had much time to prove their commitment to fiscal conservatism. (They, too, face tough contests in the fall, however.)
Sure, the Blue Dogs could try to set higher standards for membership, so that the caucus isn't signing up only at-risk Democrats in search of a centrist credential. But that would mean the end for one of the last bastions of centrism and moderation among House Democrats. Already, the caucus's numbers are dreadful—down to 19 today from 54 four years ago—because, plain truth, so few Democratic fiscal hawks are left.
As the Democratic Party shifts leftward without much resistance, Republicans are fighting a war for the soul of their party. House Speaker John Boehner faces constant revolt on his right flank from a growing number of Tea Party-affiliated members who believe compromise is a dirty word. Outside conservative groups, such as the Club for Growth and the Senate Conservatives Fund, are enforcing ideological purity among members as well as primary candidates. Six of the 12 Republican senators up for reelection in 2014 are facing primary challenges from their right, even though several rank among the most conservative, according to the vote ratings.
For the fourth straight year, no Senate Democrat was more conservative than a Senate Republican—and no Senate Republican was more liberal than a Senate Democrat. In the House, only two Democrats were more conservative than a Republican—and only two Republicans were more liberal than a Democrat. The ideological overlap between the parties in the House was less than in any previous index.
The ideological sorting of the House and Senate by party, which has been going on for more than three decades, is virtually complete. Contrast the lack of ideological overlap with 1982, when 58 senators and 344 House members had voting records that put them between the most liberal Republican and the most conservative Democrat; or 1994, when 34 senators and 252 House members occupied the same territory.
"The last couple of Congresses have been among the most polarized in history. This is just a continuation of that. There's nothing that will break this [trend]," said Gary Jacobson, a University of California (San Diego) political scientist, who specializes in congressional politics. "Voters have been voting along party lines at the highest rate in 50 years; they expressed that vote at the congressional and presidential levels. It's hard for members to win in districts where their party is not favored."
Beyond the polarization, the vote ratings highlight other compelling findings. Among Republican presidential candidates, Texas's Ted Cruz proved he could vote more conservatively than Kentucky's Rand Paul, 2013's Tea Party favorite. Senator Elizabeth Warren of Massachusetts is not quite as progressive as she advertised, at least compared with her Democratic colleagues. While most Democratic senators have moved to the middle as they face competitive elections, Al Franken has remained a stalwart liberal. Meanwhile, John McCain and Orrin Hatch, who had moved to the right in preparation for primary races, once again occupy the moderate wing of the Republican Party. Contrary to conventional wisdom, most members whose districts became safer during the redistricting process didn't become any more ideological.
Here are the 12 most important takeaways from National Journal's 2013 ratings:
1. It's hard to believe, but Congress is likely to be even more polarized next year.
Three of the five most moderate Democrats in the House—Jim Matheson of Utah, Mike McIntyre of North Carolina, and Bill Owens of New York—have already announced their retirements this year. John Barrow, the most moderate Democrat, faces another difficult reelection campaign in deeply conservative rural Georgia. In the Senate, it's plausible that as many as six of the 11 most moderate Democrats could be gone next year; some are retiring, some are facing tough reelection campaigns.
It's not much better for the remaining GOP centrists. Half of the 10 House Republicans who have announced their retirement—Frank Wolf in Virginia, Jim Gerlach in Pennsylvania, Jon Runyan in New Jersey, Spencer Bachus in Alabama, and Tom Latham in Iowa—rank in the top fifth of moderate Republicans.
2. Republican presidential candidates in Congress continue to showcase their conservatism.
Every prospective Republican presidential candidate ranked as reliably conservative, although none more so than Cruz in his first year on the job. He ranked as the fourth-most-conservative senator, with a composite score of 95.0, fully living up to his reputation. Cruz outdistanced Senator Marco Rubio of Florida (tied for 17th) and Paul (19th) in that respect, but both of them ranked in the top half of conservative senators. (Paul's 82.0 composite conservative score was a slight drop-off from his 2012 rating of 90.8, when he ranked sixth in the Senate.)
Likewise, House Budget Committee Chairman Paul Ryan ranked as one of the most conservative representatives, with an 81.2 composite conservative score. That put him in the upper-third of House Republicans, ranking 71st. But Ryan opened himself up to conservative criticism late last year in negotiating a bipartisan budget deal that averted a government shutdown. In the Senate, 36 Republicans voted against the compromise, including Cruz, Rubio, and Paul.
3. Red-state Democrats are breaking with their party, but their Obamacare votes still lurk.
Democrats facing tough reelection campaigns in red states this year can point to evidence that they're more moderate than Republicans give them credit for. Of the 11 Democratic senators who rank as the most moderate, nearly half are facing the political fights of their careers. Leading the pack is Mark Pryor of Arkansas, who is the second-least-liberal senator, with a 46.2 composite score. Kay Hagan ranks as the fourth-least-liberal. Also at the top of the list are Alaska's Mark Begich (54.7 liberal), Virginia's Mark Warner (56.3 liberal), and Louisiana's Mary Landrieu (58.3 liberal).
It's worth noting that every Democratic senator, even West Virginia's Joe Manchin, is more liberal than the most moderate Republican senator, Maine's Susan Collins. That's both a result of congressional polarization and a sign of the Democratic Party's leftward drift. And all of the Democrats supported President Obama's healthcare law, their most politically consequential vote in recent years.
4. The Tea Party is running out of conservatives to target.
Of the six Republican senators facing primary challenges in 2014, only three are significantly more moderate than the average Republican senator. Heading the pack are South Carolina's Lindsey Graham and Tennessee's Lamar Alexander, who both rank as the fifth-most-moderate, with 64.5 conservative scores. Both face nominal GOP opposition but are favored to win their primaries. Thad Cochran in Mississippi, viewed as the most vulnerable of the six, ranks as the 12th-most-moderate, with a 67.5 score.
The 2013 vote ratings could insulate Senate Minority Leader Mitch McConnell from criticism that he's too establishment for a Republican primary. McConnell's 77.7 composite conservative score ranks him in the middle of the GOP pack, standing at 25th-most-conservative. He is facing a two-front war in Kentucky—from his right in businessman Matt Bevin, and in the general election from Democrat Alison Lundergan Grimes.
The outliers: John Cornyn in Texas and Pat Roberts in Kansas, both of whom rank among the most conservative in the Senate (Roberts is eighth, Cornyn 14th). Cornyn is facing a long-shot primary bid from Representative Steve Stockman, whose idiosyncratic conservatism ranks him only in the middle of the pack in the House, while Roberts faces a challenge from Milton Wolf, a Tea Party activist who happens to be a second cousin of Obama.
5. Conservatives will have reason to be steamed (again) at John McCain and Orrin Hatch.
As he faced a competitive Senate primary in 2010, McCain shed his maverick reputation, becoming one of the most conservative senators in NJ's vote rating from 2009 to 2011. But the moderate McCain is back in full force this year, ranking as the third-least-conservative Republican, behind only Collins and Alaska's Lisa Murkowski. His 60.2 composite conservative score is significantly down from his 2010 score of 90.
Likewise, Hatch faced scrutiny among Utah Republicans for being too moderate—and he quickly changed course as he faced reelection in 2012. That year, Hatch ranked as one of the most conservative senators with an 87.0 score. But in 2013, he reverted back to the more moderate wing of his party, ranking 29th with a 70.2 score. These results are likely to embolden outside groups on the right, which have argued that certain Republicans aren't really as conservative as their voting records indicate.
6. Al Franken wears his liberal brand proudly, even when facing reelection.
All of the Democratic senators facing a competitive general election in 2014 positioned themselves on the more moderate end of the caucus—except for Minnesota's Franken, who ranks as one of the most liberal senators (he's tied for fifth), even though he's facing a deep-pocketed Republican businessman, Mike McFadden, as a likely opponent. The next closest to the left in this group? Mark Udall in Colorado, whose composite liberal score ranks him 33rd.
This isn't new for Franken. He has ranked as one of the most liberal senators since he was first elected in 2008, coming in at third in 2012, and he was an outspoken critic of conservatives before serving. Facing his first reelection campaign, Franken isn't changing his tune at all. While other Democrats running in 2014 have critiqued Obama's healthcare law, he's kept quiet. In a vote sponsored by GOP Senator John Barrasso of Wyoming to protect the privacy of gun owners, Franken was the only targeted Democratic senator to take the liberal side. Overall, he has kept a low profile in office, focusing more on Minnesota-specific issues than national policy debates.
7. Liz Cheney would never have had a shot against Michael Enzi.
It's no surprise that Liz Cheney, in her ill-fated Senate bid in Wyoming, had trouble getting traction by accusing Enzi of being insufficiently conservative. He ranks as the second-most-conservative senator, with a whopping 95.8 composite conservative score—consistent with previous vote ratings establishing his credentials. Only James Risch in Idaho outranked Enzi in that measure in 2013.
Before she dropped out of the race in January, Cheney struggled to differentiate herself from Enzi. She cast her candidacy as part of a new generation of Republican leadership and criticized the incumbent for supporting legislation backing an Internet sales tax. But she didn't have much else to go on. Unlike the primary challenges to the other six Republican senators, Cheney's candidacy was less ideological and more about stylistic differences. Depending on style alone is a hard way to mount an upset of a longtime senator.
8. Elizabeth Warren: Not as progressive as advertised?
One of the more surprising findings from the 2013 ratings is that liberal icon Elizabeth Warren of Massachusetts placed herself in the middle in her first year in office, ranking as the 31st-most-liberal senator (73.2 score). Most of the senator's defections were on economic issues: She voted to repeal Obamacare's medical-device tax and "to repeal or reduce the estate tax" if done in a fiscally responsible way. Warren even irked consumer advocates in opposing a measure that would have allowed states to mandate labeling of foods that contain genetically modified ingredients.
On social issues, however, she lived up to form, tying with 26 other Democratic senators as the most liberal.
9. The most liberal Democrats in the Senate are among the most hawkish on Iran sanctions.
Iran sanctions never came up for a Senate vote in 2013, but among the loudest critics of Obama on the issue are the most liberal members of the Democratic caucus. They're joining most Senate Republicans in backing legislation, cosponsored by Mark Kirk of Illinois and New Jersey's Robert Menendez, that would impose new sanctions on Iran if it does not live up to the interim diplomatic agreement on nuclear weapons.
New York's Chuck Schumer (the most liberal senator), Maryland's Ben Cardin (ranked fifth), Connecticut's Richard Blumenthal (tied for fifth), New York's Kirsten Gillibrand (also tied for fifth), and Menendez (12th) have all broken with the president on this sensitive foreign policy issue. (All of them represent states with significant Jewish voting constituencies.) If the Senate takes a sanctions vote in 2014, expect some of the members' liberal scores to take a hit.
10. Very few of the most conservative House Republicans face any serious Democratic opposition.
Even as the House has shifted rightward, only a couple of the most conservative Republican members represent competitive districts where their voting record could open them to scrutiny by a serious Democratic opponent. Indeed, just one of the 30 most conservative members has to worry about a tough general election. That distinction goes to Tim Walberg, an ardent social and fiscal conservative whose southern Michigan district gave Obama 51 percent of its vote in 2012. Walberg, who won 53 percent of the vote last year, faces a credible challenge from Democratic former state Representative Pam Byrnes.
The other conservative Republican who stands out is Steve Southerland, first elected in the
Tea Party
wave of 2010. He ranks as the 42nd-most-conservative Republican despite representing a swing Tallahassee, Fla., district that includes many government workers, along with more-conservative precincts, and that gave Obama 47 percent of its vote in 2012. Southerland is facing one of the Democrats' strongest recruits this cycle, Gwen Graham, the daughter of popular former Senator Bob Graham.
11. The oddest couple in the Senate: Wisconsin's Ron Johnson and Tammy Baldwin.
Even though he represents a battleground state and faces the likelihood of a tough reelection in 2016, Ron Johnson nonetheless ranks as the ninth-most-conservative senator, standing alongside members from heavily Republican states such as Idaho and Wyoming. His Wisconsin colleague, Democrat Tammy Baldwin, who hails from the liberal bastion of Madison, is tied as the fifth-most-liberal senator.
Not only are their records at odds, the two barely talk. In a New York Times interview, Johnson candidly acknowledged, "We're not best buds." He later added, "I would argue that the folks on the other side of the aisle, their ideology is destroying the country." Baldwin and Johnson are one of only 16 Senate pairs left who hail from different parties.
12. Most members who benefited from redistricting didn't change their voting patterns.
There's been a lot of hand-wringing over the role of gerrymandering in increasing polarization in Congress. But an analysis of the 2013 vote ratings finds that most members whose districts became less competitive didn't vote more ideologically than they had before the post-2010 redistricting. On the flip side, redistricting forced a number of previously reliable conservatives and liberals into born-again moderates. The catch: Many moderates retired or lost reelection, and they were succeeded by more-ideological colleagues from the opposing party—a trend fueled by partisan gerrymandering.
Of the 10 members who gained the most from redistricting, four actually posted a more-moderate composite score than they did before the lines were redrawn in 2011. The biggest winner, Blake Farenthold, whose Texas district swung from giving Obama 53 percent of the vote in 2008 to giving Mitt Romney 61 percent of the vote in 2012, sat squarely in the middle of the pack among House Republicans as the 143rd-most-conservative.
Republican Lou Barletta, whose Democratic-friendly northeast Pennsylvania district became a GOP stronghold, actually voted less conservatively in 2013 than he did before the lines were redrawn. Dave Reichert is no longer a top Democratic target, but he remained one of the most moderate House Republicans (54.8 composite) even after getting a safer seat in Washington state.
Representative
Steve Chabot, whose Cincinnati-area district transformed from a classic battleground to safe GOP seat, ranked as the most conservative Republican in the House in 2013. But he was already one of the leading conservatives, with a 90 composite score in 2011.
Conversely, most of the biggest losers from redistricting changed their ideological tune as they ran in more competitive districts. California's Gary Miller, formerly a stalwart GOP conservative, saw his safe district transform into a Hispanic-majority seat where Democrats hold an edge. His composite conservative score plummeted from 87.2 in 2011 to 65.2 in 2013. Republican Mike Coffman's composite conservative score plummeted from 83.0 in 2011 to 60.8 in 2013 after he won only 48 percent of the vote in a redrawn Colorado district. Georgia's Barrow was always a moderate Democrat, but after being redrawn into a deeply conservative district, he became the most conservative House Democrat, ranking to the right of two Republicans.Democrat John Garamendi's liberal score dropped 23 points from 2011 to 2013 after he ran in a more competitive district in California.
The 2013 vote ratings recorded some notable exceptions, though. The GOP's Steve King, an immigration hard-liner, saw his Iowa district become 5 points more competitive. But he remained a stalwart conservative, with an 83.0 conservative score in 2013. And in New York, Democrat Louise Slaughter remained one of the most liberal members (tied for 40th) even though her once-safe district is now marginally competitive.