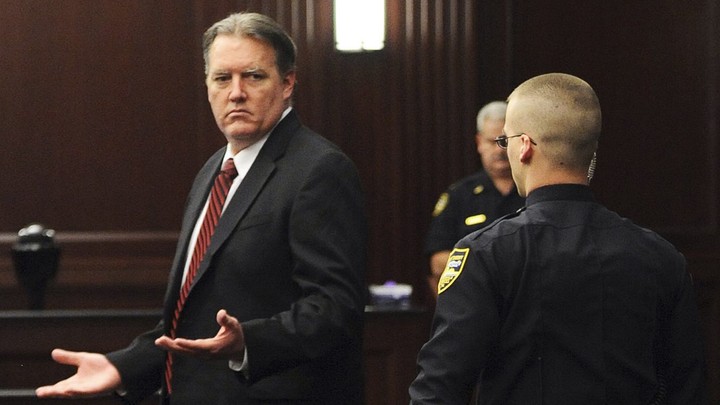 I have generally written about the mistrial on the murder charge in the Michael Dunn case assuming that some number of jurors truly believed Dunn acted in self-defense. Another theory we've seen in comments here, and across the web, holds that no juror believed Dunn acted in self-defense, but that the jury merely split on whether to go with first-degree murder or a lesser charge. 
David Kopel helpfully summarizes the view (my emphasis):
Because the jury convicted Dunn of three counts of attempted murder, it is certain that the jury determined that Dunn was not acting in lawful self-defense. Stand Your Ground is a rule about one detail of when self-defense is lawful. Accordingly, the assertion that Stand Your Ground may have been a reason why the jury hung on the first degree murder charge is totally implausible.

The three convictions for second-degree murder show that the jury had determined there was no self-defense; ergo, jury confusion about self-defense was not the reason why the jury deadlocked on first-degree murder.
I do not think there was a conviction for second-degree murder, and I suspect Kopel meant three counts of attempted second-degree murder. Either way, the view that the jury believed Dunn was "not acting in lawful self-defense" is not consistent with the recollection of one of the jurors who sat down to talk to Nightline:
Nightline: You all first took your first poll of guilt or innocence on the murder of Jordan Davis, what was the vote?

Juror No. 4: 10-2.

Nightline: Ten people thinking he was guilty.

Juror No. 4: Yes, sir.

Nightline: And two people saying what?

Juror No. 4: Self-Defense.
The juror later says, "We took a poll. There were two of us undecided. Two for was justified and the rest not justified."
I don't mean to beat on Kopel, who wrote his piece before any of the jurors spoke out. (His main argument is that Stand Your Ground had nothing to do with the case, and that it's standard self-defense.) But I do think it's important that we be clear on the facts where we can be. As it stands, the facts hold that three jurors believed that the killing of Jordan Davis was just, and nine did not. My contention is that that belief is inseparable from our racist heritage, which dictates African-American life is of lesser value.
Put modestly, from the mid-17th century until the mid-20th century, the policy of our ancestral colonies and the policy of this country proceeded from this assumption. Perhaps the most amazing feature of our current era is the belief that 300 years of such policy gives no tell on our daily lives. The second most amazing feature is the belief that juries are somehow beyond reproach and capable of cleaning up our shit. 
That is unfortunate. This is not about the jury; this is about our Constitution. This is not about Michael Dunn, individually. This is not about George Zimmerman, individually. This is about me and you and everyone American we know. This is about whether we will live in candor or live in flattery. This is about whether we will continue the dishonorable tradition of leaving uncomfortable business to be inherited by our children:
... and 'tis our fast intent
To shake all cares and business from our age;
Conferring them on younger strengths, while we
Unburthen'd crawl toward death
A very wise man wrote me the other day and said he would have been happier if Dunn had been convicted of first-degree murder, gotten 15 years, and then was released to try to pick up the pieces of his life. And I think that really gets to the point. This is not about the ruination of white people—individual or collective. This is about coping with a heritage of regarding black people as subhuman. 
We want to hear what you think about this article. Submit a letter to the editor or write to letters@theatlantic.com.