The Foreign Policy Speech Obama's Not Giving
There's a growing call for the president to explain to the public why the U.S. can't afford to "mind its own business internationally."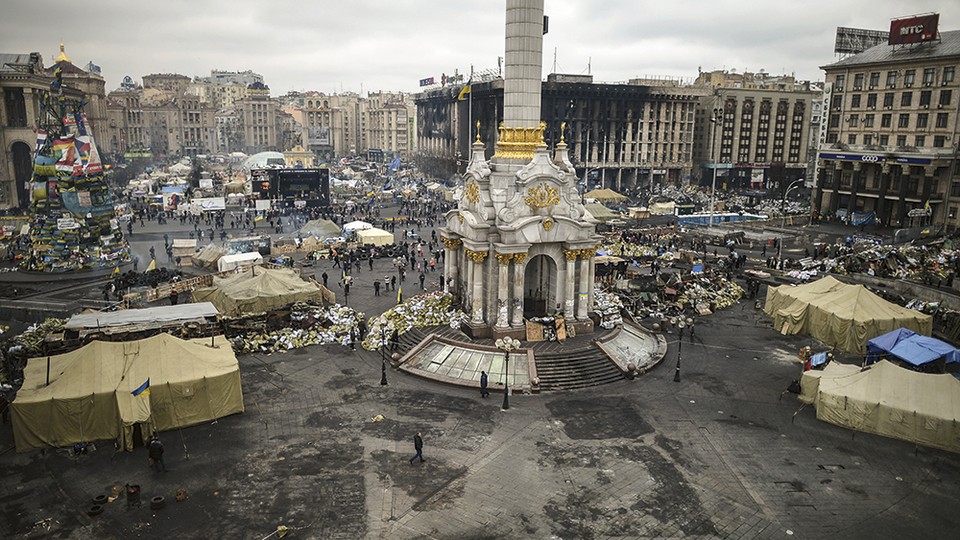 Amid scenes of violent confrontation in Kiev's Independence Square and reports of the ouster of President Viktor Yanukovych, Jon Stewart this week noted the geopolitical importance of Ukraine before lamenting what seems to be widespread American indifference to a country that is the object of a high-stakes tug-of-war between Russia and the West. Ukraine, deadpanned Stewart, "does rank as an issue voters care about, just under 'equal rights for ghosts' and 'should evolution be taught in pools?' "
Sadly, opinion polls suggest the Daily Show comedian may be close to the mark. Even more sadly, little has been done in Washington to explain to those voters why they should care about what happens in Kiev. Or in Damascus. Or in Caracas. Or in Baghdad. And that has led to a growing call, from both Republican opponents and foreign policy analysts, for President Obama and his top advisers to speak out more and place greater emphasis on foreign affairs and the U.S. role in the world.
This aspect of American leadership — and the recognition of the importance of public opinion to any successful foreign policy — came pretty naturally to presidents during the Cold War. But it has not come easily to the three presidents in office since the fall of the Berlin Wall, all of whom were elected on domestic promises only to discover, once they'd taken office, that foreign affairs would take up far more of their time than they had anticipated or desired.
In 1992, Democrats took advantage of the public's aversion to foreign affairs with a memorable T-shirt. In the campaign against President George H.W. Bush, the Democratic National Committee waited until he was overseas to unveil the "George Bush: The Anywhere But America Tour" shirt, listing the countries he had visited. On the front, it declared, "George Bush Went to Rome and All I Got Was This Lousy Recession." The gibe got under the president's skin so effectively that he complained about "silly T-shirts" in several speeches. Behind the scenes, though, his top advisers knew the attack tapped into Americans' weariness with foreign policy and a desire to focus on the issues at home. And they knew Democratic candidate Bill Clinton was skillfully exploiting that feeling.
There is no snappy T-shirt today. But the polls indicate that this weariness has, if anything, grown worse, with definite implications for Obama's ability to maneuver on the world stage. For half a century, the Pew Research Center has been asking Americans if they think the United States "should mind its own business internationally and let other countries get along the best they can on their own." Never — before now — has a majority agreed with that sentiment. In 1964, only 20 percent said yes. That rose to 43 percent in 1976 after Vietnam and tallied 41 percent in 1995 after the Cold War, only to dip after 9/11 to 30 percent in 2002. But, in December, reflecting disenchantment with the outcomes of the wars in Iraq and Afghanistan, the share of those who agreed hit an all-time high of 52 percent.
That poses a significant challenge to Obama as he tries to argue for a robust foreign policy and involvement in Syria, Ukraine, Afghanistan, and postwar Iraq. It requires him to find a way to get a skeptical country behind him. To House Speaker John Boehner and other Republicans, that means the president has to find a way "to better make that case to the American people" — a phrase that has become a frequently heard Boehner refrain in recent weeks. "I understand why they don't want to talk a lot about all these foreign crises," Boehner's spokesman Brendan Buck told National Journal. "But the disengagement makes it easier for other nations to ignore the U.S."¦ The speaker is concerned the president has been too disengaged."
The calls for Obama to speak out, though, are not coming just from partisan foes. They are also heard in the Foreign Service community. "The first challenge for American foreign policy is American public opinion," says Lee Hamilton, director of the Center on Congress at Indiana University and a respected voice in foreign policy since his days as chairman of the House Foreign Affairs Committee. "There is a tension here. The American people are very wary of involvement. They are concerned about overreach. The American foreign policy elite are concerned about under-reach."
That kind of tension can be addressed only by a president making greater use of his bully pulpit. "An American president has to resolve this rhetorically. The country needs guidance here as to why American leadership remains very important in the world today and what the constraints are and the limitations of that leadership are," Hamilton says. "An American president has to try "¦ to persuade the American people that American engagement in the world is very, very important."
The need for this kind of presidential pitch was made more critical last week, when Secretary of State John Kerry seemed to suggest that the biggest foreign threat to the United States was climate change, calling it "perhaps the world's most fearsome weapon of mass destruction." At a time when American policymakers are struggling rhetorically to identify threats, this did not provide the needed clarity. "You kind of scratch your head and ask, 'What does that mean?' " said Roman Popadiuk, the career Foreign Service officer who was the first U.S. ambassador to Ukraine after it achieved independence in 1991. "Presidents are facing a world with no single threat to the United States. It is very difficult to identify the threat," he told National Journal. It is time, Popadiuk said, for the president to offer "a fundamental explanation to the American public."
The White House's reluctance is understandable. When Obama did speak out on Syria, neither Congress nor the public followed him. But his administration needs to be more effective in arguing that the United States cannot afford to "mind its own business internationally." The president may risk being the target of an opposition T-shirt, but the foreign policy community believes now is the time for him to make his case.