The FCC's Dubious Study of American Media
Does it portend an intrusion on press freedoms? That's unclear. But it certainly appears to be a colossal waste of taxpayer money.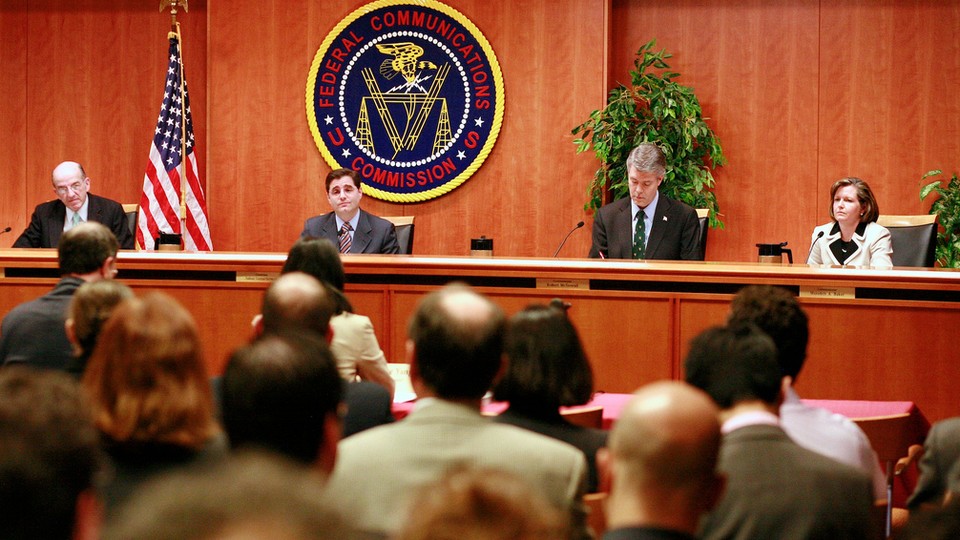 What are the "critical information needs" of Americans? Are they being met by the news media? Any answers would seem to be impossibly subjective. We're a diverse country. Everyone has different needs. There are sustained, intractable disagreements about which news outlets are exceptional and which are valueless.
Despite those obstacles, Mignon L. Clyburn, a commissioner of the Federal Communications Commission, delivered a speech two summers ago explaining why the FCC would soon study the question. As she told it, the FCC has a mandate to promote diverse media voices, vigorous competition, and the public interest, "in addition to identifying and eliminating market entry barriers for small businesses."
And the study it commissioned on "critical information needs" would begin "the charting of a course to a more effective delivery of necessary information to all citizens." Not only that, the study "holds the promise of enabling them to live safer and healthier lives by highlighting any challenges and exploring a host of opportunities for full access to educational, employment, information and business opportunities in addition to empowering them in their civic involvement."
To sum up: the study + ? = a fully informed citizenry!
* * *
Ajit Pai is also an FCC commissioner. And he would like to warn you about this study. To assess whether the "Critical Information Needs" of Americans are being met, he wrote, "the agency plans to send researchers to grill reporters, editors and station owners about how they decide which stories to run." These interviews will occur after researchers gather and code a random sample of the content that television networks, radio stations, newspapers and websites produce.
Beware, he counsels:
The FCC says the study is merely an objective fact-finding mission. The results will inform a report that the FCC must submit to Congress every three years on eliminating barriers to entry for entrepreneurs and small businesses in the communications industry. This claim is peculiar. How can the news judgments made by editors and station managers impede small businesses from entering the broadcast industry? And why does the CIN study include newspapers when the FCC has no authority to regulate print media?
Sixteen House Republicans had previously voiced their discomfort with the FCC study, declaring in a letter that government has no business "probing the news media's editorial judgment and expertise" or "prescribing a set diet of 'critical information.'" In their view, the whole undertaking is "an incursion by the government into the constitutionally protected operations of the professional news media."
Various conservative journalists agreed with varying levels of sophistication. The Fox News Channel's distillation, via Howard Kurtz: the study + ? = a new fairness doctrine :(
* * *
The controversy stoked in the conservative media prompted a statement Thursday from the FCC, and coverage in The Washington Post, which explains where things stand (my emphasis):
... government researchers would have asked reporters, anchors and news managers at as many as 280 news organizations to describe their outlet's "news philosophy" and about how they selected stories ... The idea first proved controversial within the FCC ... One of its Republican commissioners, Ajit Pai, blasted the proposed study ... His column triggered wider coverage, primarily among conservative news outlets, such as Fox News Channel and the Drudge Report ... Fox News said the idea had "frightening implications" and raised the specter of government officials monitoring the nation's newsrooms.

FCC Chairman Tom Wheeler responded to the growing furor Thursday by ordering the removal of questions about news philosophy and editorial judgment. Last week ... Wheeler said that the commission had "no intention of regulating political or other speech." Wheeler inherited this project from his predecessor, former interim chairman Mignon Clyburn. The study, scheduled to begin in the spring, is to be part of a larger report that the FCC must submit to Congress periodically about its efforts to encourage greater ownership diversity among media companies.

The FCC says the study has cost $500,000 thus far.
* * *
How would a study of "Critical Information Needs" help the FCC's efforts to encourage ownership diversity in media? If there's a good answer, I haven't found it. As best I can tell, the FCC's explanation doesn't make any sense. But say, for the sake of argument, that the study isn't nefarious either: that it does not threaten the First Amendment or portend future government meddling in the news media.
Is it a multimillion dollar investment well spent? I decided to read the methodology to make a more informed judgment. And from what I see, this is a colossal waste of time and money. If the report goes forward, I hope it proves me wrong. That's always possible. But here's why I'm dubious:
The project's list of what constitutes "Critical Information Needs" is arbitrary, as it would have to be. The items include "information about emergencies and risks; health and welfare; education; transportation; economic opportunities; the environment; civic information; and political information." (Plus, while some information about health or politics is critical, other information on those subjects is far from it. How to distinguish?)
Studying the content of media outlets on a random sampling of days is unlikely to yield an understanding of how those outlets convey information in an emergency, which is unusual by definition and often singular. In fact, even if a true emergency were to occur during the sampled period, what's to say a newspaper that covers wildfires well would also excel after a dirty bomb?
The project encompasses all sorts of things that are peripheral at best to the FCC's mandate and role, most obviously, media over which it has no oversight, like newspapers and websites.
Insofar as Americans are lacking "critical information," their education level, socialization, and access to digital media are all far more important factors than the philosophy and performance of media outlets that happen to be in proximity to them. 
A government agency is an inherently biased assessor of whether the civic and political information citizens are getting is critical or not, as the Edward Snowden leaks vividly demonstrate. 
If Atlanta residents have inadequate information about their local school system, or Tagalog speakers in Los Angeles have insufficient media resources in their native language, what is the FCC possibly going to do about it? And what if New Yorkers weren't, in the FCC's estimation, getting good civic information? Any useful solution would be a problematically coercive government intrusion into press freedom.
Then there are the three "study objectives" listed:
The objectives of the study are to help FCC answer the following questions:

• How does this study inform the acquisition and/or barriers to CINs in American communities?
• What barriers to entry exist in the FCC regulated markets and to what extent do those barriers to entry have a negative impact?
• Do the tools/templates demonstrate a high degree of internal validity? Do the tools/templates demonstrate a high degree of reliability across diverse target markets?
If I'm reading that correctly, two of the study's three objectives involve gleaning information about the value/quality of the study itself! As for figuring out what barriers to entry exist in FCC-regulated markets, is the most efficient way to do that really undertaking a year-long analysis of editorial content across multiple platforms? Overall, it's hard to imagine this is the best use of scarce public resources.