The End of the Pragmatic Governor
Turbocharged partisanship has paralyzed Washington. Now it is getting between Washington and the states.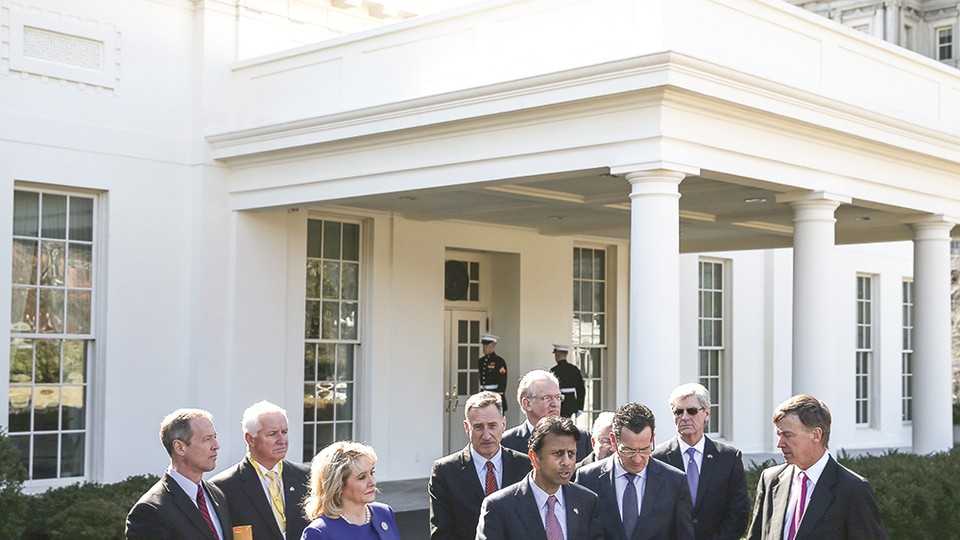 NGA, RIP.
That's the unavoidable conclusion after the outburst outside the White House this week from Louisiana's Republican governor, Bobby Jindal — and the counterpunch it provoked from Connecticut's Democratic governor, Dannel Malloy.
The National Governors Association, the group that tries to herd the 50 governors around common causes, will, of course, continue to exist. But the idea of governors as a more pragmatic, less partisan, consensus-building force in American politics, which was already wheezing, can now be officially interred.
Governors no longer provide an alternative to Washington's unstinting partisan warfare; either as conscripts or volunteers, they are now almost all combatants in it. In the states, Republicans and Democrats are displaying priorities that differ as sharply as their counterparts' plans in Washington. And while that divergence has some positive aspects, overall it is eroding the country's ability to confront its most pressing challenges.
Monday's dustup began when Jindal, a possible 2016 GOP presidential contender, emerged from a bipartisan NGA meeting with President Obama and sweepingly denounced his host, particularly over raising the minimum wage. That inspired Malloy to declare Jindal's remarks "the most insane thing I've ever heard" and Jindal to jab back over health care — all as the other governors squirmed like guests at a suddenly heated Thanksgiving dinner.
To say this departed from the usual customs of the meetings between governors and presidents is like saying it's unusual for patrons to heckle at the opera. In the past, the governors' version of heated has usually involved differing views over infrastructure-spending formulas. Raymond Scheppach, a University of Virginia public-policy professor who served as NGA's executive director from 1983 through 2010, says the closest parallel he can remember to Monday's events was when a Democratic governor got miffed that George W. Bush's aides started dismantling the audio equipment before he could speak to reporters. And that's not very close.
Yet this week's altercation carried an inevitability that reflects long-gestating changes in the way governors operate in Washington, and at home.
In the states, the big story is the accelerating divergence of red and blue places. As the electorate has re-sorted along lines of race, age, and ideology, more states have tipped decisively toward one or the other party: Republicans control the state legislatures and governorships in 23 states, and Democrats in 15. Those states under unified party control are now hurtling in opposite directions on issues as diverse as gun control, taxes, immigration, and social questions: While 17 states, all Democratic-leaning, permit gay marriage, 14 uniformly red states have voted to restrict access to abortion to 22 weeks into pregnancy or earlier.
Inevitably, these differences have shaped the governors' attitudes toward federal policy. During the welfare-reform drive, Republican governors such as Wisconsin's Tommy Thompson sided with President Clinton to block a proposal from the House GOP that the governors considered too punitive; that sort of cross-party alliance is almost unimaginable now.
Virtually every Republican-controlled state sued to overturn the health care law. Twelve states with GOP governors have joined the suit against federal climate-change regulations now before the Supreme Court. Despite some important exceptions (including Arizona, New Jersey, and Ohio) most Republican governors have refused to expand access to Medicaid under Obama's health care law — while every Democratic governor has either done so or is seeking to.
In this jostling, the Obama administration has given about as good as it's got. Attorney General Eric Holder has sued Arizona and three other states to block restrictive immigration laws, and his department also sued Texas and North Carolina to stop changes in voting rules. This week, Holder encouraged state attorneys general not to defend gay-marriage bans they consider unconstitutional. Just before the Jindal-Malloy exchange, Obama, at a Democratic fundraiser, used unusually pointed language to accuse GOP governors of "pursuing the same top-down, failed economic policies that don't help Americans get ahead."
Some of this tension is inevitable and even beneficial. To an extent, allowing states to go their own way, particularly on social matters, provides a pressure release on emotional issues.
But the starkly conflicting approaches on gay marriage, immigration, and voting rules are straining the question of what rights are common to all Americans. And the hardening divide between Republican and Democratic governors is suppressing state innovation that once flowered precisely because it combined ideas from both parties. The charter-school movement began with proposals passed by Democratic legislatures and signed by Republican governors in Minnesota and California. Welfare reform blossomed from state pilots launched by Thompson in Wisconsin and Clinton in Arkansas. From the 1980s on, Democratic and Republican governors equally powered the accountability revolution in public education.
The governors' rising partisanship not only short-circuits that mechanism for nurturing new ideas. Scheppach worries it will also encourage future presidents to allow states less flexibility in administering federal initiatives for fear that governors from the other party will undermine them (as on health care). Just as turbocharged partisanship is paralyzing Washington, it threatens to equally immobilize the delicate partnership between Washington and the states.