The Arrogance of Mitt
The recent Romney documentary succeeds in making its subject more human, but it also makes it clear that the country is better off without him as president.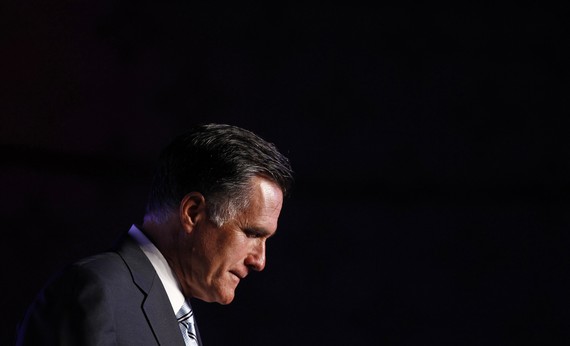 Early in the recently released Netflix documentary Mitt, a telling behind-the-scenes look at Mitt Romney's near-decade-long pursuit of the White House, the remarkably handsome Romney family is shown in 2006 seated around a cozy living room weighing the idea of making the run. Mitt solicits pros and cons.
The first offering, from daughter-in-law Jen, holding her baby: "I think the con would be that you would have to be president."
There are chuckles and agreement from the assembled. Jen smiles, and allows quietly, almost to herself, "but it would be an amazing experience." To me the comment was revealing.
This is a man, and a family, with plenty of political experience, so they view the prospect of running and serving with appropriate trepidation. They see it as a duty, a noble sacrifice. Their patriarch, a man so stiffly handsome that his face seems ready-made for chiseling on Mount Rushmore, is a good man, a rich man with impeccable morals and credentials, a man who doesn't need to become president of the United States for his own sake. He runs out of a sense of noblesse oblige. He is the charmed Romney family's gift to the American people—the perfect man, perhaps the only man, to steer the troubled ship of state back toward its divine destiny.
"The thing that scares me the most is that you'll come out and that message will be lost," says son Craig. "People will either think it's too good to be true, or … it's just a kind of facade, but I feel like if people really get to know who you are, it could be a successful campaign."
That too good to be true says it all. Most critics have deservedly praised this well-made little feature, and many have suggested that it succeeds where Romney's campaigns failed: It shows Mitt to be a lovely, likable, sweet-natured, good-humored man. In his way of walking with mincing steps and his penchant for tidying up after others, he is endearing. He is clearly beloved. His face is capable of only one or two broad expressions, but they are smile and laughter. And while no family as savvy as the Romneys would ever have an unguarded moment with a camera crew in plain sight—Mitt's notorious "47 percent" speech was before a hidden one—I'm willing to accept that there is not a starkly different man or family behind these scenes. The Romneys are a wholesome and pretty family, and don't they know it.
But what is missing from this picture? Granted, Mitt is a busy man, but nowhere in any shot in the hour-and-a-half long film is he ever seen reading a book, a magazine, a newspaper, a Kindle, an iPad … anything. We see him once tapping away on a laptop, seemingly answering an email, and we see him once reading from some papers, apparently working up a speech, but nowhere in any shot, not on a side table or on a shelf in the background, or on the floor of the plane beside his reclining chair, nowhere is a page of reading material. You would think that somewhere over six years of filming, on a plane or a bus or in a hotel room, no matter how austere, there might be some trace of a life of the mind. There isn't. And in a film devoted to showing us the real Mitt Romney, I find it hard to believe that any scene displaying intellectual depth would have been left out.
And it's not just the physical traces that are absent. Nowhere in any of the family conversations presented over all those years of recording, in all those hotel suites and backstage lounges, on planes and in vehicles, other than brief banter about how much Mitt liked the Coen Brothers' comedy O Brother Where Art Thou, is there dialogue about anything other than the immediate challenges of the campaign. This is one focused family. There is no talk of history, of world affairs, of military issues, of race, of science, of the fine arts, of sports, of television, of music … nothing. The dialogue is as barren and bland as the hotel-room furnishings.
The film does show us one issue that Mitt feels passionate about: the tax burden on small business. He remembers back when he was running Bain Capital, his private equity and venture capital firm, staying up nights worrying about companies that they couldn't save, and he seems to have real empathy for how hard it is to create and sustain a small business. But the rest is all tactics and strategy. It's about how he looks and presents himself, about debate strategy, whether he should be attacking the president or making nice, about the impossibility of pleasing his critics. It's decent nuts-and-bolts stuff about the theatrics of politicking, but there's nothing anywhere to suggest any more depth to the man than a campaign poster. There's certainly nothing in it that would make me want to seat Mitt in the nation's highest office.
It's not clear exactly what Craig was referring to when he spoke in the beginning of "that message" being lost, but it seems from this film that it amounts primarily to the promise of near perfection, and capable management. Nothing is ever spelled out, but the Romneys clearly see themselves as the answer, the ideal representatives of the way America ought to be, the correct way to live, to worship, to be. They bring the gift of traditional family, traditional faith, and lower taxes. They bring us Mitt.
The hurt reaction to his defeat is the response of a family whose generous gift has just been rudely cast aside. They are disbelieving. There is an ever-present patina of sweetness and grace—they are, after all, on camera—but beneath it is a deep and unmistakable arrogance. How could the body politic be so ungrateful, so misguided? How could they not see? Nowhere in the stunned hotel room does anyone even fleetingly consider that there might have been something lacking in Mitt, in them, or in their vaguely defined vision for the country. Nowhere is the thought that Barack Obama ran a better campaign, that his unique personal history, his vision for America, was somehow more in tune with the 21st century electorate, or that the American people had made even a defensible choice. No. This is not just a rejection of Mitt, but a disastrous national blunder.
One of Mitt's advisers suggests that his concession speech ought to be more "pastoral" than political, that it was a time to soothe his disappointed supporters.
"To soothe is not my inclination," says Mitt, who sees Obama as a certain disaster. "This is really serious, guys. This is really serious. I cannot believe that he is an aberration in the country. This is following the path of every other great nation, which is we're following greater government, tax the rich people, promise more stuff to everybody, borrow until you go over a cliff. We have a very high risk of reaching the tipping point sometime in the next five years." He frowns and shrugs.
He was more gracious in the speech itself, congratulating the president, and leaving out the prophecy of doom.
The film ends with Mitt and Ann saying goodbye to their Secret Service entourage and carrying their own luggage back into their home. They still have their handsome and loving family, their wealth, but judging by the portrait in this film, not much else. Mitt flops into his armchair without even removing his jacket, and stares out at the vista from his living room. I felt a little bit sorry for him, but relieved for America.