Steve Stockman's Senate Campaign May Be Weird and Lazy, but It's Not Surging
Texas Rep. Steve Stockman is running for Senate. Sort of. Don't be fooled by the two polls Stockman's touting; they're largely more misinformation.
This article is from the archive of our partner
.
Texas Rep. Steve Stockman is running for Senate. Sort of; he disappeared for a while and his campaign seems to have issues maintaining consistent or accurate positions on trivial things. But Stockman's touting two polls — one showing him leading his main competitor, Sen. John Cornyn, and indicating that a run-off is likely. Cornyn can sleep easy; those arguments are largely more misinformation.
We'll dispatch with the poll showing him leading Cornyn first, since it won't take long. "Another Texas #GOP Straw Poll win," Stockman's campaign tweeted and Facebooked on Thursday. But as Slate's Dave Weigel points out, that poll is two months old. Plus it's a straw poll, of course, which is the polling vehicle that in Iowa in 2011 correctly predicted the Michele Bachmann presidency.
Read that Slate article, by the way. It's about how Stockman's spokesman, Donny Ferguson, criticized Weigel on Twitter for saying that Weigel lied in his post. Weigel very convincingly demonstrates — using emails — that Ferguson is wrong about his assertions or, really, lying.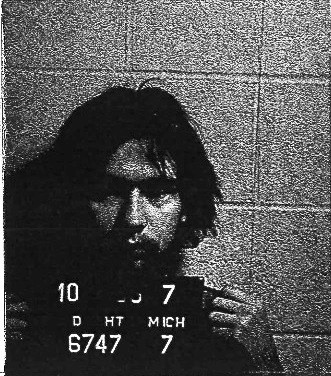 Which has happened before with Stockman's campaign. Last month, Stockman accused Cornyn of lying about Stockman's criminal past, a past that Stockman has for years offered willingly for profiles. That past includes a 1977 bust for traffic violations which escalated when cops found Valium tucked into his underwear. The Texas Tribune got the police report for the arrest, including the mugshot at left. But Ferguson announced that the Stockman campaign would sue Cornyn for allegedly lying about the arrest. And then the campaign quoted its own disparaging comments from its lawsuit in a tweet attacking the senator, as the Dallas News pointed out.
None of which should be a surprise. "He's campaigning by tweeting," University of Texas lecturer Sherri Greenberg, herself a veteran of the Texas State Legislature, told The Wire by phone. "It's the usual Stockman, what can I say? He has his style of campaigning, and it's not the typical style."
I'd called Greenberg to talk about that second bit of data, the poll from Gravis Marketing showing that the Texas Senate race might be headed to a run-off. Stockman's been promoting that all over, as have far-right blogs like WorldNetDaily ("Titanic Republican Shift in Key Senate Race"). See, if Cornyn can't get 50 percent in the upcoming primary, the top two finishers go to a run-off. In this poll, conducted by a marketing firm called Gravis Marketing, Cornyn's at 43 percent, 7 points shy.
A run-off is exactly how Stockman won his House seat in 2012 — losing Round 1 and winning Round 2. But more to the liking of Stockman's narrative, that is also how Sen. Ted Cruz won his Senate seat. Stockman, like others in Texas, are using the Cruz veneer to seem more conservative. A visit to Stockman's campaign website — which lists no upcoming campaign events, because the campaign doesn't seem to have events — leads with a quote from Cruz. Well, actually, it leads with a call to impeach Obama, but we're already pretty far away from the point of this conversation: That Gravis poll.
"You have to take this with a grain of … whatever," Greenberg said about the poll, given that it's from a relatively unknown pollster. Even assuming that the poll is a perfect reflection of the race, it's not great news for Stockman.
Stockman is still trailing, badly. Maybe Cornyn is seven percentage points from the magical 50 percent mark, but Stockman is 22 points away. Cornyn leads him by 15 percentage points.
Cornyn isn't as far from 50 percent as it looks. Cornyn, the incumbent, only needs to pick up a quarter of the "undecided" vote to top 50 percent. While the "undecided" vote in a race between an incumbent and an unknown is often a protest vote — and there are a lot of other candidates in the race who might eat into that as well — grabbing another 7 percent is far from impossible.
Republicans prefer Cornyn by a 23-point margin. Conservatives prefer him by 29. Gravis was generous enough to provide The Wire with data breaking down the vote by political ideology. (This isn't all good news, as we explain below.)
People like John Cornyn. Gravis has Cornyn's approval rating at +22, meaning that his approval is 22 percentage points higher than his disapproval. Those are pretty good numbers. (Stockman's at +10 — but a majority of voters haven't heard of him.)

But Stockman seems to be convinced that 1) he will get to the run-off, and 2) the Ted Cruz history will repeat itself. Greenberg is not convinced. "Ted Cruz and Stockman are not the same people," she said. "They don't have the same fundraising capacity, they're not the same kind of campaigner. Cornyn's favorability? That's significant." She noted a key difference between Cruz and Stockman. The former was a Tea Party darling when the Tea Party was at its apex both in Texas and nationally. "Ted Cruz was their standard-bearer. Are they putting money into Stockman? No. Even if they are in a runoff — Steve Stockman is not Ted Cruz."
So why, I asked, is Stockman's campaign being treated with any credibility at all? She responded with a variation on "you never know." There could be a run-off, of course. "Extremes tend to vote in primaries," Greenberg told me, echoing the conventional wisdom. In Texas' open primary system, that extreme is the self-identified "very conservative" bloc — which still favors Cornyn, but only by nine points. Even a quarter of them are undecided.
If there is a run-off, Greenberg says, it comes down to "who can club the most people over the head and drag them to the polls." Gravis' Doug Kaplan told me by phone that he thinks that if Stockman gets to the runoff, Cornyn "has big problems," in part because of those conservative numbers and because of Stockman's small lead with independents. And, it's worth noting, Steve Stockman — twice — won election to the House of Representatives, Valium-underwear story and all.
All of that said, though, it would take a series of lightning strikes to turn Rep. Stockman into Sen. Stockman. Maybe Steve Stockman can be the first senator elected by tweeting old polls and getting into fights with reporters and not holding any events and schlepping to Europe mid-campaign. But there's zero rational reason at this point to think that he will be.
This article is from the archive of our partner The Wire.