Speaker of (Glass) House Boehner Should Stop Casting Stones at Obama
The public has little trust in the two major parties or their leaders.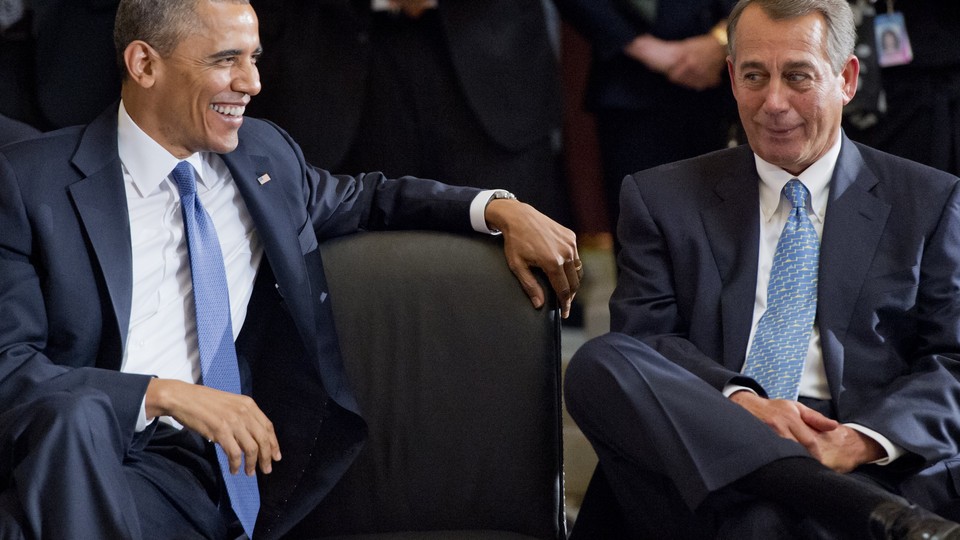 When John Boehner says Republicans can't trust Barack Obama on immigration reform, my first thought is to take a sarcastic swipe at his hypocrisy. A snarky headline jumps to mind: House Speaker Pot Calls President Kettle Untrustworthy.
On second thought, I'll stick with the facts to make a case that nobody in Washington is trusted.
Let's start with Boehner: He titillated Washington with talk of a compromise on immigration, an issue in need of reform to bring 11 million illegal residents out of the shadows, to boost the economy, and to potentially save the GOP from extinction. After hard-right lawmakers, commentators, and interest groups labeled the effort amnesty, Boehner retreated.
He deflected blame to Obama, saying Republicans wouldn't be able to trust any deal cut with the White House. "The president is going to have to rebuild the trust (so) that the American people (and) my colleagues can trust him to enforce the law the way it was written," the speaker said.
That's a poor excuse. The fact is the Obama administration has deported nearly as many people as were deported between 1892 and 1997, a level of enforcement that has angered the Hispanic community and other allies. In addition, any new immigration law likely would not take full effect until after Obama leaves office.
Boehner also suggested that his caucus couldn't trust Obama because "he's running around the country telling everyone that he's going to keep acting on his own." He was referring to executive orders, a constitutional perquisite of the presidency. In fact, Obama has issued fewer orders than many past GOP presidents, and no court has found his action illegal.
That hasn't stopped Republicans from accusing Obama of tyranny, a highly charged word that means "cruel and oppressive government or rule."
This is dangerous language. At a public meeting with GOP Rep. Jim Bridenstine, a woman called for Obama's execution as an "enemy combatant." Rather than rebuke the false and irresponsible charge, Bridenstine called Obama "lawless."
It's no wonder Republicans have a credibility crisis. A Pew Research Center poll conducted last month showed that Americans trust Democrats over Republicans to "govern in a more honest and ethical way," 41 percent to 31 percent.
Congressional approval stands at a pathetic 13 percent, according to the most recent Associated Press-GfK poll, with 86 percent of adults disapproving. While the Senate is controlled by Democrats, the gridlock and extremism despised by Americans is centered in the GOP-run House. By nearly a 2-1 margin, Americans believe Democrats are more willing to work in a bipartisan fashion than Republicans, Pew found.
What about Obama and fellow Democrats? While most Americans favor the president's party on traits, their allegiances are divided on policy. More to the point of this column, a year of scandal, deflecting, and dissembling undercut what had been one of Obama's greatest strengths: credibility. Polls now find that more than half of Americans wouldn't describe him as honest.
More broadly, since the early 1960s, when nearly 80 percent of Americans said they trusted government "most of the time," the public's faith in its political leadership has declined steadily, according to Pew, to less than 20 percent. The same trend holds for virtually every U.S. institution. In nothing we trust.
Eleven months ago, Boehner was asked if he trusted Obama. "Absolutely," he said. You might wonder: Was he telling the truth then, or is he evading it now?
NOTE: For more thoughts on trust, please see Facebook post here.