So Long, John Dingell
Few legislators have had as great an influence as the Michigan Democrat—and few ever will.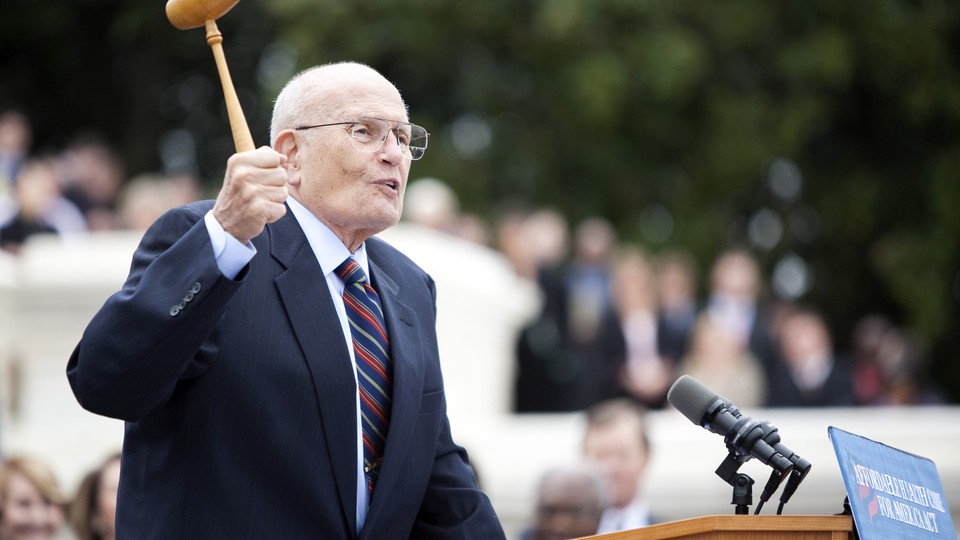 The numbers will tell you that retirements from Congress are still a bit below average. But what the numbers don't tell you is that the nature of the retirements so far is anything but average. The last few weeks have brought announcements from three giants in the House: George Miller, Henry Waxman, and now John Dingell. None has come as a shock. But all bring a real sadness to this Congress maven.
If you are intrigued by the lawmaking process, it is a joy to watch a master at work. The three above are masters—none more so than John Dingell. Much has been written about Dingell over many decades, a lot of it by me, and a whole lot when he passed the milestone in 2009 of becoming the longest serving member of the House and again in 2013 when he became the longest serving member of Congress ever, supplanting Robert C. Byrd.
The Michigan Democrat has served in Congress for 58 years, and was immersed in the House for a long time before that, as his father held the seat for the previous 22 years, going back to the beginning days of the FDR era. At 87, he is still as passionate about the issues, as savvy about how Congress works, as knowledgeable about the policies, as he ever was, which makes him more passionate, savvy, and knowledgeable than the vast majority of his colleagues. The fact is that he could stay in office and still be a force, hitting the 60-year mark with ease. Even in this hothouse and rancorous atmosphere, Dingell commands widespread respect across all the usual barriers in Congress. But with little chance that Democrats will recapture the House majority, with little likelihood at this point of advances in important policies, and with an acute understanding that at his age, there is no guarantee he will continue to have the same capacity to stay on top of things, his choice is a wise one.
Some may view Dingell's longevity as a good reason for term limits. I view it as the opposite. Dingell has had a hand—a hugely constructive hand—in nearly every major advance in social policy over the past five-plus decades, including civil and voting rights, health, and the environment. He has always had strong views—not always in sync with mine, I should add—but he brought intellectual depth and honesty to the table and found ways to build bonds of trust and affection with his Republican adversaries and counterparts that helped make many of the policy advances work better because they had bipartisan leadership support.
He also brought a love for the institution and an incredible institutional memory, so that he could help make sure Congress did not repeat mistakes over and over again. It would not be a good thing to have a hundred or two hundred members of Congress who have served for several decades. But it would be a really bad thing to have none. Congress would have a much poorer place, and our social fabric less rich and more frayed if Dingell had been forced out after twelve years, or had left Congress long before now for other reasons
To many outside observers, Dingell was a fearsome force—he could be tough as nails, and sometimes overly tough, when he wielded a gavel and conducted an investigation, and he has a temper (although one he has wholly under control, and has used adroitly for negotiating advantage). But to those who know him well, and I count myself among them, he is a gentle and generous soul, gracious and nice to all. We have not seen many members of Congress, over the entire history of the nation, who have made a mark as broad and enduring as Dingell; we will not see many in the future.
This is a tough year for Michigan, losing both Dingell and Carl Levin, who commands as much respect in the Senate as any other senator. (If we are fortunate, Levin's brother Sandy, another Übermensch and leader for social justice in the House, will stick around and continue his service.) And maybe, just maybe, we will continue to have a Dingell seat in Congress; there is some chance that his wife Debbie, a woman with her own set of talents and accomplishments, will now consider running.