Senate Negotiators Are Optimistic on Unemployment Insurance
A six-month deal could be in the works.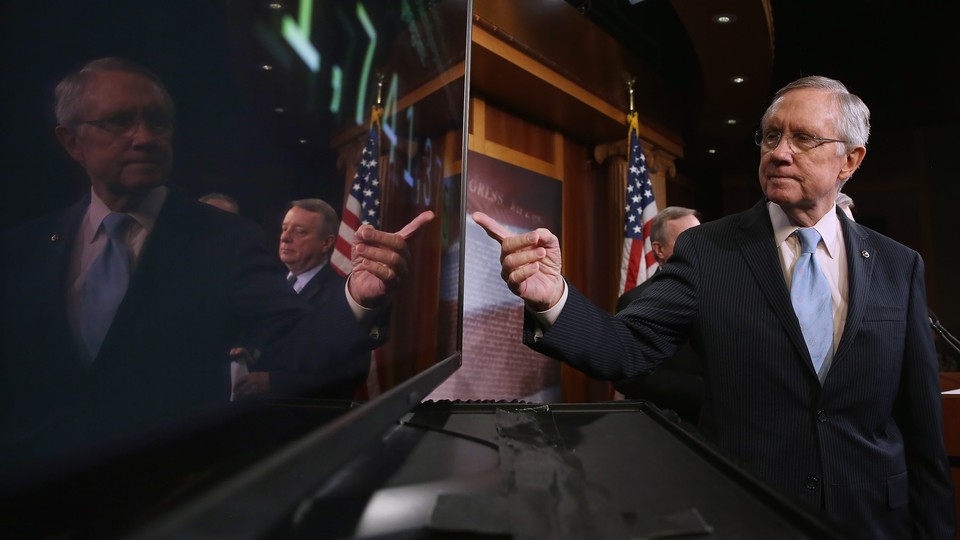 After another day of talks, two of the leading senators involved in the negotiations to extend unemployment-insurance benefits expressed optimism Tuesday about the possibility of a deal.
That agreement, Senate Majority Leader Harry Reid said, would likely extend the benefits for six months, rather than the three months Republicans initially pushed for. However, the legislation will be retroactive, giving those on unemployment a lump sum for the amount they missed after benefits expired on Dec. 28 and new checks likely through late June.
Asked when he expects to bring an agreement to the floor, Reid said: "Soon. I had some good conversations today."
Sen. Dean Heller, R-Nev., who has cosponsored several bills to reinstate the program, also sounded upbeat on Tuesday. "I think something's going to happen," Heller said, though he was less certain about the timing. "I don't know about this week, but we're working on it."
Democrats need one more Republican to join them in voting for the extension, after a previous bill failed to get cloture earlier this month. Currently, members have their eyes on Sens. Mark Kirk of Illinois, Rob Portman of Ohio, and Dan Coats of Indiana.
Heller spoke with the Democrats' top target, Kirk, about the issue Tuesday. "I had a good long talk with Dean Heller today about this very subject, about the length of time and how we pay for it and how we bring the gimmicks out of any pay-for," Kirk said.
Asked whether he preferred a short-term extension, such as a three-or-six-month patch, Kirk said: "Obviously, from my viewpoint the less cost, the better."
Sen. Susan Collins, R-Maine, who voted in favor of the last bill to extend the benefits and has been involved in the talks, agreed that a short-term solution is best. Asked whether a long-term extension, perhaps for a year, was a possibility, Collins repeatedly shook her head.