Scott Walker's 2016 Roadblock: Winning Reelection in 2014
Democrats are aggressively working to undermine the governor before he prepares for a presidential campaign.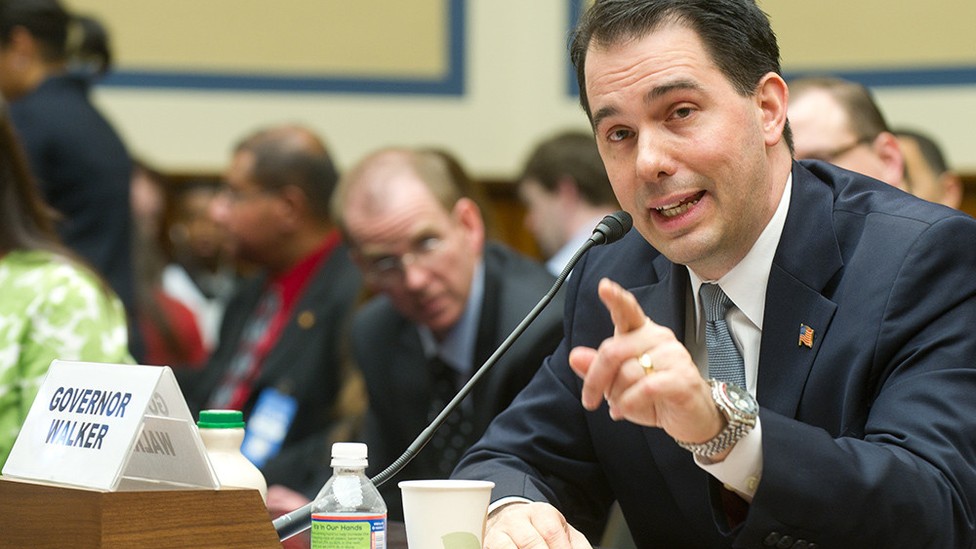 Wisconsin Gov. Scott Walker is being hyped as a leading Republican presidential contender, but there is a more pressing concern for the first-term governor. Walker's 2014 reelection is no guarantee, and faces a serious challenge from one of the Democrats' stronger gubernatorial recruits this year.
Two straight Marquette Law School polls have shown Walker with 47 percent of the vote — high enough to be the favorite, but low enough that he's vulnerable in a Democratic-friendly state. Democrats have tapped Mary Burke, a wealthy business executive without much of a political record, to run against the governor, whose aggressive battles against labor made him a polarizing figure in the state. Burke has already attracted the attention of the Republican Governors Association, which is spending six figures on attack ads. Republicans hope they'll be able to define Burke negatively before she gets the chance to pose a threat to Walker.
It would still count as an upset if he lost this November. But while most leading presidential contenders don't have to worry about their reelection, Walker will be a leading target for Democrats, who hope to at least wound him before he prepares for any presidential run. Emails released this month as part of a probe into improper campaign practices by Walker's staff in 2010 contained troves of information Democrats hope will damage the governor. Burke criticized Walker on Monday for setting "a low bar for campaign ethics." (Walker was never charged with anything, and Republicans recently pointed out that Burke is employing a staffer convicted of campaigning on state time.)
"I don't talk to a lot of people in either party who think things are a slam dunk," said Brian Schimming, a vice chairman of the state Republican Party. "But nobody's betting against him, that's for sure."
Wisconsin's polarized electorate explains the two sides of that coin. The state's large population of liberal Democrats gives it an overall blue tinge, but there are also many conservative Republicans, among whom Walker is very popular. Recently, the governor's poll numbers have been remarkably resilient. He survived an expensive, bitter recall election less than two years into his first term, and has maintained job-approval ratings of 48 percent or higher for the past six months, according to Marquette. Their latest poll, in January, put him at 51 percent.
"The challenge for Mary Burke and Democrats is if they can shake people loose" from that status quo, said Charles Franklin, the director of the Marquette Law School poll. Given how closely divided the state is, moving the numbers just a handful of percentage points makes the race a dead heat, Franklin continued.
Another telling indicator: 54 percent of those surveyed in January said the state was going in the right direction, versus 40 percent who said it was on the wrong track. "The burden is on them to say things are worse than they were when he took office, and people aren't saying that," Schimming said.
Still, Walker's been stuck at 47 percent of the vote in the most recent polls, while the largely unknown Burke has gotten 45 percent and 41 percent, respectively. Democrats have carried the Badger State in six straight presidential elections, and liberal Sen. Tammy Baldwin comfortably dispatched former GOP Gov. Tommy Thompson in an open-seat race in 2012. There are too many reliable Democratic voters in Wisconsin for Walker to build up a super-safe lead, even though his job ratings are robust.
A Walker defeat wouldn't be the first time a presidential contender lost an election right before their big opportunity. Republican Sen. George Allen of Virginia spent 2005 and part of 2006 getting eyed as presidential material — before his "macaca" moment and a Democratic wave turfed him out of elected office. Florida Gov. Charlie Crist was on some GOP presidential short lists in 2009, but he chose to run for Senate instead of reelection and ended up getting chased out of the Republican Party by Marco Rubio. (He's now running for governor again — as a Democrat.)
Walker's ability to win a Democratic-friendly state while pushing forward with conservative budget reforms instantly make him a leading contender for national office. But he has to finish business within the state before those prospects have a chance of becoming reality.
{{ BIZOBJ (video: 4765) }}