Rick Santorum Plots His Return
The 2012 contender is weighing another White House run — and another chance to be every bit as conservative as mainstream Republicans fear.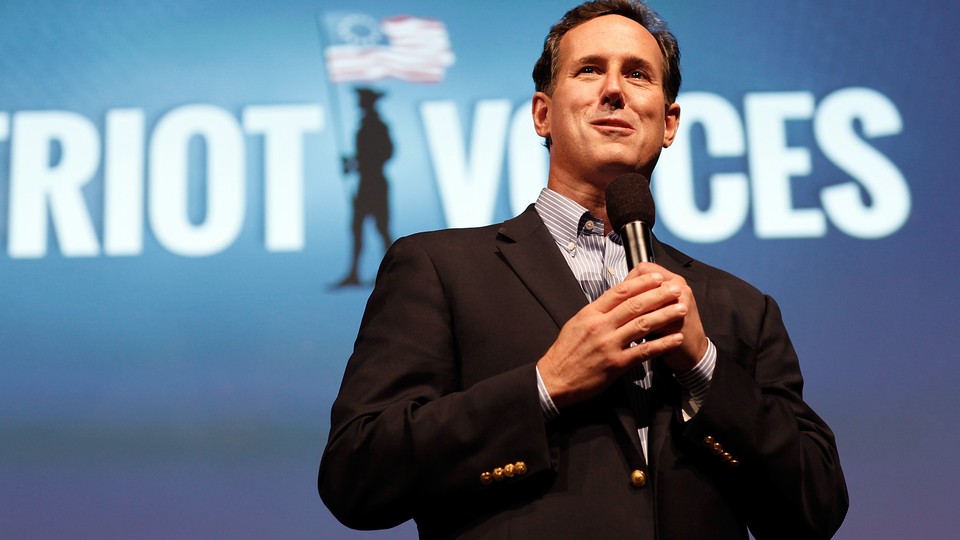 Listening to pundits talk about the potential 2016 Republican field, you'd be forgiven for forgetting about Rick Santorum. The former senator's strong second-place showing in 2012 shocked — even scared — the GOP's kingmakers, who saw in him an abortion-hating firebrand with no chance of beating Barack Obama. So it's no surprise that today, the party's mainstreamers are acting like he's old news, again dismissing a Santorum presidential candidacy.
Not that he cares. He's too busy plotting another possible run at the White House.
In recent months, Santorum has gathered his inner circle of longtime advisers to sketch out a presidential campaign. He's scheduling trips to New Hampshire and Iowa, his aides say, and will stop over in South Carolina, where his son attends the Citadel. And at the end of April, he'll release a book that could double as his candidacy's manifesto, fleshing out the themes that animated his previous White House bid.
Santorum's interest in a campaign — he has not yet decided whether he'll run — will again elicit groans from top Republicans, who met his declaration four years ago with a mix of eye rolls and laughter. But this is not the same candidate, and it's not the same election environment. Then, the senator's most recent tangle with voters had yielded a 20-point defeat in his home state of Pennsylvania, an embarrassing loss for the then-No. 3 leader in the Senate. Now, Santorum would be entering the race as the candidate who won 11 nominating contests and hundreds of delegates in the last presidential primary — and came within a few victories, notably in Michigan and Ohio, of toppling Mitt Romney.
His advisers readily admit that the coming GOP field, however it takes shape, will present a far more daunting challenge. In just two years, an entire generation of rising conservative stars — including Marco Rubio, Scott Walker, Chris Christie, Rand Paul, Ted Cruz, and Bobby Jindal — has leapfrogged Santorum in the presidential pecking order. But, these advisers argue, the former senator is in a much stronger position now, coming off his 2012 run — at least as strong a position as any other prospective GOP contender.
"Does it matter that The New York Times, The Washington Post, Politico, or National Journal doesn't have him a top-tier guy going in? I don't think it bothers him one bit," said David Urban, a D.C.-based lobbyist and a close confidant of Santorum's. "I think he'd rather under-promise and over-deliver."
If he does run, Santorum's advisers promise that the mechanics of his effort will bear little resemblance to his last outing. Then, his severely underfunded outfit barely ran a professional campaign. Instead of a traditional bus, Santorum traveled across Iowa in rental cars (and later an adviser's truck). His consultants couldn't afford to conduct polls. And while nobody on Team Santorum predicts that the 2016 campaign would be a financial juggernaut, they're convinced he will pull in more cash this time around — enough to avoid the Spartan existence of 2012 and to build an organization to rival their competitors'.
"Last time, we were having trouble getting our phone calls returned at this point," said John Brabender, Santorum's longtime political guru. "Now other people are calling that are credible consultants saying, "˜Hey, is there space for me on the campaign somewhere?' We did not have that interest last time."
Those close to Santorum also point to Patriot Voices, a political advocacy organization he created after his exit from the 2012 primaries, as a kind of campaign-in-waiting. The group, according to an adviser, has roughly 350 chapters of volunteers. And as CEO of the Dallas-based EchoLight Studios, a film company, Santorum has also spent a lot of time in Texas — which, as one adviser knowingly put it, is the "ATM of GOP politics."
Of course, organization will take Santorum only so far. It's with his messaging that the avowed foe of abortion rights and same-sex marriage has traditionally run into trouble. Santorum briefly defined himself as a working-class Republican candidate after his 2012 second-place finish in Iowa (a state where he was later declared the victor). But in the ensuing weeks, questions over his conservative views dogged him.
Santorum, who is Catholic, prides himself on not dodging questions about his cultural beliefs, and his advisers say he won't avoid them in a future campaign, even to the detriment of his overall cause. "I think the answer is ... [to be] more proactive talking about the other things," Brabender said.
But many Republicans remain convinced that no matter how much enthusiasm the Pennsylvanian garners among primary voters, a Santorum nomination would yield a defeat in November 2016 unlike any the party has seen since Barry Goldwater's in 1964. They caution that electability should weigh heavily on Republican primary voters, who could be stuck with at least four years of Hillary Clinton if the GOP doesn't nominate the right candidate.
By all accounts, this internal party hand-wringing matters little to Santorum. If he runs, as many of those close to him expect he will, he'll start off yet again as the underdog. Fortunately for Santorum, it's a position he's comfortable holding. P