Rethinking the Role of Community Colleges
As more students see the two-year schools as a step toward a four-year degree, California tries to smooth the way.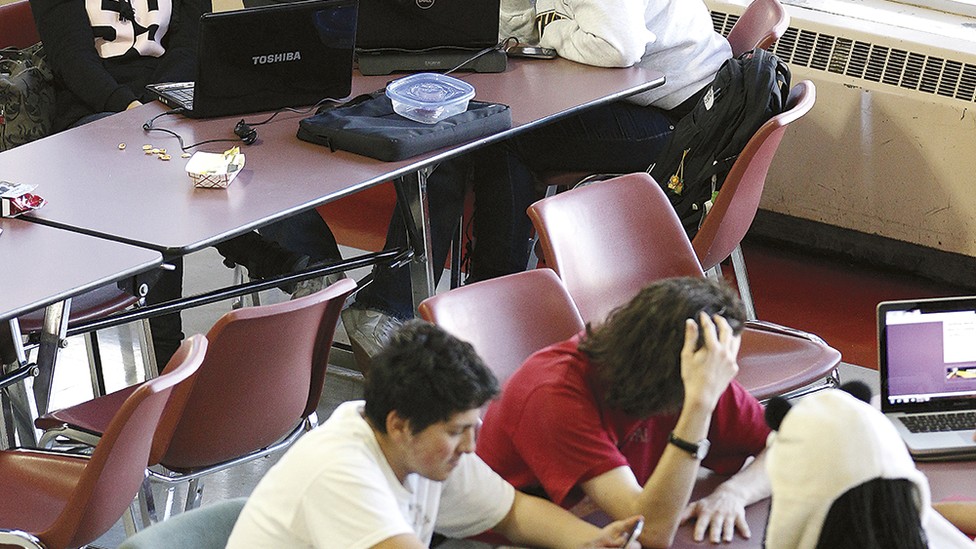 "I think this is one of the most important issues that we have," National Economic Council Director Gene Sperling said ahead of a White House higher-education and social-mobility event last month.
He wasn't talking about student loans, affirmative action, or careers in science and technology. He was talking about making it easier for students to transfer from community colleges to four-year institutions.
Community colleges in recent years have become a common first step toward a bachelor's degree, particularly for low-income, minority, and first-generation college students. Starting out at a two-year institution can be a practical option for those who don't want, can't afford, or aren't qualified to enter a four-year university right away. But in most states, the transfer route is an often-impassible obstacle course. Depending on which survey you see, at least half — and perhaps as many as 80 percent — of community-college students hope to transfer to four-year institutions, but only about 11 percent earn bachelor's degrees within six years, according to the Education Department's National Center for Education Statistics.
Many states have recognized that their higher-education systems haven't caught up with the way students are using them, and they are working to improve transfer pathways, but California's effort will be the most consequential: The Golden State's sprawling system serves about a quarter of all community-college students in the nation. By the end of this year, the state expects to have fully implemented a 2010 law that requires community colleges to offer associate's degrees that guarantee graduates admission as juniors to a California State University campus.
At first glance, California doesn't seem to need the new associate's degrees. Former community-college students currently account for more than half of those who receive bachelor's degrees from the CSU system and a quarter of those who receive them from the University of California. But the system's transfer success rate is lower than it might be — and lower than state lawmakers would like.
There isn't a lot of hard data on California community-college students' educational goals, but Colleen Moore, a research specialist at the Institute for Higher Education Leadership and Policy at California State University (Sacramento), has looked at the issue. She estimates that just 23 percent of community-college students whose transcripts suggested they were pursuing some kind of credential eventually transferred to a four-year university. The California Community College system, measuring differently, says about 40 percent of students who want to transfer do so, according to Moore.
And although they are a majority of California's community-college attendees, Hispanic and African-American students are less likely to transfer to four-year universities than are their white and Asian-American counterparts.
"We have found that Latino students are about half as likely to transfer as white students are, out of the community colleges. And black students are less likely than white students, as well," Moore says. In addition, Hispanic and African-American students who do transfer to four-year schools are much more likely to transfer to for-profit institutions, where graduation rates are typically lower.
The new degrees are expected to help in a number of ways.
First, they'll certify that a student has completed freshman and sophomore course work that aligns with common university majors. Under California's old system, receiving institutions differed in the number and types of community-college credits they accepted and the courses they required for certain majors. Students who successfully transferred often ended up retaking classes, wasting time and money.
The degrees are also expected to help motivate and guide students by guaranteeing them admission to CSU — although not necessarily to the campus or program of their choice.
"The single most important thing for students is the level of predictability," says California Community Colleges Chancellor Brice Harris.
Putting the degrees together has been a laborious process. It's taken about three years for community-college and CSU faculty members to come up with statewide templates for 25 majors, and for the schools to start offering the necessary classes. Last fall, the state Legislature passed a follow-up bill prodding the higher-education system to hurry up. By the end of the year, the community-college system plans to have rolled out the last 800 of 1,800 planned degrees across 112 campuses.
Not all community colleges will offer all degree options, but the system hopes to serve as many transfer hopefuls as possible. So far, more than a thousand students have taken advantage of the degrees.
California takes its cue from Florida, which since the 1970s has guaranteed associate's-degree holders admission as juniors to state universities. In Florida, as in California, the majority of high school graduates who pursue higher education do so at a community college. Half of all Florida associate's-degree holders transfer to a state university.
The new degrees could help ease the pressure on California's university system by reducing the number of courses students have to retake. But if too many students take advantage of the program, given California's higher-education capacity issues, the state could be hard-pressed to maintain the transfer guarantee. In the early years of the recession, state budget cuts forced universities to limit enrollment and community colleges to turn away half a million students, Harris says. The higher-education budget has since increased, but it remains volatile.
Cautions Harris: "This ... associate degree for transfer system is very likely to put increased pressure on CSU, as students come out of our colleges with those degrees in hand and expect there to be room at the inn."