Researchers to Congress: We Need More Funding to Fight Alzheimer's
The disease is the sixth-leading cause of death in the U.S. and the only one of the top 10 without a treatment.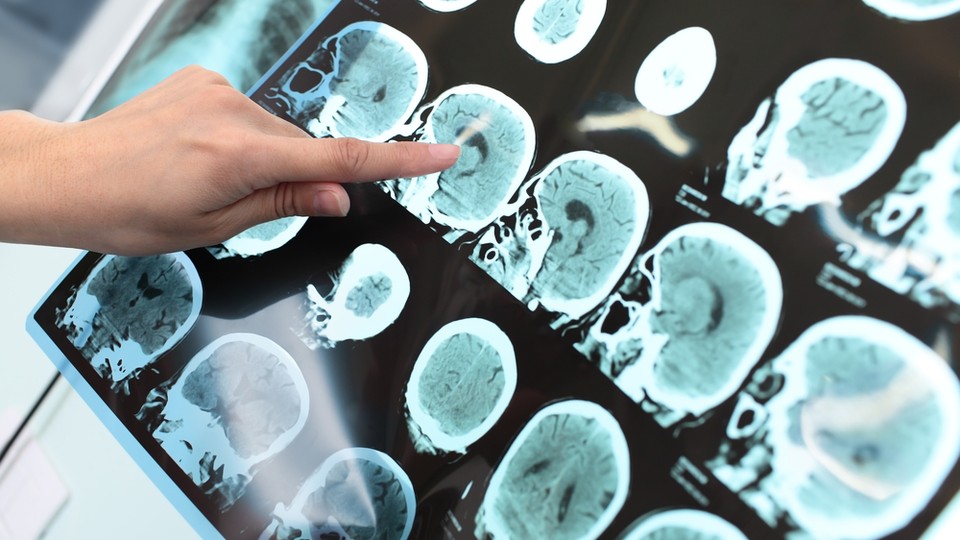 Sen. Tom Harkin led members of a Senate Appropriations subcommittee in a hearing Wednesday on the economic impact of Alzheimer's disease, as Congress works with the medical community to realize the Obama administration's ambitious goal of curing the ailment by 2025.
The subcommittee questioned leaders from the National Institutes of Health and the National Institute of Aging, along with other experts. Other witnesses included a comedian and Alzheimer's activist Seth Rogen, who brought a little star power — and levity — to the proceedings which were, needless to say, pretty grim.
Though Alzheimer's is the sixth-leading cause of death in the United States, it isn't as commonly discussed or as well funded as some of the other diseases, several researchers testified. Worse, it is the only one of the top 10 deadliest diseases in the nation for which there is no treatment to slow its progress. There is no cure and it is always fatal.
And the disease is growing rapidly, as are the costs associated with caring for patients. Care for those suffering from Alzheimer's and other types of dementia is expected to grow from $203 billion last year to $1.2 trillion by 2050, according to Harkin's office. Medicare and Medicaid costs associated with the disease could grow by as much as 500 percent over the same period.
As such, appropriators included major funding for medical research in their fiscal year 2014 spending bill, which passed both chambers in January. The bill includes an $80 million increase, compared with 2012, in funding for Alzheimer's prevention and research at the National Institute on Aging, which is part of NIH.
Sen. Barbara Mikulski, D-Md., who chairs the Appropriations Committee, noted in her questioning that her own father died of Alzheimer's. She asked them what Congress could do to help find a cure.
"I think we are not at the moment limited by ideas. We're not limited by scientific opportunities, we're not limited by talent, we're unfortunately limited by resources to move this enterprise forward at the pace that it could take," NIH Director Francis Collins told the senator. He pointed out that the funding for Alzheimer's research is minimal poor that just one out of every six scientists with a promising research idea will actually get the money for it.
That got Rogen — who peppered the story of his mother-in-law's early diagnosis at the age of 55 with jokes — going. He warned that without better funding, researchers with ideas for an Alzheimer's cure might choose to study something "sexier," like heart disease. The lack of funding shows "people of my generation," Rogen said, "that it's just not that high a priority on the national level."
Former Rep. Dennis Moore, D-Kansas, also called for more research funding at the hearing. Moore, who left Congress in 2011, was diagnosed with Alzheimer's disease himself shortly thereafter and has since become an advocate. He noted that NIH spending for Alzheimer's research has lagged (a point that also found its way into a debate on this season's House of Cards, as the disease begins to gain more prominence). "The direct cost of Alzheimer's and related dementia is greater than any other condition in the United States, including heart disease and cancer," Moore said, citing a study published by the New England Journal of Medicine.
But Collins and others pointed to a positive sign for researchers: the Accelerating Medicines Partnership, which was formed by NIH earlier this month to combat Alzheimer's and other diseases. The venture represents an "unprecedented" level of cooperation between 10 pharmaceutical companies — including giants like Pfizer, GlaxoSmithKline, and Johnson & Johnson — as well as several nonprofit groups, NIH, and the Food and Drug Administration.
The 10 companies have kicked in a total of $61.9 million, with NIH offering another $67.6 million, to research and produce Alzheimer's medications within the next five years. Alzheimer's was one of the few diseases that was big enough to bring all 10 usually competing companies — and their cash — to the table, Collins said.
The project is part of a larger federal goal to find a cure for the disease by 2025. Before Congress boosted its funding in January, NIH had planned to spend about $562 million on Alzheimer's research this year, compared to nearly $10 billion for cancer and almost $2 billion for heart disease.
Still, National Institute on Aging Director Richard Hodes said the goal is attainable. "Ambitious as it is, we have no choice," he said, noting the growing "urgency" of the issue as the American population ages.