Rep. Rush Holt Might Be the Most Interesting Man in Washington
The physicist-statesman is taking his leave after eight terms in Congress and one stunning win over a supercomputer on Jeopardy.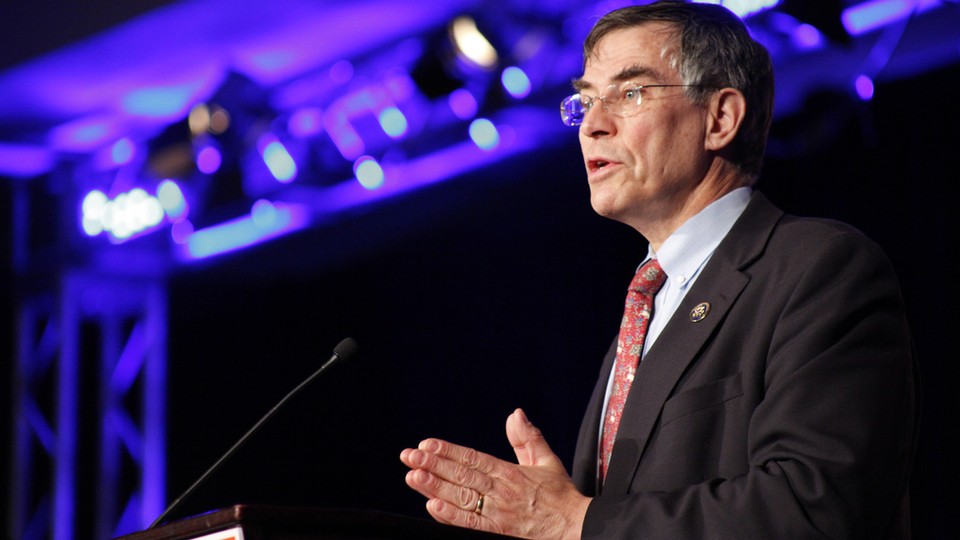 Out of the 435 people who serve in the House, all but a handful are pretty much anonymous outside their home districts. Unless a representative rises to leadership, sticks around for decades, says something patently ridiculous, or becomes embroiled in scandal, he or she might never register on the national stage.
New Jersey's Rush Holt is the sort of representative who's been a consistent, intelligent member of Congress for eight terms, but hasn't ticked any of those boxes. (The Democrat is also generally rated one of the most liberal.) But here's the thing: Rush Holt might be the most interesting man in Washington. And now he's announced he won't run for reelection in 2014.
You could say notable public service runs in Holt's blood. His father, Rush Holt Sr., was—at 29—the youngest person ever elected to the U.S. Senate, serving one term representing West Virginia. Holt pere couldn't take his seat until several months in because he had to turn 30 first. (Holt fils was disappointed in his own bid for a Senate seat, coming up short against Cory Booker in last year's special Democratic primary to replace the late Senator Frank Lautenberg.) Holt Sr.'s widow, Helen, later became the West Virginia secretary of state, the first woman to hold statewide elected office there.
The younger Holt, Congress's only Quaker member, only entered politics after getting a doctorate in physics from New York University (Dissertation title: "Calcium Absorption Lines and Solar Activity: A Systematic Program of Observations") and leading the the Nuclear and Scientific Division of the State Department's Office of Strategic Forces. This background led to perhaps America's best political bumpersticker, which is only slightly misleading: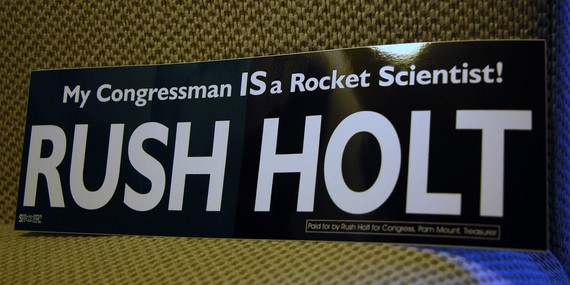 How smart is Holt, really? Well, here's one data point: The New Jerseyan managed to do what Ken Jennings couldn't, defeating IBM's Watson supercomputer in a round of Jeopardy. (Holt is actually a five-time champion on the show.)
Plus, he's willing to indulge Arrested Development jokes from Redditors: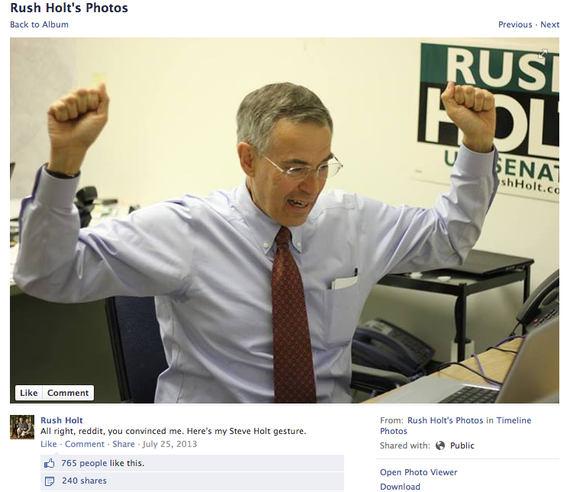 That's quite a combination for the House to lose: a Jeopardy-champion Quaker physicist who loves Reddit, Arrested Development, and funny bumperstickers. Ted Yoho better step up his game next year.