Obamacare Enrollment Hits 4 Million
President Obama touted the figures as the enrollment drive entered its home stretch,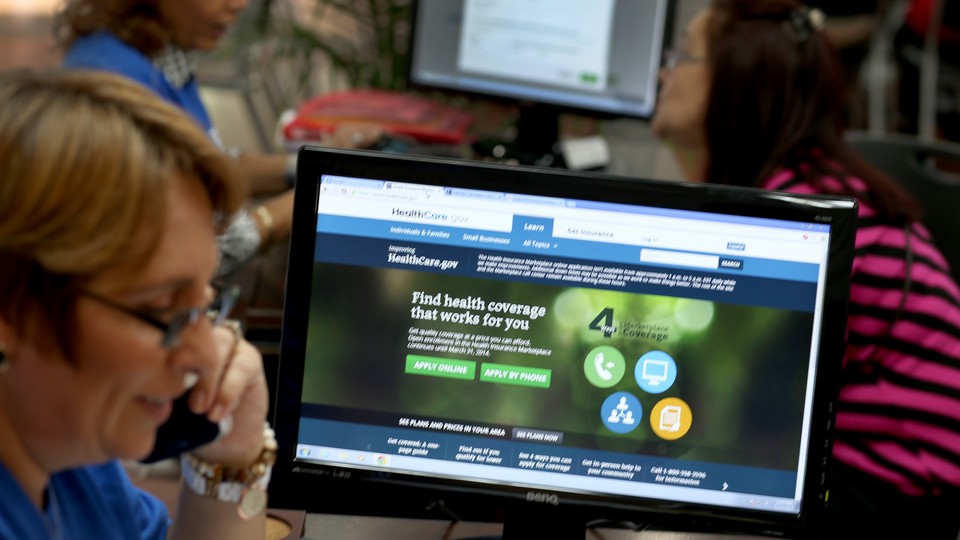 About 4 million people have now signed up for private insurance through Obamacare, the Health and Human Services Department said Tuesday evening.
The latest figures were released just in time for President Obama's address to Organizing for Action — the successor to his campaign apparatus and part of the large network of Democratic advocacy groups now entering the home stretch of a massive enrollment drive.
The window to sign up for coverage closes at the end of next month, and crossing the 4 million mark is a key milestone. Enrollment has recovered much of the ground it lost in October and November, when technical problems plagued HealthCare.gov, and it now seems all but impossible that the law will collapse on its own, as its Republican critics predicted.
In light of the issues with HealthCare.gov, the Congressional Budget Office now expects roughly 6 million people to sign up for private coverage this year. HHS would need to end this month with just shy of 1.1 million sign-ups to be on track for that target; it's not clear when in February it crossed the 4 million mark.
The enrollment figures come with additional caveats: They don't reflect how many people have actually paid their first premium, activating their coverage. That number — which is likely around 20 to 30 percent lower than HHS's figure — is the true measure of enrollment. HHS also hasn't said how many enrollees were previously uninsured — another key metric in measuring real enrollment against CBO's expectations.
Still, rising enrollment is rising enrollment, and every new milestone further solidifies the law's long-term prospects. At this point, the White House is confident that even after adjusting for unpaid premiums and previously insured people, the law is looking strong enough to make it to 2015 and beyond, and become part of the fabric of the U.S. insurance market.