Obama Hopes Paris Is No Copenhagen
The president sees an "opportunity to forge" a meaningful global warming accord at 2015 summit in France.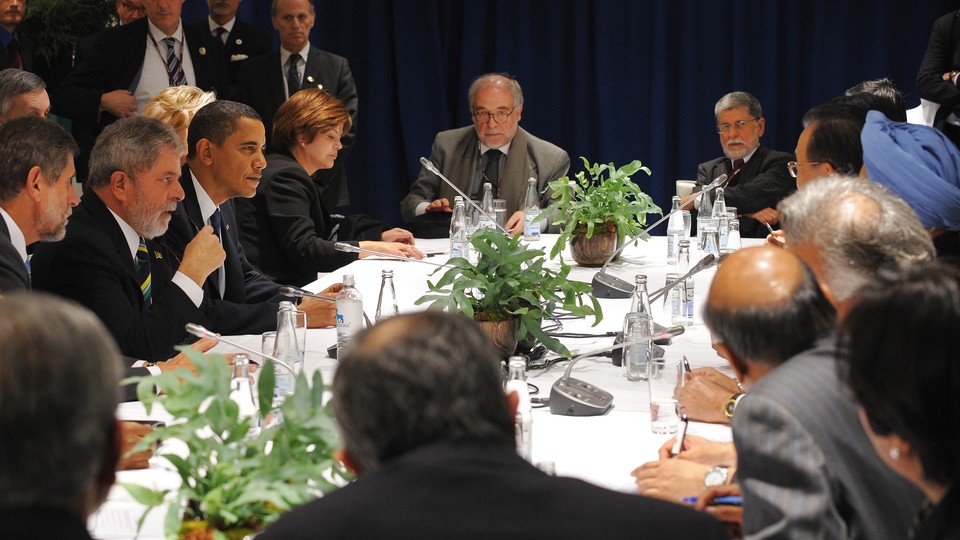 More than four years after fractious United Nations climate talks nearly collapsed in Copenhagen, President Obama is daring to dream again.
Obama on Tuesday talked up the prospects of reaching a new global climate accord in 2015. That's when U.N. talks are supposed to end with a Paris summit that births a final pact that would come into effect in 2020.
That's the plan anyway.
"Next year's carbon climate conference in France will be an opportunity to forge a strong global agreement that reduces greenhouse gas emissions through concrete actions," Obama said Tuesday during a joint press conference with visiting French President Francois Hollande.
It was no stray comment either. The two presidents used a joint op-ed Monday to urge nations to pursue an "ambitious and inclusive global agreement."
And a story Tuesday in ClimateWire reveals that behind the scenes, the White House is preparing to bring a new U.S. carbon-reduction pledge to the Paris talks. According to ClimateWire, at least three interagency meetings since September have debated whether the new goals should have a 2025 or 2030 horizon.
"They also have laid out the scientific and economic modeling that must be done in the coming months and discussed whether a new target should assume Congress will eventually enact climate legislation or whether the White House must continue to use existing authority under the Clean Air Act to squeeze out more emissions reductions," the publication reports.
While Obama didn't assess the odds of a successful outcome in Paris, his decision to mention the summit in multiple forums this week shows that White House officials at least don't see the rocky U.N. process as a lost cause.
In 2009 the U.S. pledged to cut greenhouse gas emissions by 17 percent below 2005 levels by 2020. U.S. carbon emissions last year were slightly more than 10 percent below 2005 levels, according to the Energy Department's statistical arm. A State Department report in January said the overall 2020 greenhouse gas reduction goal is achievable if the U.S. presses ahead with the types of steps in the White House's second-term climate plan.
Officials are laying the groundwork for Paris as the Obama administration parries GOP attacks against the White House's second-term climate agenda, which rests on executive actions.
A centerpiece is planned Environmental Protection Agency regulations to cut carbon emissions from power plants. It also includes enhanced Energy Department efforts to increase energy efficiency, an initiative to cut public financing for coal-fired plant construction abroad, and a suite of other steps.
"We feel confident that the steps that we've taken domestically are in a good position to converge with our efforts internationally," a senior Obama administration official said in a briefing Monday about topics that Obama and Hollande would discuss during this week's visit by the French leader.
"And if you look back to Copenhagen and the subsequent [U.N.] discussions between Cancun and Durbin and beyond, we continue to look at what are the emissions reductions targets that the world's major economies can agree to; what type of support can we provide for poorer developing countries as they aim to bypass some of the dirtier phases of development; and what are the mechanisms for transparency verification so that we can be assured that the world is meeting its commitments," the official said.
A White House spokesman did not say whether Obama would attend the 2015 climate talks or a separate, September 2014 U.N. summit in New York aimed at building momentum.
Obama, alongside many other heads of state, went to Copenhagen in late 2009, where he helped salvage a weak interim accord that nonetheless prevented the process from dissolving completely.
Hollande, for his part, also looked ahead to the 2015 summit during Tuesday's press conference.
"It's not just about hosting a conference and having our hotels full.  No, it's about ... reaching a global goal, because there is a danger," he said in the East Room of the White House with Obama.