Newly Digitized Footage Reveals an RFK Speech One Week Before His Assassination
"I think it's been the gravest kind of error," Kennedy said of the Vietnam War.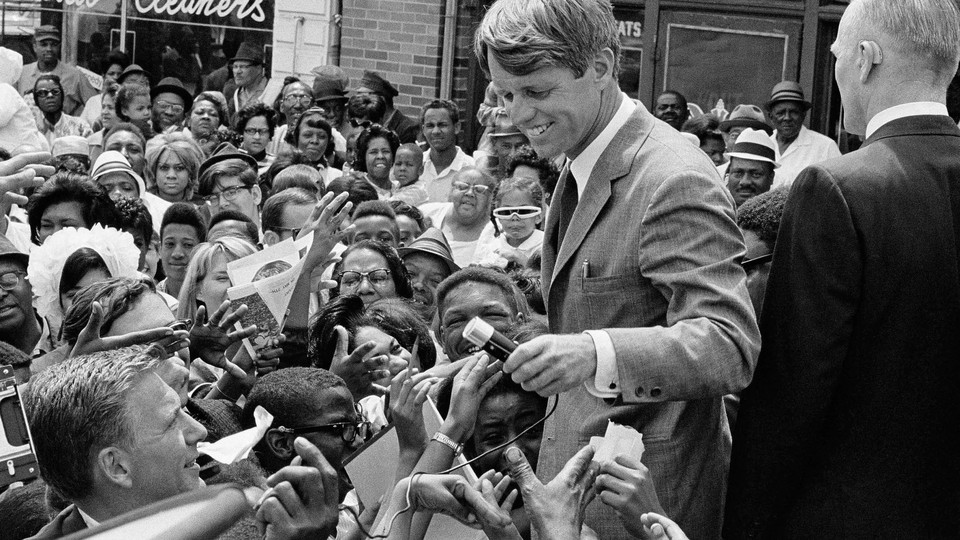 This article is the eighth in a series featuring clips from the American Archive of Public Broadcasting, which is working to digitize television and radio pieces so that they may be preserved for years to come. For more about the project, see our introduction to the series, where you'll also find a handy list of all the series' pieces so far.
---
At the end of May 1968, Robert F. Kennedy stopped in Corvallis, Oregon, to campaign for the Democratic Party's nomination for the presidency. The exact date of his stop is unclear, but it was in advance of the state's primary on May 28, which Kennedy ultimately lost to Senator Eugene McCarthy. A little more than a week later, Kennedy was dead, assassinated following the celebration of his victory in California's primary.
That speech in Corvallis, televised at the time on KOAC-TV and KOPB-TV, captures a moment in time when the prospect of another Kennedy leading the country was very real. And now, for the first time ever, a short clip of that video has been digitized and posted online, shared with The Atlantic as part of our series on the preservation of America's public-media history.
Here's that clip, in which Kennedy criticizes the ongoing war in Vietnam, calling it "the gravest kind of error" and, he said, that "the result is that the deaths and destruction that has taken place has been largely our responsibility."
In 2006, following the release of the movie Bobby, which dramatized the assassination, a reporter from the Corvallis Gazette-Times caught up with two Corvallis residents who had attended the speech:
When Caroline and Bill Wilkins met Sen. Robert F. Kennedy during his last visit to Corvallis, they believed he'd be the next president of the United States.

"We thought he could beat (President Richard) Nixon. He embodied hope for the nation," said Bill Wilkins, OSU emeritus professor of economics and former dean of the College of Liberal Arts.

The couple, long active in the Democratic Party, were devastated to hear of his death just over a week later, on June 6, 1968.

"I remain convinced that he would have won, and that the world would be a very different place today," said Bill Wilkins, 75.