'Meet the Press' Host: Climate Segment Meant as Debate on 'Policies'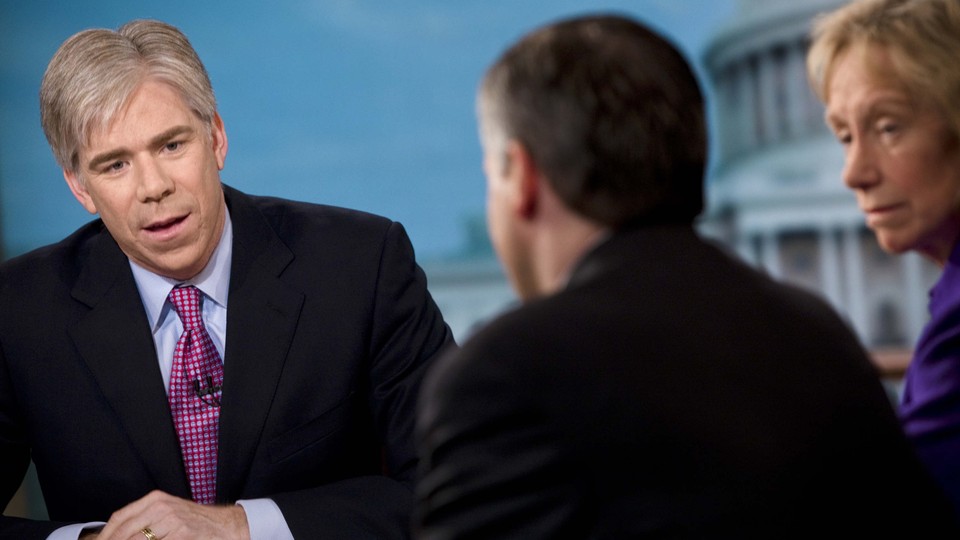 {{ BIZOBJ (video: 4737) }}
After excoriating "Meet the Press" in advance for its planned climate change "debate," environmentalists came away with a mixed bag.
They feared the "debate" format would cast undue doubt on the scientific consensus on global warming, and hand Tennessee Republican Marsha Blackburn a forum to make assertions at odds with the prevailing science.
But host David Gregory sought repeatedly to inoculate the segment against the false-balance charges before and during debate between Blackburn, a climate skeptic, and science educator Bill Nye ("the science guy").
"In the scientific community this is not really a debate about whether climate change is real. The consensus is that it is," Gregory said before tossing questions to the duo.
The plan, Gregory said, was a debate over climate change "policies," and he began by asking guests if recent weather extremes had created a "new urgency" to act.
Gregory probably invited some fresh criticism when he said "the majority" of scientists attribute climate change to human influence but "there are certainly some in the scientific community who don't believe that is the case."
(Environmentalists and climate scientists will likely find fault with Gregory's emphasis: It's a tiny minority of scientists who dispute human-induced climate change.)
But was the segment the valentine to climate skeptics that critics believed inevitable, given the format?
"Meet the Press" caught plenty of flack in the Twitter-verse for the segment as it unfolded and after.
"Some people think facts are facts. Others disagree. On #meetthepress, we let you decide!," tweeted Michael Grunwald, Time magazine's senior national correspondent, who has written widely on the environment.
A post on Climate Progress, a blog of the liberal Center for American Progress Action Fund, that ran afterward knocked the debate format but trained most of its fire on Blackburn.
"Attempting to host a productive debate on climate change policy can be hard when one of the people debating said policy does not believe climate change exists. But that is exactly what NBC's 'Meet the Press' attempted to do on Sunday," wrote Emily Atkin.
National Journal's unscientific review of how the show went over also shows that Miles Grant, an environmentalist who slammed the segment ahead of time, gave props to Gregory while still bashing the debate.
He tweeted that it was "painful to watch" Gregory "try to coax" intelligent climate policy discussion from Blackburn. Grant said on Twitter that he gives "credit" to Gregory for focusing on "climate solutions" but that the show "booked wrong guests for that debate. Viewers left confused?"
Back to the show itself: At one point Gregory challenged Blackburn when she claimed, "there is not consensus there."
"I just have to interrupt you," Gregory said. "You can pick out particular skeptics, but you can't really say, can you, that the hundreds of scientists around the world who have looked at this have gotten together and conspired to manipulate data."
The segment, to be sure, left Blackburn and Nye plenty of time to focus on science.
At one point Blackburn downplayed the importance of rising CO2 levels, calling the rise from 320 parts-per-million "" which was the level about a half-century ago "" to today's 400 parts-per-million "very slight."
That didn't sit well with Nye.
"You asserted, congresswoman, that a change from 320 to 400 parts per million is insignificant. My goodness. That's 30 percent. That's an enormous change, and it's changing the world, and that's just over the last few decades," he said.
"You are a leader. We need you to change things, not deny what's happening," Nye said.
On policy, Blackburn ripped what she alleges will be economically harmful climate regulations and pointed out that U.S. emissions levels have fallen already (they're now at roughly 1994 levels).
"We need to look at the cost-benefit analysis and make sure these technologies are affordable for the American people," she said.