Meet John Walsh of Montana, America's Newest Senator
The Democrat replaces Max Baucus, who is resigning to serve as U.S. ambassador to China.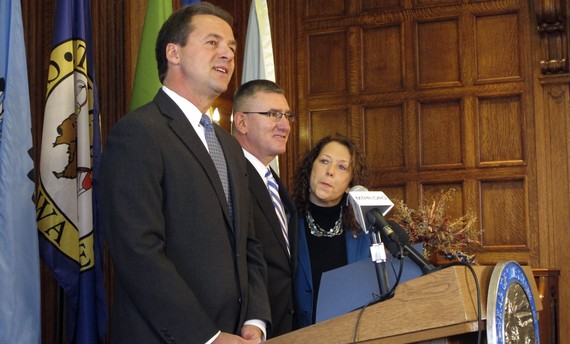 Montana Democratic Governor Steve Bullock appointed his lieutenant governor, John Walsh, to fill the seat of departing Senator Max Baucus, who on Thursday was confirmed as U.S. ambassador to China.
Walsh was already running for the Senate to succeed Baucus, and he will be thinking as much about politics as policy, since he's facing a tough campaign against Republican Representative Steve Daines in the fall. Even though he'll now be the incumbent, he begins the contest as an underdog.
Here are five things to know about John Walsh:
He gives Democrats their best chance to retain Baucus's seat. The particulars of Walsh's biography should encourage the party: He was born raised in Butte, a small town about an hour south of Helena. He's spent his adult life in the military, serving in the state's National Guard for 33 years before becoming its leader as adjutant general. His political background is more limited, but what he's done so far also looks good on paper. As Bullock's ticket mate, he won a close race in 2012 to hold the governorship for the Democratic Party.
"John is the kind of guy who may not agree with the party on every single issue, but he has the selflessness and courage to always do what he thinks is right for Montana," said Democratic Senatorial Campaign Committee Chairman Michael Bennet in a statement. (Bennet is the brother of Atlantic editor in chief James Bennet.)
Republicans already have their attacks against Walsh lined up. Walsh has been dogged in recent months by reports that in 2010, as adjutant general, he was reprimanded for improperly encouraging his charges to join a private organization. Walsh was seeking a leadership position in the group, which advocated on behalf of the National Guard, and he was worried that the Montana National Guard's low participation rate would harm his chances, according to reports. The reprimand, written by the Army's vice chief of staff, pulled no punches, telling Walsh that his "failure to adhere to the Army values causes me to question your ability to lead." Expect that sentence to reappear frequently during the campaign.
If Walsh wins in the fall, he joins a long tradition of successful Montana Democrats. The party has had widespread success in the state despite its long history of supporting Republican presidential candidates. Baucus had held onto his seat since 1978, fellow Senator Jon Tester has won two statewide elections, and Schweitzer dominated the state's political scene for nearly a decade. The country's political environment isn't shaping up well for Democrats in 2014, but Walsh can lean on a tradition of victory in Montana.
He immediately becomes a critical cog in Democratic hopes to hold the Senate. After Baucus retired and Schweitzer surprisingly passed on a Senate run, most analysts penciled in Montana as a likely Republican pickup. Daines is still favored to win there, but Walsh's appointment makes his path to victory a little more challenging. Montana is one of four states—Arkansas, South Dakota, and West Virginia are the other three—that are close to must-wins if the GOP hopes to take the majority.
Walsh is not the only Montana Democrat running for the Senate. The state's former lieutenant governor, John Bohlinger, is also seeking the party's nomination, and he says he won't go down without a fight. Bohlinger, a former Republican, served under Schweitzer, and the state's former top Democrat hasn't been shy about complimenting his former No. 2. (Schweitzer has so far stayed neutral in the primary.) Any fight on Walsh's left could be harmful to his chances of winning.