McCain Doesn't Think Kerry Should Be Focusing on Climate Change
"Why should he talk about climate change when we have got 130,000 people in Syria killed?" asked Sen. John McCain.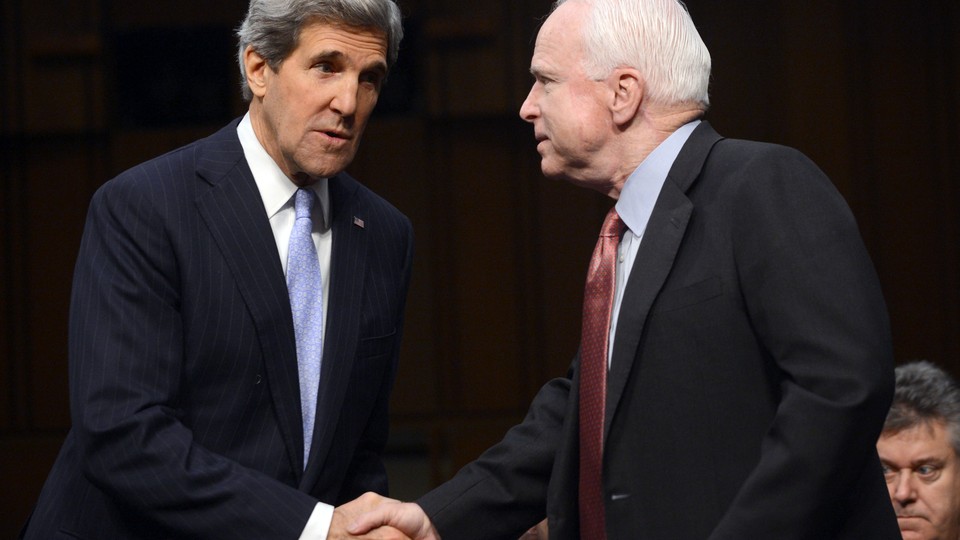 Secretary of State John Kerry's stark comments about climate change over the weekend — he called it "perhaps the world's most fearsome weapon of mass destruction" — aren't sitting well with two high-profile Republicans and the coal industry.
"Why should he talk about climate change when we have got 130,000 people in Syria killed?" Sen. John McCain, an Arizona Republican, asked on Phoenix radio station KFYI. McCain slammed the state of negotiations over Syria, Iran's nuclear program, and the Israeli-Palestinian conflict.
"John Kerry and the president, they could be hitting the trifecta here. Gross failure on all three. So he has to go over to Asia and talk about climate change and say it's the most important issue? Hello? On what planet does he reside?" McCain said Tuesday on The Mike Broomhead Show.
Kerry's speech in Indonesia followed a visit to China that produced a bilateral statement on plans to deepen the two nations' joint work on climate.
McCain coauthored cap-and-trade bills in 2003, 2005, and 2007, but later moved away from focusing on climate and voted in favor of thwarting EPA's greenhouse-gas regulations.
McCain's comments follow a series of tweets by former GOP House Speaker Newt Gingrich, who on Monday called on Kerry to resign over his climate speech in Jakarta, Indonesia.
"A delusional secretary of State is dangerous to our safety," Gingrich said on Twitter and asked, does Kerry "really believe global warming more dangerous than North Korean and Iranian nukes? More than Russian and Chinese nukes? Really?"
Here's Kerry's Feb. 16 comparison of climate change to other threats in the Jakarta speech:
"When I think about the array of global climate — of global threats — think about this: terrorism, epidemics, poverty, the proliferation of weapons of mass destruction — all challenges that know no borders — the reality is that climate change ranks right up there with every single one of them."
Following McCain and Gingrich, who back in 2008 was touting his agreement with Nancy Pelosi on the need for climate action, a coal-industry lobbying group took its own shot at Kerry on Wednesday.
"The administration's fanatical rhetoric on climate comes as no surprise; but Secretary Kerry's attempt to equate climate change and weapons of mass destruction was downright preposterous," said Laura Sheehan, a spokeswoman for the American Coalition for Clean Coal Electricity.