Kidnapped Anti-Drone Activist Freed in Pakistan
Kareem Khan, who was taken from his home earlier this month, is set to testify about CIA drone strikes.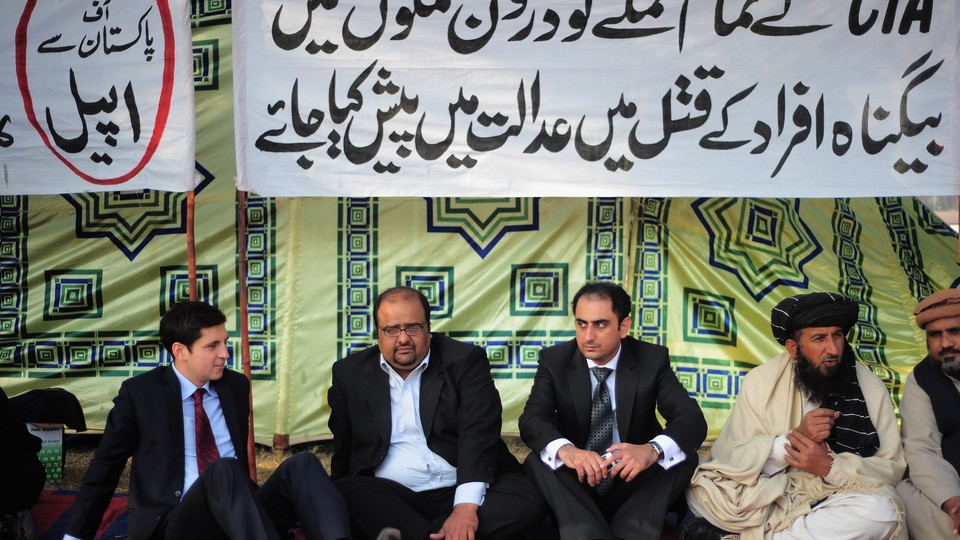 A Pakistani activist who lost a brother and a son in a CIA drone attack has been freed after a mysterious abduction earlier this month.
Kareem Khan — who had been set to testify in Europe about drone warfare — was taken from his home Feb. 5 by nearly 20 men, eight of whom were in police uniform. "We believe it likely to have been agencies connected to the government, police, counterterrorism force, or military, intelligence services," emailed Zarmeeneh Rahim, a lawyer for the Foundation for Fundamental Rights, which represents Khan. "His work is an embarrassment to the Pakistani government and the military, and they have ample reason to silence him."
Khan was beaten repeatedly on the soles of his feet, interrogated about his contact with drone victims, and driven around blindfolded. On Friday, his captors threw him from a van after ordering him not to speak with the media.
Although the kidnapping was apparently intended to intimidate Khan from speaking out, Rahim said he plans to leave for Europe Saturday as planned.
In 2010, Khan sued the CIA, urging Pakistani courts to execute the agency's Islamabad station chief for his role in the drone attack that killed his family members. U.S. government leaders said the strike was targeted at a Taliban commander they believed to be in the house. Khan claimed he did not know the commander and that he was not in the home at the time.
Khan — who is slated to speak with German, Dutch, and British authorities about the drone strikes — is also suing the Pakistani government for failing to investigate the strike that killed his family. Rahim said he is trying to change perceptions of his region, Waziristan, to prevent further violence. "Even within Pakistan, there is a lot of misinformation, misunderstanding about the people of Waziristan, their presumed support for terrorists," Rahim said. "The people of the tribal areas are seen as either Pakistani Taliban, or their supporters, and seen as inviting or deserving of the violence that is visited upon them daily."