Jeb Bush, Republican Savior in 2016?
Marco Rubio's star has dimmed. Chris Christie is embroiled in scandal. Can the GOP establishment turn to a familiar name for president?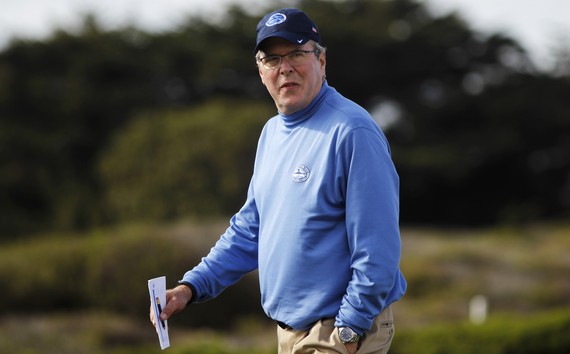 All of a sudden, Jeb Bush is in the sweet spot.
That was not the case one year ago, when it was the ex-Florida governor's protégé, Senator Marco Rubio, who was declared "the savior of the Republican Party" by Time magazine. Bush, in contrast, looked dated and squishy while promoting a book that backed off his past support for citizenship for illegal immigrants.
Now, Bush's more cautious approach to immigration reform is right in line with the principles that House Republicans recently adopted. The yearlong immigration debate has bruised Rubio, while scandal has handicapped another potential 2016 rival, Chris Christie. With the New Jersey governor's future looking uncertain and public opinion of Capitol Hill worse than ever, old-school Republicans and business elites are casting about for another can-do executive from outside Washington.
Bush is an obvious prospect. Despite the baggage his name carries in some circles, the reservoir of goodwill among Republicans for Bush is deep, and his popularity with the suit-and-tie crowd is high. The U.S. Chamber of Commerce turned to him just this week to star in a television ad for Republican David Jolly, who is running in Florida's 13th Congressional District.
"Have press calls and inquiries from operatives increased? Yes. Does that matter? No," said Republican strategist Sally Bradshaw, Bush's former chief of staff. "The horse race is simply not the lens through which he'll make his decision. It's never been the lens through which he views any decisions, and it's also still way too early."
Indeed, while the political landscape may have changed, Bush's public position on a potential presidential bid hasn't, at least so far. He's still refusing invitations to early-primary states for fear of setting off a media frenzy.
He also turned down an invitation to speak next month at the Conservative Political Action Conference in Washington. The annual gathering of thousands of activists serves as a high-profile platform for potential presidential candidates—but Bush has a previously scheduled business trip.
Those competing opportunities reflect the broader quandary Bush faces: Will he continue to pursue what appears to be a lucrative and satisfying business career while weighing in on politics and policy from the sidelines and enjoying his personal life? Or is he willing to give all of that up for the partisan scrum of all scrums?
"I'm deferring the decision to the right time, which is later this year," he told a Miami television reporter last week. "The decision will be based on, can I do it joyfully—because I think we need to have candidates lift our spirits; it's a pretty pessimistic country right now—and is it right for my family?"
Bush's remarks were received as news, even though his answer was nearly identical to what he said in November 2013.
"I'm going to not think about it until the middle of next year. Then I'm going to think about it really hard," he said then, before giving a speech in Milwaukee. "The thinking part is not really related to the politics of all this, but whether I can do it with joy in my heart and whether it's going to be right for my family. Those are the two considerations."
Jorge Arrizurieta, a longtime Bush-family friend, interprets Bush's desire for "joy" this way: He'll run "if he thinks his entrance into the race will be positive because of who he is and what he represents, if he has a sense of whether the country is ready for an unapologetic conservative who isn't offensive."
"It has to feel right," Arrizurieta added. "I think that's where 'joyfully' comes in. He won't be forced into it. He's got to feel like he can add value—and hopefully win."
The most common knock on Bush, of course, is that he shares a surname with two past presidents whose failures are recounted more often than their successes. But another challenge if he runs will be his relationship with a conservative base that's moved far to the right since he last ran for office more than 11 years ago. Party elders hail him as "the only adult in the room," but there's limited appetite for tough love, judging from the damp reaction to his CPAC speech last year calling for the GOP to be "the party of inclusion and acceptance." Bush is also a champion of the Common Core education standards, viewed by some conservative activists as an invitation to big-government interference.
So while Senators Rand Paul of Kentucky and Ted Cruz of Texas spend time in the early-primary states, Bush is living his life. He's the president of his own consulting firm and a senior adviser to Barclays Capital. He commands the top tier of fees set by the Washington Speakers Bureau and serves on at least four corporate boards. He travels constantly and adores his grandchildren.
"Do I think he's thinking about running for president? Absolutely. Do I think he's obsessed about it? Absolutely not," said Ann Herberger, a longtime fundraiser for the Bush family. "I think he's really, really happy right now."