Is There a Way Forward on Unemployment Insurance in the Senate?
Democrats are searching for just one Republican to break the deadlock.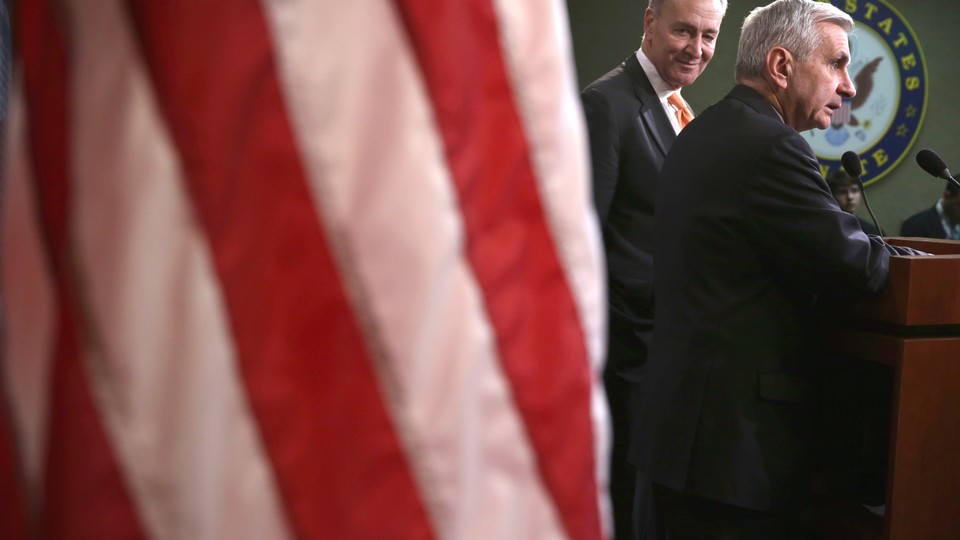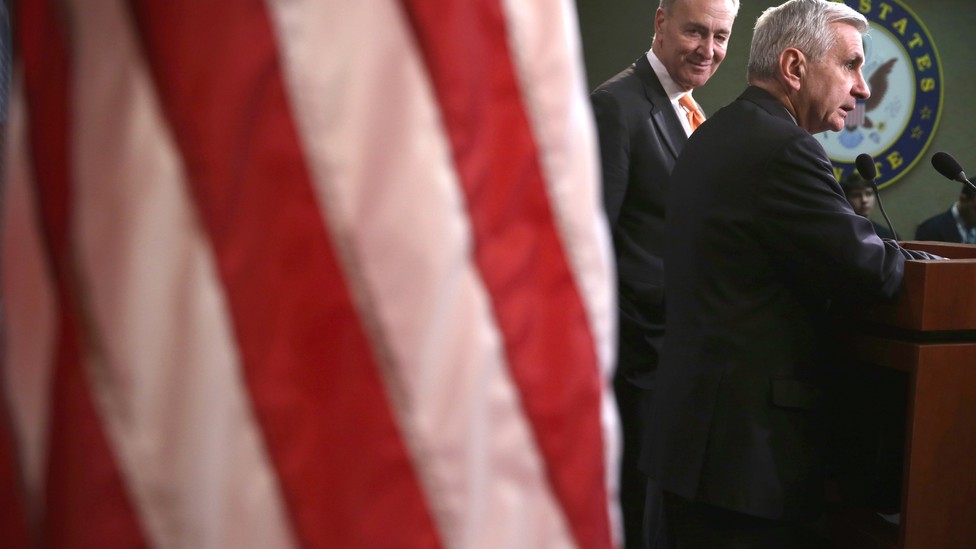 As senators returned to Washington on Monday after an extended Presidents Day holiday, Democrats got back to work in their hunt for just one more Republican to back an extension of unemployment insurance benefits.
Democrats have narrowed their search significantly and are working with three potential swing votes — Sens. Rob Portman of Ohio, Mark Kirk of Illinois, and Dan Coats of Indiana — to pass the extension.
Of the three, Kirk is considered the most likely to jump on board with the bill, according to a senior Democratic aide. Though Portman was working with a bipartisan group to come up with a palatable solution as recently as last week, he is increasingly considered an unlikely yea.
That may be because, as he said Monday, Portman is still focused on pursuing a three-month extension of the program, rather than the yearlong fix many Democrats are hoping for. Sen. Jack Reed, D-R.I., said Monday that a short-term solution may have been an attractive option for his party a few weeks ago, but time is just about up.
Negotiators are pursuing retroactive legislation that would reimburse individuals for the benefits they missed after the program expired on Dec. 28. A three-month extension, which would expire at the end of March, wouldn't provide them with much security moving forward.
"You know, we want to pass it. But with each passing day a three-month extension, particularly if it's retroactive, becomes simply a lump-sum payment," Reed said. "So, it's just a question really of timing. If we could get things done immediately, as we tried to do several weeks ago, then that made all the sense in the world. Now, we're just getting to the point where if you're talking about something that's strictly retroactive that's a lot different than at least giving people a chance not only to make a payment, but to have some sustenance going forward."
The negotiations, which are ongoing, follow a vote earlier this month in which four Republicans joined with Democrats to pass an extension, leaving advocates just one vote short of ending debate to secure a victory. Since then, members have been home in their districts for more than a week, enjoying an extended holiday. Democrats hope that their Republican colleagues endured sufficient complaints from constituents suffering without their unemployment benefits to soften their positions on the issue.
Approximately 1.9 million formerly eligible Americans are currently living without the benefits, a total that is estimated to increase by 72,000 individuals every week. Democrats in both chambers have committed to passing an extension, while Republicans, particularly in the House, have been reticent to jump on board.
For now, the battle lines are being drawn in the Senate, where Senate Majority Leader Harry Reid is working with Reed and Sen. Dean Heller, R-Nev. — who have cosponsored several bills to reinstate the benefits — to bring more Republicans into the fold. Reid personally called Sen. Susan Collins, R-Maine, who is a strong supporter on the Republican side, on Monday, and Collins said she had discussed the issue with her colleagues over the weekend as well.
Collins wouldn't speculate on whether progress was being made, but offered a warning to Reid, who has refused to allow Republicans to offer amendments on a fix in the past. "It all depends on whether there are amendments, what happens to those amendments, where there's a fair process," she said.
Kirk, meanwhile, said Monday that he had not been in talks with Democrats over the week-and-a-half recess, but said that as a moderate, he wasn't surprised that the party was reaching out to him.
Kirk noted that he is seeking "a real no-gimmicks pay-for" to offset the cost of extending the program. Kirk opposed a bill last month that would have paid for the benefits extension through a process called "pension smoothing," which has been widely panned by Republicans as a budgetary gimmick that will save money in the short-term and cost even more in the long-run.
Coats said he wasn't involved in the talks over the break either, but that his staff continued to discuss the issue with Democrats. Asked whether he sees a path forward, Coats demurred: "Well there's always a way forward, but as you know getting from start to finish here is not the easiest thing to do. So anyway, it all continues."
Should the senators come to a deal whereby they can expect 60 votes, however, passage is expected as early as Monday.
Reed sounded hopeful, but guarded, on Monday. "There's a lot of thoughtful discussion on both sides. And I think it's — I'll leave it at that. That's usually the prelude to any kind of forward motion," he said.
But if the extension does fail again, Reid has committed to keep up the fight and Democrats will continue to use the issue as midterm election messaging.