Is John Boehner a More Popular Speaker Than Nancy Pelosi?
Yes, according to polls. But he still has one more year to match Pelosi's four-year term.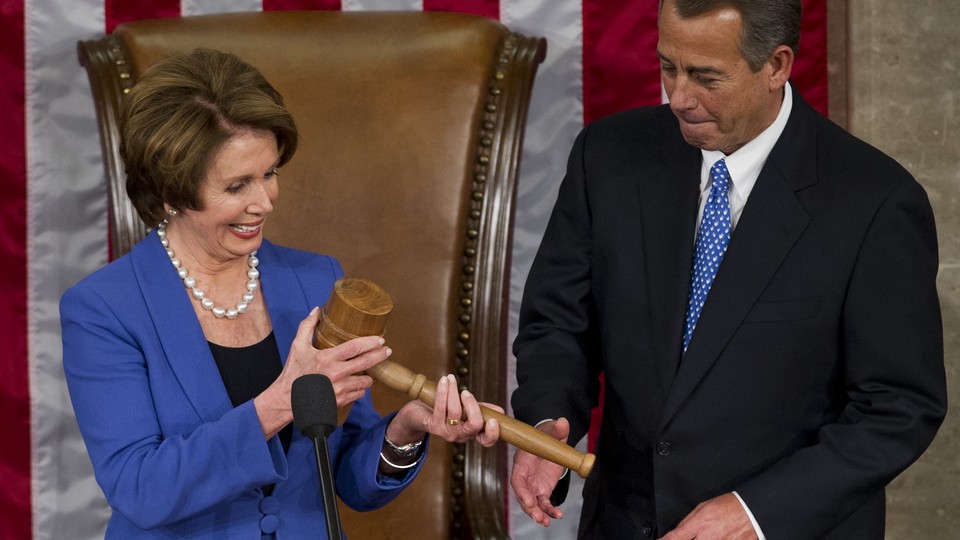 It is bruising to be the speaker of the House — controlling a caucus, deciding on legislation, being the voice of the party, butting heads with opposing lawmakers. It often leaves speakers in the red among Americans.
But how have our two most recent speakers fared?
A new poll released on Wednesday shows House Speaker John Boehner's favorability numbers have rebounded since the government shutdown last October, hovering around the same level as Nancy Pelosi's at this point in her speakership.
According to the Gallup survey, conducted Feb. 6-9, 32 percent of Americans have a favorable view of the speaker. That's better than his all-time low of 27 percent following the shutdown, which most Americans blamed on Republicans. This doesn't mean Boehner is particularly popular. He is still seen unfavorably by 50 percent of the adult population, which is only a 1 percentage point decrease from the poll taken after the shutdown. When he started as speaker, only 22 percent of Americans saw him unfavorably.
But that's still not as bad as the readings for Pelosi when she had the speaker's gavel, according to Gallup's numbers.
In her time as speaker, Pelosi's unfavorable rating among Americans increased from 22 percent when she took the gavel to 56 percent when she relinquished it.

(Gallup) (Gallup)
When Boehner became speaker, he had a favorability rating of 42 percent, which has steadily deceased over his three-year tenure. Just two years into his time in office, his favorability sank to 31 percent.
When Pelosi took the speakership in 2007, her favorability was at 44 percent, dipping before settling at 42 percent two years into her tenure. Then President Obama took office and her favorability numbers steadily dropped as Republican attacks grew. Republicans constantly ran against Pelosi during that time, to a degree that Democrats haven't done against Boehner.
Before she gave up the gavel, Pelosi's favorability fell to its lowest point: 29 percent, which is still 2 points higher than Boehner's lowest point.
So, who is the more popular speaker between the two? According to the Gallup data points, the average favorability for Boehner is 39 percent. It's around 37 percent for Pelosi during her time as speaker. The average unfavorable rating is 39 for Boehner, and around 44 percent for Pelosi during her tenure.
Judging by these numbers, Boehner has been the more popular speaker. But he has been speaker for only three years. Pelosi had four.
This latest Gallup Poll was also taken just days before Boehner supported an increase to the debt ceiling with no strings attached, avoiding a default on United States loans. So, his numbers could get better.