'In God We Trust—but We Have Put Our Faith in Our Guns'
Florida teenager Jordan Davis was shot by Michael Dunn after an argument over music. His mother, Lucia McBath, talks about losing her son and her fight against Stand Your Ground laws.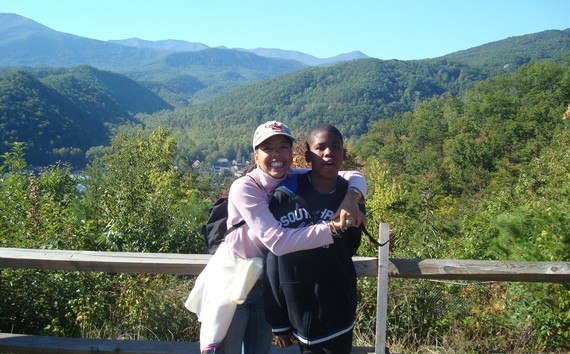 Jury selection begins today in the trial of Michael Dunn, the man who shot and killed teenager Jordan Davis outside a Florida convenience store in November of 2012. Davis was sitting in a parked SUV outside the Jacksonville store with friends when Dunn, who is white, began complaining about their music. An argument ensued, and then ended, when Dunn fired his 9mm handgun into the vehicle. As the SUV raced off, Dunn stepped out of his car and fired again. Then he and his girlfriend drove to a hotel, checked in, and ordered a pizza. He never called the police and was only arrested because a witness jotted down his license plate. Dunn, who is mounting a Stand Your Ground defense, claimed a passenger in the vehicle had threatened him with shotgun—or a stick. The police found no gun.
In the wake of Jordan Davis's death, his mother Lucia McBath has become active in the fight against Stand Your Ground laws. She is currently the national spokesperson for Moms Demand Action for Gun Sense In America. I spoke with her recently about the impact of the death of her son.
---
How aware were you of Stand Your Ground laws before your son was killed?
I have to humble myself and say I didn't think much about them. I knew what was happening in the country. But I spent more time trying to prepare Jordan to be safe, specifically being a young black male. I monitored who he was with and what he did. And I would have those discussions with him. But I didn't know anything about Stand Your Ground until Trayvon, which I discussed with Jordan as well. Every time I saw a case like that I would just pray to the Lord that something like that would never happen to us. Jordan was in a safe environment. We were in a safe environment. Now my eyes are open. It does not matter where you raise your kids. It does not matter what your religious upbringing is.
Can you tell us about Jordan?
He was always the life of the party. He had a great sense of humor. He would always play jokes on me and his dad as well. He was loved by a lot of people. He had a lot of friends and I always marveled at how quickly he made friends. He was just that kind of gracious personality. He made friends with all kinds of people. He didn't care about ethnicity or religious upbringing. He just liked people. I used to tell him, "Jordan, one day you'll be a social activist or politician because you can bring kids together."
He had a lot of wisdom. I used to pray that God would give him wisdom and understanding. We would have these deep philosophical conversations about life and there'd be times when Jordan would say things and I would say, "How do you know?"
But he would know and he would say, "I just know, Mom."
How old was Jordan when he died?
Jordan was 17. Between his junior and senior year.
Was he thinking of college?
His father and mother were well-educated and we come from well-educated families. But he was an average student. He had his struggles with math. He had gotten to the point where he'd say, "I want to go to college, but I don't know if I'm cut out for it." He was leaning toward the military. My oldest nephew, Julian, went into the Marines and did extremely well. He took Jordan under his wing. Jordan kind of wanted to be like cousin Julian. He was in Air Force ROTC in high school and that seemed to fit him. He excelled in ROTC.
Did he enjoy athletics? 
Toward the end of his life he had gained an interest in basketball. As a child, he loved baseball. He took Taekwondo for about four and a half years. I actually took a class with him. He loved roller-skating. He was an excellent swimmer. I put him in the water at three years old and he just took off. He was so fast. When he was younger we would run races together, and I used to be really fast as a young woman and I would beat the boys. But they got faster. Jordan got faster.
How did you find out that Jordan had died?
I was in Chicago with my family on the day after Thanksgiving. I had gone to the bedroom. My phone was on the dresser and it lit up with Jordan's father number. He said, "Where are you?"
I said, "I'm in the bedroom."
He said, "Where's Earl?" Earl is my cousin. He is more or less like a brother to me.
I said, "Why? Where's Jordan?"
He said, "I need you to get Earl."
I said, "I'm not going to get him. What's wrong with Jordan?" I think he didn't want me to hear the news by myself.
What happened after you were told?
Every fear I ever had for my child, especially as he became a teenager—when they're driving, are they going to be hit? Is he going to get in trouble? Is he going to be stopped by the police?—everything I ever feared for Jordan hit me at that one moment. It was excruciating. It was the kind of fear you put out of the mind. You read about it in magazines. You see it on television and you think, "What would I ever do if that happened to my child?"
And then all of that comes down at one time.
Did you know then how he'd died?
I did not know a whole lot at all. What his father conveyed to me was that Jordan had been shot, but we didn't know why. We just knew that there was a confrontation with a man. It wasn't until the detectives started talking to the boys that we knew.
Do you understand, at all, why Michael Dunn shot your son?
I can't understand it. I will never understand it. That will always be a question that remains open in our mind. The only one who understands it is Michael Dunn. In that dark deep-seated moment for him, I don't know where he was. It just doesn't make sense.
How did you handle the days after Jordan's death?
In those first six to eight weeks, my whole life was a blur. To be honest, people look at me like I'm crazy when I say this, but I know we are on this earthly plane and there is this heavenly plane and I was somewhere in between. And God was speaking to me and pointing to me all the people in the Bible who he'd used to do things. It was overwhelming. The Lord kept saying he would open doors for me, and I would walk through them, and I would usher Jordan's father through these doors. It was just overwhelming. All I could hear was that "You have something else you must do with your life."
It was a pregnancy. In my limited thinking I couldn't understand how Jordan's death would be used. But I began to understand that this was much, much bigger. It gave credence to what was happening in this country to us socially, just as a people. This is not the intention God has for our country. "In God We Trust," but we have put our faith in our guns. It's a false sense of protection. Violence begets violence. And I just see fear. Fear hovers over our nation like smog—fear of people who don't look you or think like you do.
The gun industry, ALEC, the gun manufacturers, the NRA—they're using this fear to fuel the massive number of firearms. The gun industry is making tons and tons of money off the fear of this nation. There are a lot of individuals who fear some kind of civil war. People say to me, in code, "Well, the Obama Administration wants to take our guns." There is this sense that we're going toward a civil war, perpetrated by Obama's administration. This is something people are telling me. And I say, "Where are you getting these ideas from?"
The NRA and ALEC spoon-feed fear into people's minds. In some sense we should be in fear—not of one another, but of our gun culture.
What did you think of Michael Dunn's account?
I knew that it was crazy, without a doubt. Jordan had never been around guns. Jordan didn't like guns. Jordan was held up one time at gunpoint. He and a friend had gone off campus to get snacks. At the convenience store they were held up at gunpoint. He said, "I've never been afraid of much in my life, but I was just praying to Jesus. I thought I was going to die over my wallet and there was nothing in it."
Did you see the letters Dunn wrote from jail?
It didn't take very long for me to understand his mindset and I just refused to read anymore. They were heinous to me. I couldn't give them the time.
Have you received any apology from Dunn's family? 
No, not at all. And I don't expect [I] will. I am praying for him and my church is praying for him. I forgave him a long time ago. I had to. It's not just about Jordan. And I would not stand and wait for him to apologize. I don't need his apology. I had forgiven him pretty much in the first 30 days. I just knew that was what I was supposed to do.
I remember one of the first interviews we did. We talked to Lawrence O'Donnell. And after, I was walking past St. Patrick's Cathedral with my friend Lisa and I said, "Lisa, I have to go in there." And I went in and I was just sobbing for two hours. And the Lord helped me forgive [Dunn] right there. In those two hours. I came out and felt like, "Okay, I am done."
And right after that God started talking to me and showing me things. And I thought that God could use me and use Jordan. People look at me like I'm crazy when I say that.
What would you say to parents raising young black boys?
Watch for him. Keep him close. Jordan had no guns. He had no drugs. There was no alcohol. They were coming from the mall. They were being kids.