How Youth Gives a Homeless Woman a Huge Lift
Off to a bright career as an artist and model, a D.C. resident recalls, "My dream by the time I was 20 was homeownership." After countless battles, an "unconventional" program helps Niki Davis, now 53, finally buy a condo.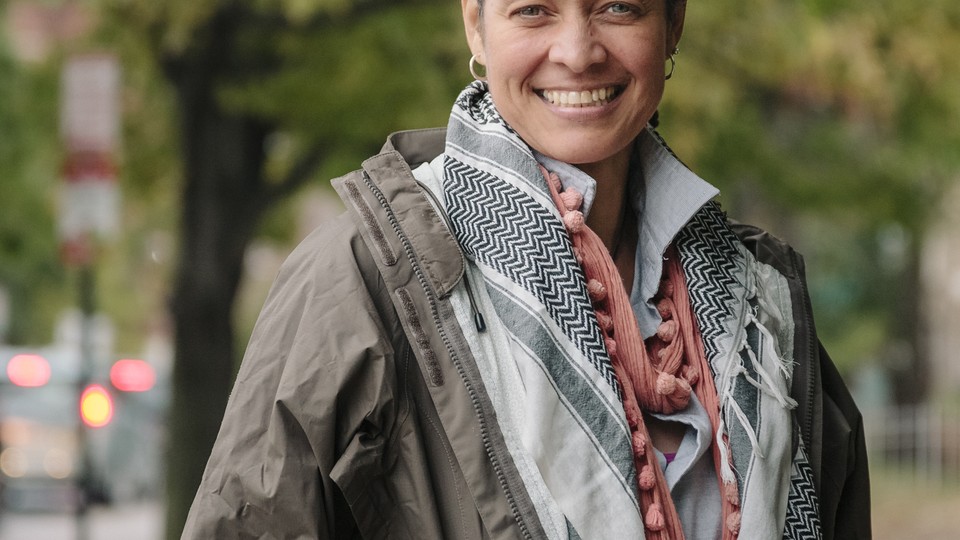 Niki Davis, an Army brat born in Texas, eventually settled with her family in the District of Columbia, becoming a member of the first four-year graduating class of the Duke Ellington School of the Arts. She attended the Philadelphia College of Art, and the Pennsylvania Academy of the Fine Arts, eventually going West to begin pursue painting but also stumbling into a modeling career.
There she found success, but also challenges borne of a decline in her health. Now 53 she has returned to her hometown, "starting again at the bottom." A peer referred her to LIFT, a nonprofit started by two Yale students in 1998 that addresses obstacles posed by poverty. Most familiar in working with clinical social workers, she was paired with a young LIFT advocate — a process she found unconventional. Davis learned she was eligible to purchase a condo through a first-time homebuyers' program for low-income individuals. Now, her home in D.C.'s Brookland neighborhood reflects her artistic flair. But perhaps more important, it has restored her hope for a brighter future.
This interview, conducted by Jody Brannon, has been edited for length and clarity.
It's important to talk about my life before LIFT. My early life tended to be highly rewarded. I was able-bodied, success-oriented, explored my talents, took risks, achieved goals, traveled the world, had careers. My dream by the time I was 20 was homeownership. I'd paid off school loans. I started in the fashion industry, first as a young model in my 20s, then as a fashion agent, and then concentrating more on my art work.
I did well enough in the industry, as a model and an agent, to amass enough money for a down payment to buy property. But the clinching factor and the reason I didn't stay in the middle class was a progressive disability. I was diagnosed with manic depression at age 15, but the diagnosis back then was never complete. At the height of my health crisis, I was dropped by my father's good insurance, and I ended up in public mental-health system. As my health plummeted, so did my ability to show up and perform. I went from high income to no income — the big fall to poverty. And I've been crawling out ever since.
In California, I lost a small job with a wellness clinic that I cherished when the nation was in economic free fall. The government drastically reduced funding for mental-health programs — the first of all systems to be cut. Without services and affordable medication, I, like so many of friends, regressed despite decades of progress. I landed back here in D.C. in 2011, starting over again. I had several bottoms. I was homeless again. I was jobless again. I was very sick again.
My mom was still here, but I wanted to get out of Cambridge, where we lived, on Maryland's Eastern Shore, where I could not find adequate health care. While staying on my cousin's couch in a D.C. suburb I found LIFT from another program I was with — through some tremendous women, with dual diagnosis, Sisters Empowering Sisters. I was mind-blown. I thought California had great programs, but this program is run completely by peers, who've found a way to recover, particularly poor women of color who had dealt with homelessness, jails, institutions, repeated relapse, and addiction. We found that by helping others, we helped ourselves stay in recovery.
I found the best services here — a fantastic psychiatrist and a really good therapist, then I looked for a place to live. LIFT, from the beginning, was dramatically different than anywhere else I had been, starting from the way they respond on the phone when you call. Other agencies I had called either had answering machines where I left unreturned messages, or got no answer at all. If I did get a person, I was told there is a waiting list with a drone voice and a typical government response, and it made me feel more hopeless. I could only imagine the overwork and frustration for all parties involved.
LIFT had cheerful, famously welcoming voices and a real person who told me I could make an appointment the next week — that knocked me out. I felt like I'd called up a coffee house instead of a service agency. Once I arrived, I was shocked by the youth, the smiles, and recent grads in LIFT T-shirts and jeans. They hooked me up with an advocate — someone completely different in experiences than me who's lived so many lives. I've battled poverty and disability in Brooklyn, Los Angeles, Glendale, and now D.C. I thought, "What are they going to be able to do for me, these young kids?" I still wasn't sold on using volunteer college students. I was expecting a social worker like almost all agencies. But after my first appointment, I finally got why it could be successful.
There's something much more empowering about working collaboratively. The advocates didn't have the life experience like me, and hadn't ever had to deal with being a poor adult in an urban environment. She had a great zest and enthusiasm, and a fabulous knowledge of databases — a young generation without the experience but the brainpower and hope and no loss of spirit, because it hasn't been beaten out of them.
It's a different pace, a complete positive belief that it can get better. That let me get out of any sense of hopelessness. Even though I wasn't working with someone with connections, there's a lot of learning that happens when you start on the ground. My possibilities were wider. If I was with a traditional social worker, I'm positive we'd never thought about this program that's allowing me to buy a house.
We looked for houses in foreclosure and how mortgages can be cheaper than renting. I could afford to pay $400 a month with only my disability income, but that's nothing worthy of human decency. For $600 or something just above that level, I found that I could actually buy someplace livable. So I got hope again.
I went to the housing workshops, and they were very vigorous programs, and then I learned quickly of the way mortgages work, about final sales prices, short sales, and housing for low income. I didn't qualify at first for first-time home buying because of income requirements. But I got a small job — being in the right place at the right time — to teach yoga to other people in recovery. With the side job, I was even a bit above the absolute minimum income which I believe was around $22,000. Being on a payroll made all the difference, and I'd kept my good credit rating all these years.
Jimmy Carter's Habitat for Humanity [program to develop low-income complexes] had my favorite design and the best prices, but were mostly in areas known for crime and drugs. I'm now in a more expensive place, but in a better, safer neighborhood. I was able to afford a prohibitive neighborhood because of MANNA, a nonprofit housing program focused on anti-poverty and housing for all DC residents. They did fantastic work on renovating an art deco apartment building. It's a dream come true.
My advocate helped me find the organizations that are geared toward homebuying and home education. MANNA hand-held me through a very complicated process, because I had to deal with four lenders due to restrictions particular to an income-specific building. My advocate kept me patient and helped me get all the documents needed. By the end of the buying process, the folks at the MANNA organization were really pleased, and we became deeply bonded. Not everyone can persevere, and I made it all the way to closing. But LIFT gave me all the help I needed. Like I couldn't find my birth certificate. But my advocate got it in seconds, compared to before, when I couldn't get it alone when I tried from the Texas base where I was born.
It was complete stress release, and most of my meetings here are full of laughter. Because now I know there's a way — between the two of us, we'll find a way. LIFT deals with poverty, but poverty holds so many issues. From the big stuff like racism, substance abuse, misdiagnosis, poor health treatment, inadequate education, domestic violence, misogyny, to the loss of believing in oneself, and small stuff like needing glasses and being shy. Poverty is so wide. It has everything to do with human frailty and human greed and human separation. Clearly, racism affects poverty. In LIFT, they ask if you're OK to deal with a person from a different race. That's one of the many aspects of the people who work at LIFT that I find fascinating and colorful — they learn through you what the blocks are to economic sustainability, and they're completely willing to tackle it with you.
'MY VIEW' OF THE NEXT AMERICAS
Are you part of the demographic that is the Next America? Are you a catalyst who fosters change for the next generation? Or do you know someone who is? The Next America welcomes first-person perspectives from activists, thought leaders, and people representative of a diverse nation. Email us. And please follow us on Twitter and Facebook.
'MY VIEW' OF THE NEXT AMERICAS
Are you part of the demographic that is the Next America? Are you a catalyst who fosters change for the next generation? Or do you know someone who is? The Next America welcomes first-person perspectives from activists, thought leaders, and people representative of a diverse nation. Email us. And please follow us on Twitter and Facebook.
---
Jody Brannon contributed to this article