How Obama Keeps Hurting Obamacare
Republicans have huffed and puffed, but it's the White House that has come closest to blowing the law down.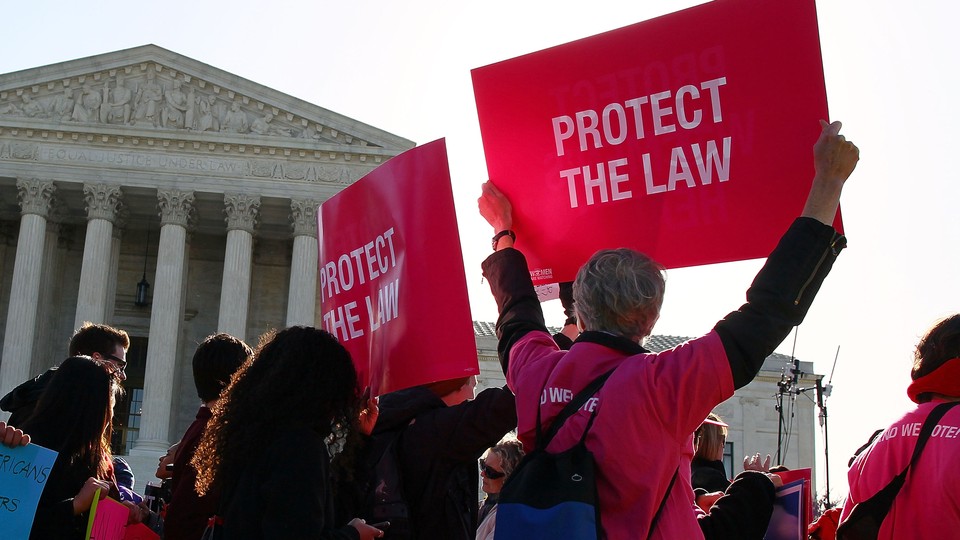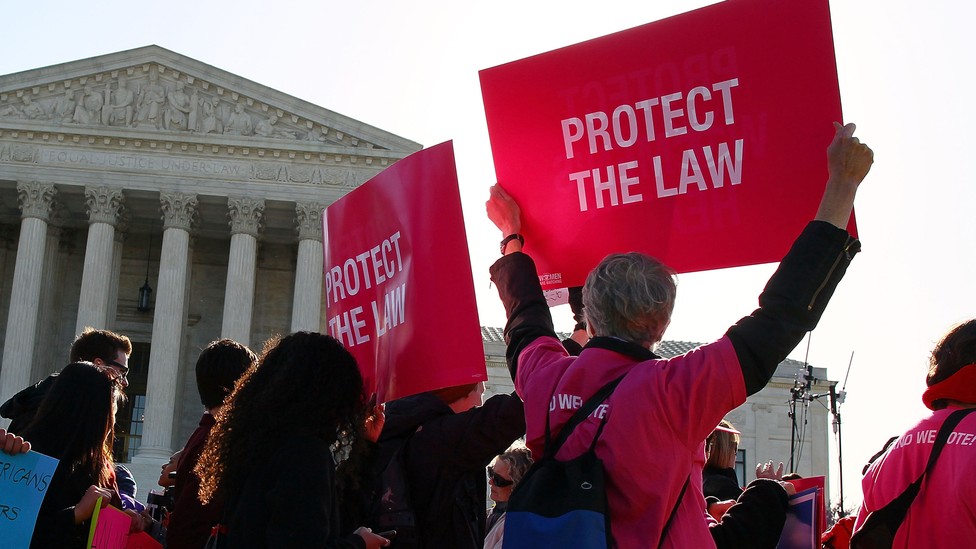 Republicans have done everything they can think of to strike down Obamacare, but they've still only managed to come in second place. For all the House votes to repeal, defund, or weaken Obamacare, some of the most significant setbacks for the law have come from the administration itself.
Monday's delay in the law's employer mandate was just the latest in a series of self-inflicted wounds, just like the HealthCare.gov launch and delays in several programs that simply weren't ready for prime time.
To be clear, the self-inflicted wounds haven't been fatal. Obamacare is moving forward — and the doomsayers' prophecies have fallen flat: People are signing up, premiums are lower than expected, and the law's basic survival is assured. It gets stronger every month as more people pour into new insurance marketplaces in each state.
But the law does have a specific vision of the future of health insurance. And to hit that vision, it relies on a delicate balance of popular carrots — think coverage for those with preexisting conditions — and unpopular sticks, such as the ever-controversial individual mandate. And the administration keeps chipping away at unpopular parts — sometimes directly, and sometimes by handing Republicans a political weapon.
From a policy perspective, another delay in the employer mandate is negligible. The mandate doesn't cover very many people. But it gave another big opening to congressional Republicans, who argued — as they did the first time — that big business was getting a break while individuals were still required to buy insurance.
"A lesson we've learned from the implementation process is that, while the Affordable Care Act will improve health security and open opportunities for every American, it makes sense that some of the changes ushered in by the law be phased in over time to smooth the transition," a senior administration official said.
Even many liberal policy wonks wish the employer mandate wasn't part of the health care law to begin with. But it is — largely because many Democrats thought it was the only way someone working 30 or 35 hours per week was going to get health insurance without the government paying for it.
Now that goal is temporarily on hold — as is a new online marketplace for small businesses. Next year's open-enrollment window has been delayed to make up for problems with this year's. A new health care plan for low-income people, known as the Basic Health Plan, was also pushed back a year. Then there's the CLASS Act, a long-term care program the White House simply couldn't implement because it was designed so poorly. And the HealthCare.gov launch.
None of these missteps was fatal to the law, and ultimately what matters is people signing up. But Democrats' vision for the Affordable Care Act is far more likely to happen if they keep control of the Senate this year, and the seemingly endless string of implementation setbacks is making that harder.
If phasing in the employer mandate invited a political headache in order to make a policy work more smoothly, some of the law's supporters are more worried about the flip side: undercutting the policy to try to calm a political storm.
Aetna's CEO said last week that the administration might extend a policy allowing some people to keep health care plans that were canceled because of the Affordable Care Act. The Department of Health and Human Services reportedly confirmed that option is on the table.
Even the law's most passionate defenders won't defend the "like it/keep it" policy — much less extend it. Canceled insurance policies, again, were not a side effect. Obamacare sets new standards for individual insurance policies and tries to move people into plans that meet those standards — especially the healthy people who got a good enough deal to want to keep their old, canceled plan.
Un-canceling plans has a modest but negative effect on the law's new exchanges. It keeps healthy people out of the system, increasing the odds of premium hikes. When the White House first announced that it would let insurers un-cancel certain plans, many liberal policy experts said the law would work fine if Democrats would leave it alone — and that's still their belief.
"I hope the White House doesn't do that," said Timothy Jost, a law professor at Washington and Lee University and an ardent Obamacare supporter. "I think Congress meant to move on."