How Mitch McConnell Could Win the Senate, But Lose His Seat
The minority leader's campaign isn't rising like others in the GOP.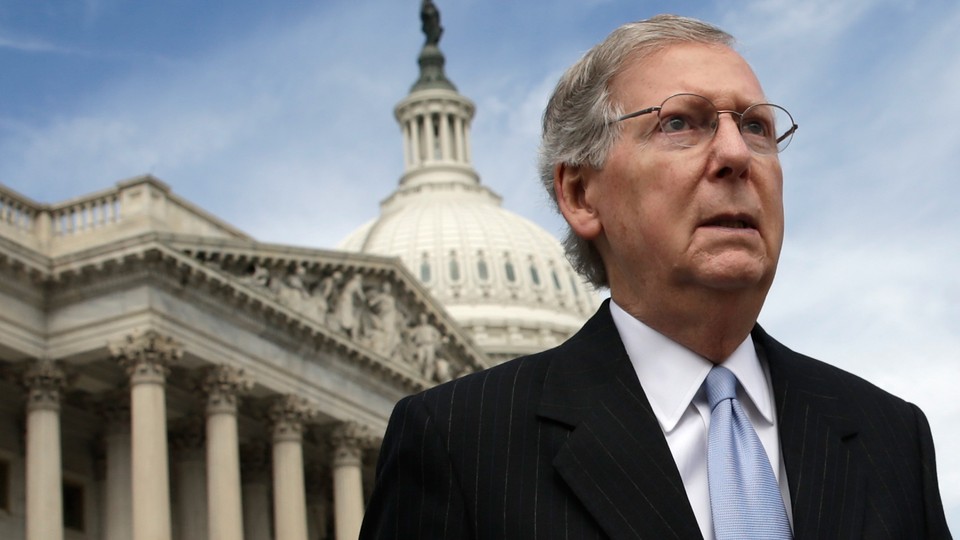 Mitch McConnell's party has never looked a better bet to retake the Senate. But if they do, he might not be around to enjoy it.
The Senate minority leader is locked in a slugfest with Democrat Alison Lundergan Grimes, his general-election opponent, and recent polling suggests he's behind. A WHAS11/Courier-Journal Bluegrass Poll released last week found Grimes leading 46 percent to 42 percent. Even McConnell's allies, while still confident of victory, acknowledge the senator has a dogfight on his hands.
While a tough race is not a surprise, what does alarm Republicans is how McConnell's standing has stagnated as the political environment improves for the GOP. President Obama's still-sagging poll numbers have weakened Democratic incumbents from North Carolina to Alaska — but not in Kentucky.
And that means a good year for Republicans isn't guaranteed to bail out McConnell.
"All Senate races are individual," said Billy Piper, the senator's former longtime chief of staff. "We in D.C. tend to like to think of things in sweeping narratives, and occasionally that proves to be the case. But Senate races tend to be pretty big on their own, and they follow their own patters and flows."
The Grimes campaign hasn't dawdled promoting its newfound strength. It issued four press releases in five days touting the Bluegrass poll. It's an opening, officials there say, to finally convince the public that Kentucky's secretary of state has a real chance at winning.
Grimes's candidacy has always hinged on the deep unpopularity sewn during McConnell's 30-year tenure in Washington. And, indeed, the Bluegrass survey found his approval was lower than even Obama's in Kentucky. But strategists for the Grimes campaign also cite her own lack of a record in Washington, especially the fact she — unlike other Democratic incumbents running this year — didn't vote for Obamacare. The unpopular law has dogged Democratic senators like Kay Hagan and Mary Landrieu this year, both of whom watched their numbers dip during its troubled rollout.
"One of the reasons, quite frankly, that Republicans look like they're in a better position is because of the Democrats," said Mark Mellman, Grimes's pollster. "But it's very hard to tag her with any of things Republicans have been successful in tagging Democrats with."
In fact, something similar might also be happening in Georgia, where Democrat Michelle Nunn's vote-free background and prodigious fundraising have also kindled Democratic optimism. The two states — the only GOP-held seats Democrats have a hope of winning — each look relatively stronger for Democrats.
"The overall picture for Republicans has gotten markedly better in last several months, but that does not mean we can take our eyes of Georgia and Kentucky," said one GOP strategist keeping an eye on the Senate landscape. "They haven't moved as far, or even that close, as some states swinging in our direction."
Republicans in both states also face primaries. Of the two, there's no doubt that the Peach State's multi-candidate brawl is the more fierce. But McConnell's own battle against Matt Bevin, a Louisville-area businessman, has siphoned attention and resources that could otherwise be directed at Grimes, the senator's advisers say.
They blame Bevin, whose own campaign was rocked this week by a report in Politco that he supported the 2008 multibillion-dollar bailout of Wall Street known as TARP, for the race's tight poll numbers. But they're confident that if McConnell wins the May primary, the GOP will unite behind him. And then, as senior McConnell adviser Josh Holmes said, the campaign can devote all of its attention to Grimes.
"We think when everything happens in early summer, this is probably not as tight a race as everyone thinks it is right now," Holmes said.
The senator's allies look to those first months of summer as the point in the race when Grimes's positions on everything from abortion rights to gay marriage will sink her with the state's conservative electorate. She's not well-known among many voters now, they contend, but she will be by the time the race enters its home stretch in the fall.
"While [McConnell] might have some barnacles on his hull, his name ID is 99 percent in Kentucky, so she's not going to add any barnacles," Piper said. "She on the other hand is an unknown entity who is going to be introduced by a tidal wave of advertising."