How Far Will Democrats Go in the Fight on Income Inequality?
"I don't believe the price of admission to passing bills around here should be screwing poor people," says one progressive congressman.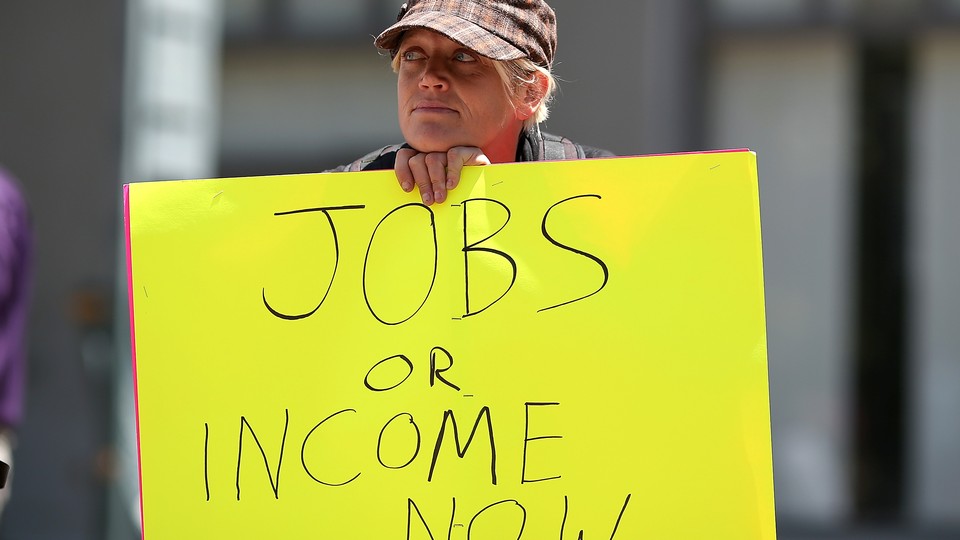 Congressional Democrats have been singing President Obama's praises for his renewed focus on income inequality, an issue that reminds many of them why they ran for office in the first place — and it doesn't look too bad as a party message during an election year, either.
But over the last few months, Democrats have repeatedly demonstrated why Obama may have to go it alone. Congressional Democrats have gone to the mat for lower-income Americans several times in recent months and lost, leaving some progressives questioning how far leadership is willing to go to fight for the poor.
Many Democrats, and progressives in particular, are getting tired of losing. And some are beginning to question whether leadership — and the White House — are willing to do what it takes to win.
Take the recent budget fight. With unemployment insurance benefits set to expire Dec. 28, leaving more than a million Americans without their checks, Democrats pushed the House majority to include a three-month extension in the budget agreement set to pass that month. Republicans refused and Senate Majority Leader Harry Reid acceded, telling his party that they would deal with the issue retroactively in the New Year. Democrats complained — but ultimately delivered their votes for the budget deal anyway. Unemployment insurance benefits still have not been reauthorized.
The same thing happened last week, when House Democrats delivered 89 of their members to pass a farm bill that cuts $8.5 billion from the federal food-stamp program — double what the party agreed to last year. Senate Democrats are also expected to back the bill when it comes up for a vote this week.
Many progressives opposed both bills, and while they acknowledge that the legislation was necessary, they are growing increasingly concerned about their leadership's ability to protect the individuals that they say they care most about.
"I don't believe the price of admission to passing bills around here should be screwing poor people," Rep. Jim McGovern, D-Mass., said this week. "And that's what's going on here. Whether it's budget bills, whether it's the price of passing a farm bill. And, God knows what [Republicans are] going to ask for, for extending the debt ceiling."
"I'm frustrated obviously with Republican leadership," he said. "I'm a little frustrated with some Democrats. I think we should have fought back harder on this. I think the White House should have fought back harder. I love that the president is talking about income inequality, but you know what? It'd be nice if you'd get involved in this fight," McGovern added.
Democratic leadership could have signaled to Republicans that they would withhold their votes for a budget deal unless it included an extension of unemployment benefits, or that they would kill farm-bill legislation unless the cuts to food stamps were lessened. But that's not the way they play this game, House Minority Leader Nancy Pelosi said.
"One of the advantages that the Republicans have is that the Democrats are responsible. We are not going to anoint their efforts to shut down government and prevent legislation from passing that we need to pass, even if it doesn't have everything that we want in it," she said, noting that Democrats delivered their caucus on a Republican bill to reopen the government in October, while more than 60 percent of the majority party opposed the effort.
Republicans are aware of this "responsible" streak in the Democratic Party, Pelosi said, and they have taken advantage. "But the patience is not endless," she warned.
On the farm bill in particular, members argue that the legislation offered a number of wins for Democrats, aside from the food-stamp cuts. The bill earned the backing of a number of environmental groups and other progressive organizations, Rep. Sam Farr, D-Calif., who supported the farm bill, said. "I would argue this is one of the most progressive farm bills that's ever been adopted," Farr said.
And Sen. Debbie Stabenow, D-Mich., who lead the farm-bill conference committee for her party, noted another victory: The final legislation did not include drug testing for food-stamp recipients, or the $40 billion in cuts Republicans had pushed for last year.
But those wins aren't sufficient for everyone.
"We're all sitting here going, 'It could be worse! Could be worse! There could be more people like that,' you know?" McGovern said. "I just think it should never be acceptable to allow anybody in this country to go hungry. But we're not talking about people here. Everybody's talking about numbers and deals and arbitrary cuts."
House Progressive Caucus Cochairman Keith Ellison said he doesn't blame leadership for supporting either bill, noting that divided government has put them in a tough position. "I don't begrudge leadership on the way this was handled. I think they did as good as they could. I just couldn't sign up for it," Ellison said of the farm bill.
"Look, Democracy's hard. You've gotta keep talking. Sometimes we will be able to vote stuff, sometimes we won't. But we're just going to keep on pushing," he added.
But pushing isn't cutting it for some, who worry that the poor have been the target of cuts in every major agreement Congress has reached over the last few months. Congress failed to extend a boost in food-stamp funding last fall that will result in $11 billion in cuts to the program through fiscal 2014, on top of the additional $8 billion of cuts in the new farm bill.
"I see this in the context of the entire situation, which is right now, you didn't extend unemployment insurance, you haven't raised the minimum wage, you're dealing with the same crop of people who are essentially low-income, and now you're cutting [Supplemental Nutrition Assistance Program] benefits. So there are folks who are essentially in that category of income who are getting hit three times," one Democratic member, who opposed the farm bill and asked to speak on background, said.
Rep. Rosa DeLauro, D-Conn., summed up the effects of the last few months of legislation on the poor: "They're without a job, they can't eat, and they're freezing. So, OK, is that the kind of nation we want? Not me."