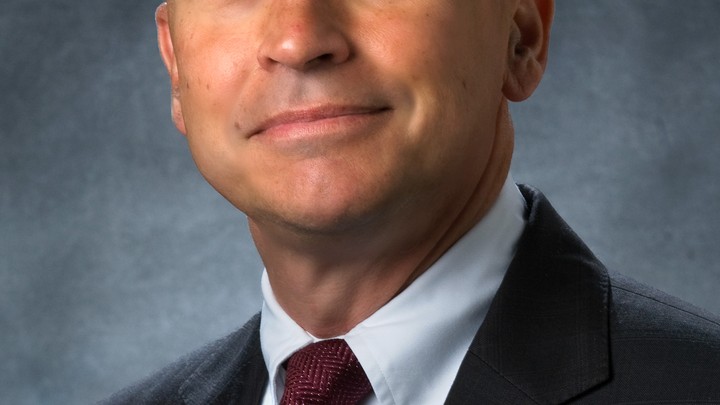 John Ward, 58, has spent his career at the Centers for Disease Control and Prevention, starting in 1984 working on AIDS, then as editor of the Morbidity and Mortality Weekly Report, and since 2005 as director of the viral hepatitis division.
In this role, the Alabama native and his team lead an effort to implement a simple test to detect hepatitis C, a virus identified 25 years ago that often gives rise to liver disease and is most prevalent among African-Americans.
This interview, conducted by Jody Brannon, has been edited for length and clarity.
I've been interested in communicable diseases throughout my career at CDC, and after the long-standing division director left, I was fortunate to be selected to lead our work against a group of diseases transmitted in multiple ways.
When we got here, we began to draw attention to what's been called a silent epidemic — 3.5 million to 5.3 million people living with hepatitis, of B or C type — infected in different ways and now living with it for decades. We began to see a rising rate of liver cancer — a great majority caused by hepatitis — and rising numbers of deaths from it.
It affects African-Americans disproportionately. They have twice the rate of death from hepatitis C as white Americans, and they have twice as high a rate of infection. So we have called attention to testing the baby-boomer generation for hepatitis C — people born from 1945 to 1965 — because that population were young adults before this virus was found in 1989 and before prevention measures were put in place. They may have been exposed to hepatitis through blood transfusions, exposures in the health care settings, or through drug use, or other exposures.
This population has an increased rate of having hepatitis C, and you remain infected for life. As years go by, the virus eats away silently at the liver and causes late symptoms. So our big focus is getting more people tested and aware of their infection status, and, if they're infected, directed to proper treatment.
Addressing health disparities and people with high prevalence, the prevalence is at least two times as high in black Americans as in white. So we want to be careful to share the right message to providers and the community itself. There's a simple blood test, and the very exciting news is there are safe, short-acting curative treatments for hepatitis C.
If you test and cure them for C, you lower their rate for mortality by 50 percent and for liver cancer by 70 percent, so there's a huge health payoff through testing and treatment.
This wave of treatments is very new — only licensed in November or December. It allows you to have an oral treatment regimen that can be a handful of pills for 12 weeks — maybe 24 — of treatment. Before that, and even now, some patients require injections of interferon every week with side effects that are quite noticeable.
The old treatment had a bad reputation if you had to live with liver diseases. To get rid of your infection, we have to correct a lot of inaccurate impressions — how they make you feel, what's involved — and we're at a different place now.
It comes at an important time with rising disease and mortality, which is totally preventable if we can get people tested and treated. We want all people born in that era to be tested for hepatitis, referred for care, and to receive the treatments that are indicated.
In our economic studies, when we look at the cost of averting death and extending lives, we estimate that it costs about $32,000 to extend a person's life for one year. That's the traditional way interventions are evaluated. That follows well in the range of other preventive services for checking blood pressure, cholesterol, and flu vaccinations for older adults. It shows itself to be a very reasonable intervention that has a payoff in averting death for a reasonable amount of money.
We estimate that if we fully implement this birth-cohort strategy, we can identify 800,000 people not aware they're infected, and avert 120,000 deaths and save $2.5 billion in health care costs.
The obstacles are getting clinicians aware of our recommendations and helping them make it part of their routine practice. The more that can be handled by your nurse or mid-level provider rather than a doctor means it can be implemented more quickly. So we're looking to insert an electronic reminder into a patient's record, like for patients whose birthdays are between 1945 and '65, automatically you're offered this test. So we're looking to get that in place.
The U.S. Preventive Services Task Force also made a similar recommendation for testing for this group. The benefit of that is the USPSTF recommendations are covered as a no-co-pay preventive service. That means, for most private health care services, the patient won't have expenses, so that reduces one barrier. Sometimes providers will listen to their patents, and that reinforces our message. They draw blood and add the test on without additional cost to the patient more often than not since it's covered by insurance.
We're also educating the public, so the patient knows the importance, and then we're gathering data to see where it's working and where it's not and to improve it, with particular attention to African-Americans and communities where prevalence is highest.
I've had friends in my own community and acquaintances who unfortunately have waited too late to be tested and treated, so they'd already developed liver disease so advanced they could no longer benefit from treatment. The reason is that there are so few symptoms until the advanced stage that a patient cannot rely on how they're feeling. Only through testing is that possible. The drugs work better when the liver disease is milder, so the earlier the test and treatment, the better.
Most patients, when they learn of the reasons for testing, they readily accept it, and I have examples of people saying, "Thank you for catching this in time." In fact, CDC-supported testing programs get thank-you notes from people who previously didn't know of their condition.
So providers and doctors will provide a service that's appreciated by patients. Among those people tested and treated and fortunate to clear their infection, they say, "I didn't really know how bad I felt until I got rid of this infection." The days of feeling sluggish, out of sorts, losing their get-up-and-go, they attribute to just getting older, when it was really hepatitis C that was causing symptoms. They're so mild and nonspecific no one really seeks medical care, but actually they have it.
The prospect of saving 120,000 lives — well, you don't get those opportunities in public health very often. Assembling attention that this deserves and getting providers and the health community on board is making a difference.
For more information about the CDC's Hepatitis C public education campaign, Know More Hepatitis, please visit: http://www.cdc.gov/knowmorehepatitis/
MY VIEW OF THE NEXT AMERICA
Are you part of the demographic that is the Next America? Are you a catalyst who fosters change for the next generation? Or do you know someone who is? The Next America welcomes first-person perspectives from activists, thought leaders, and people representative of a diverse nation. Email us. And please follow us on Twitter and Facebook.
MY VIEW OF THE NEXT AMERICA
Are you part of the demographic that is the Next America? Are you a catalyst who fosters change for the next generation? Or do you know someone who is? The Next America welcomes first-person perspectives from activists, thought leaders, and people representative of a diverse nation. Email us. And please follow us on Twitter and Facebook.
---
Jody Brannon contributed to this article
We want to hear what you think about this article. Submit a letter to the editor or write to letters@theatlantic.com.