House Quickly Votes to Raise the Debt Ceiling, Then Heads Home
The final plan came together in less than a day. But some Republicans are headed for an unhappy break.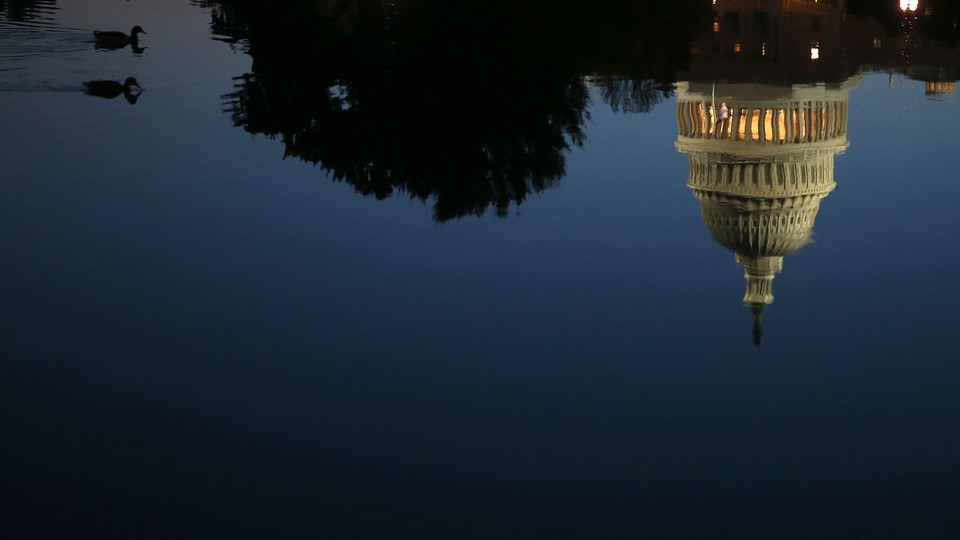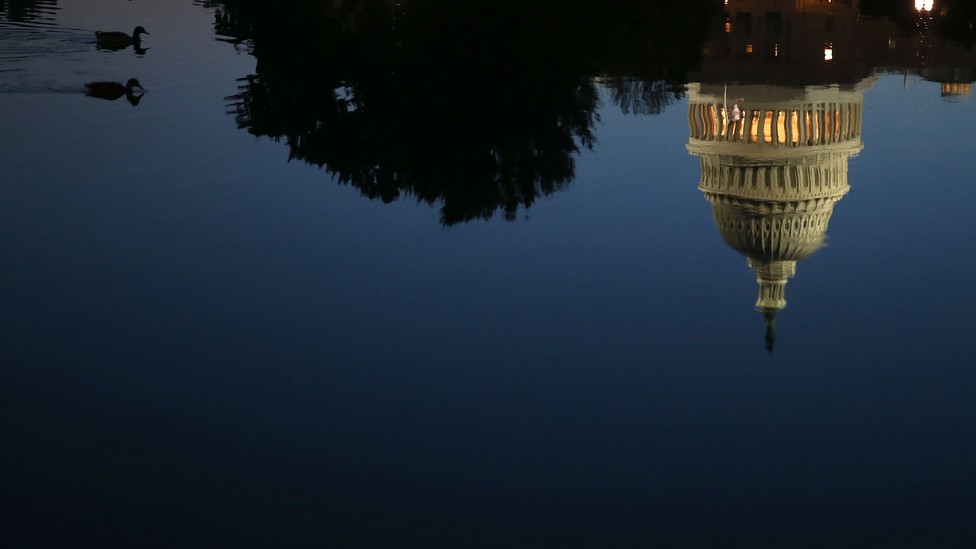 After a tumultuous 24-hours of wrangling within the Republican caucus, the House passed a clean debt ceiling increase with surprisingly little drama Tuesday afternoon, 221-201. Speaker John Boehner, Majority Leader Eric Cantor, and Majority Whip Kevin McCarthy voted for the increase. House Budget Chairman Paul Ryan, on the other hand, voted against the bill.
Less than 12 hours after Republican leadership unveiled the clean bill, the House passed the measure and recessed, sending home 28 Republican members with an "aye" on a clean debt ceiling vote hanging over their heads until they return on February 25. Conservative members, as well as outside groups like the Heritage Action and the Club for Growth, vehemently opposed the measure.
Once again, a debt ceiling increase passed thanks to a majority of Democrats, with only two no votes. Five Republicans and five Democrats didn't vote on the measure.
The bill will raise the debt ceiling through March 15, 2015, without providing any additional spending cuts to offset the increase.
House leadership was caught in a lose-lose situation on the debt ceiling this year. House Speaker John Boehner quickly learned that he would not be able to get 218 votes from his own caucus on any increase in the debt ceiling and worked instead to find a measure that would attract some Democrats. But with Democrats and the president insisting that they would not accept anything but a clean bill, Boehner's hands were tied.
Rep. Darrell Issa, one of the Republicans who voted for the increase, said that "I don't think that the debt limit is something that people who vote for the budget and for appropriations can fail to vote for." Of course, the Republican in charge of the budget committee — Paul Ryan — wound up voting against the bill.
Ryan argued after passing the budget deal that more needs to be done to reduce the deficit and worried that a clean debt ceiling did little to improve the nation's finances. "This is a missed opportunity," Ryan said in a statement after the vote. "We need to pay our bills today and make sure we can pay our bills tomorrow. I'm disappointed that the President and Senate Democrats refuse to get serious about our fiscal challenges."
The clean increase is a disappointment for many Republicans, who had hoped to use the pending Feb. 27 deadline to raise the country's borrowing limit as a bargaining chip, wanting to extract significant, if not equivalent, spending cuts. Even those who didn't see that as a possibility wanted something in return for raising the debt limit, such as changes to the Affordable Care Act or Keystone XL pipeline.
Oklahoma Republican Rep. Tom Cole voted against the clean bill. "The president, honestly, I don't think should be rewarded for refusing to negotiate."
But that doesn't mean he has ill words for the 28 Republicans who voted for the clean bill. "They deserve probably the red badge of courage or something like that. They took a hit for the team," Cole said. "But this is something Democrats wanted and they got what they wanted."
In contrast to recent debt ceiling fights, conservatives largely weren't calling for a knock down drag out fight. "What I've heard from other members is that this is not going to be the hill that they're going to die on," Rep. Michele Bachmann has said.
House Republican leadership abandoned the dollar-for-dollar plan early on, worried about the prospect of Senate Democrats rejecting the legislation. On Monday night, leadership floated the idea of attaching legislation to reverse unpopular reductions in military retirees' pensions, hoping to attract Democrats as well as their own members.
But a lukewarm reception from rank-and-file Republicans and assurances from Democrats and the president that they would not accept anything but a clean debt limit increase, forced Republicans to back off.
Despite the saga that led to final House vote, including weeks of floating sweeteners for an increase, no one was in a fighting mood on Tuesday. The House Rules Committee hearing on the debt ceiling rule opened and closed at lightening-speed. Ranking Democratic Rep. Louise Slaughter entered the hearing room and said, "let's call a quorum and get this over with."
The bill now heads to the Senate, and Majority Leader Harry Reid has said he will move the legislation "as quickly as we can." President Obama has already indicated that he would sign a increase in the nation's debt limit, as long as House Republicans agreed not to attach any strings to the legislation.