House GOP's Debt Limit Plan Is Slap in the Face to Paul Ryan
Republicans agreed Monday night to overturn a Ryan provision in exchange for a debt-ceiling vote.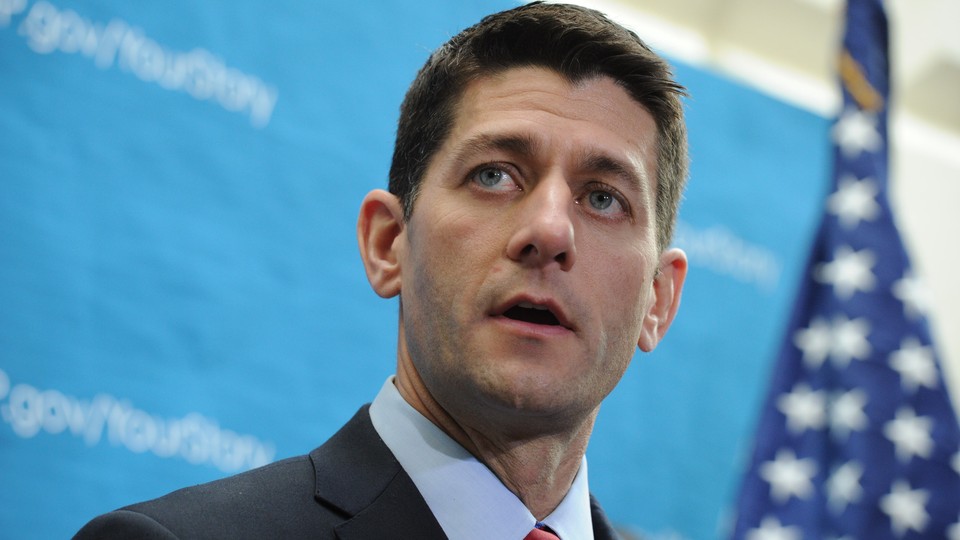 House Republicans agreed on a plan Monday to increase the debt ceiling, weeks before Treasury Secretary Jacob Lew has indicated the U.S. will default. The proposal is likely to earn the backing of a bipartisan group of members and pass the House easily on Wednesday.
But in all of the back-slapping over House Republicans' avoiding another last-minute battle over the nation's finances, one clear loser stands out: Rep. Paul Ryan.
To get an agreement that would attract their own members and Democrats alike, House Republicans threw one of their own under the bus just two months after he accepted congratulations alongside Sen. Patty Murray as the two who beat the odds and not only formulated — but passed — a two-year budget deal in one of the most intractable Congresses in memory.
House Republicans agreed to their plan to raise the debt limit Monday evening, adding it to legislation that would repeal cuts to retired military personnel's pension plans, says Rep. Dennis Ross of Florida. Ryan specifically pushed for those cuts in his negotiations with Murray late last year. That repeal will be paid for by extending sequestration for mandatory spending by one year. That extension won't come for 10 years.
Ross said GOP reaction to the plan was "mixed." The proposal does not have the support of the full Republican caucus, according to several other GOP lawmakers, but leadership will whip Monday night to find out where they stand.
Asked about the plan Monday night, Paul Ryan repeatedly said, "I've got nothing for you."
Ryan, who has championed entitlement reform since taking over the chairmanship of the House Budget Committee, pushed hard for the cuts during the budget negotiations, knowing he wouldn't be able to get a larger entitlement overhaul past the Democratic Senate.
But the piecemeal approach to the overhaul of military pensions alone, which does not even take effect until the end of 2015, has proven to be a popular target.
Neither party seemed thrilled with the cuts in the first place, and several members of both parties cited the COLA changes in their decision to oppose the budget deal in December. The cuts have also been the target of several bills in the Senate over the last few weeks. In fact, at the time House Republicans were pitching their plan to membership, the Senate voted to invoke cloture on a bill that would reverse the cuts.
Murray was quick to distance herself from the cuts, pushing legislation that would reverse the cuts for disabled veterans and those receiving survivors' benefits. Ryan supported the latter move, but has held fast to his belief that the cuts are just the first step in a much longer, and necessary, process of overhauling the military pension system as a whole, noting that payments to retirees rose nearly 50 percent between fiscal 2002 and fiscal 2012.
Ryan has noted that he is open to other options — as long as they are paid for and deal with the larger issue of a ballooning system. Congress formed a commission in 2012 that will release its recommendations for a more complete overhaul in early 2015.
"I stand behind the need for reform."¦ For me, there's simply no choice between responsible reforms of military compensation and making what our military leadership has called 'disproportionate cuts to military readiness and modernization.' Every time we kick the can down the road, we put our troops' combat readiness at risk," Ryan wrote in a USA Today op-ed. "This agreement put forward one reform option, and I invite others to do the same."
But Monday's debt-limit agreement is hardly the kind of reform plan Ryan was looking for. It rolls back the cuts without providing any proposals for future alterations to the pension program.
In one sense, House leadership's calculus is simple: A small, but significant, force of conservatives will not support a debt hike without major concessions, and they're unlikely to get them. Rep. John Fleming, a member of the Republican Study Committee, estimated that 40 Republicans are in that camp and would oppose any of the debt-ceiling options leadership is considering. It's a simple equation — Speaker John Boehner had to put something on the floor that will attract Democrats.
A restoration of the COLA cuts could certainly do that, and bring in a number of Republican votes as well. Those in the House majority who are forced to vote for the debt ceiling hike will be able to go home to their constituents with the message that they voted to restore funding for our veterans.
However, the proposal does little for the House Republican Conference, which initially called for spending cuts in exchange for raising the debt limit. Rather than reducing the deficit, reversing the military pension cuts will actually cost $6 billion through 2025. Even if Republicans manage to find a suitable pay-for, the fix will have a neutral effect.