High Court Questions EPA's Power on Climate-Change Permits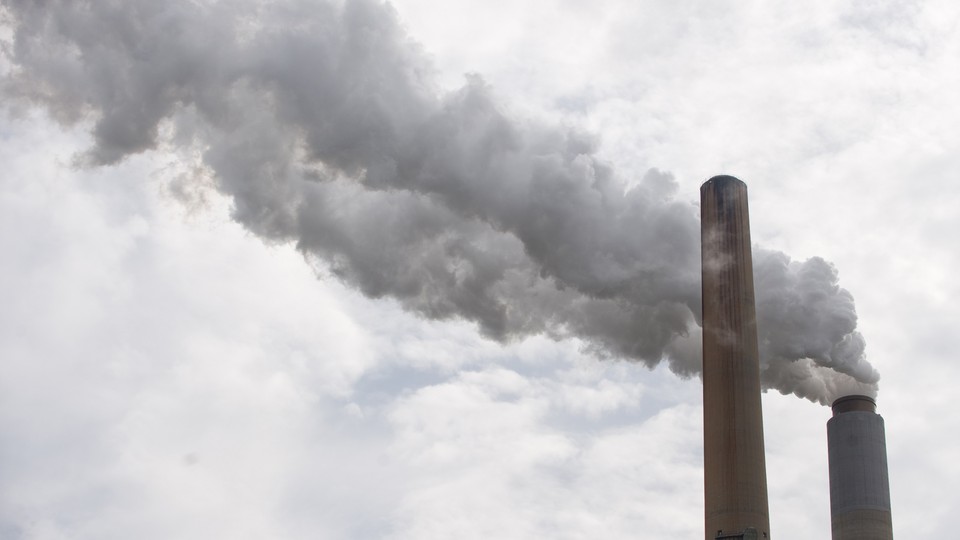 Supreme Court swing vote Anthony Kennedy and conservative justices cast skeptical eyes Monday on the Environmental Protection Agency's greenhouse-gas permit requirements for large industrial polluters.
But the Court showed no appetite for upending its landmark 2007 decision in Massachusetts v. EPA that established the agency's overall authority to regulate greenhouse gases, efforts slated to include national carbon-dioxide rules for coal-fired power plants.
Instead, justices focused on the much narrower question before the Court: whether EPA abused its discretion by including greenhouse gases in case-by-case permitting for large new and modified sources, such as factories, power plants, and refineries.
"I couldn't find a single precedent that strongly supports your position," Kennedy told U.S. Solicitor General Donald Verrilli at one point during Monday's oral argument.
Industry groups and conservative states battling EPA regulation say the agency is unilaterally rewriting Clean Air Act permitting rules to include greenhouse gases in a way that Congress has not authorized.
"Congress does not establish round holes for square pegs," said Jonathan Mitchell, the solicitor general of Texas, one of several conservative states challenging EPA's permit requirements.
"The proper response ... is for EPA to conclude that Congress never delegated regulatory authority over greenhouse gases in the [prevention of significant deterioration, or PSD] and Title 5 programs," he told the justices Monday, referring to the long-standing air-pollution permit programs that, under the Obama administration, were expanded to include greenhouse gases.
The Court's liberal justices appeared supportive of EPA employing its discretion to interpret provisions of the air law that apply to the permitting program.
"Why isn't that a classic case of deference to the agency?" asked Justice Elena Kagan, citing the Supreme Court's 1984 decision in Chevron U.S.A. Inc. v. Natural Resources Defense Council Inc., which awards deference to federal agencies to interpret laws in cases where the statute itself isn't clear.
Similarly, Justice Stephen Breyer repeatedly raised the idea that federal agencies have leeway to interpret statutes to avoid unintended outcomes, noting at one point that laws have "implicit" exceptions "all the time."
But conservative Justice Antonin Scalia said: "I don't have as expansive a notion of reading exceptions into a statute that are not there as Justice Breyer does."
Thus far 141 facilities have received greenhouse-gas permits since the PSD permitting program began addressing climate change in 2011, according to published reports.
The PSD program requires use of so-called best-available control technology to limit various pollutants, which for greenhouse gases has largely meant increased energy efficiency thus far, Verrilli said.
A decent chunk of Monday's argument focused on EPA's decision to only begin regulating greenhouse gases at an emissions level that far exceeds the amount that triggers regulation of other pollutants under the Clean Air Act's permit rules.
EPA called this decision needed to avoid sweeping up a vast and unmanageable number of small businesses and other emissions sources in the permitting net.
But industry groups and states challenging EPA argue that unless the greenhouse-gas permitting is stopped in its tracks, the agency will eventually start mandating permits for increasingly smaller businesses and facilities.
They also say that the permitting program should not be applied to greenhouse gases because they don't have acute, localized public health effects in the areas where they're emitted.
Verrilli rebutted that argument. "It's not at all unusual that the EPA would be regulating emissions in one place because ... they impose effects hundreds or even thousands of miles away," he said.
In addition to defending the specifics of EPA's permit program, Verrilli broadly framed his arguments around the need to confront global warming, which he called the "gravest environmental problem that we face."
"There really is an urgency here, you know, and that's part of what's driving EPA in this situation," he said.
At the moment, the permitting case appears unlikely to create any new jeopardy for EPA's broader efforts to regulate greenhouse-gas emissions.
In particular, the agency is crafting national emissions standards for power plants that rely on a separate provision of the Clean Air Act than the permit program before the Court on Monday.