Greens Still See Red on Nuclear Power
Major environmental groups are rejecting pleas from climate scientists to embrace reactors.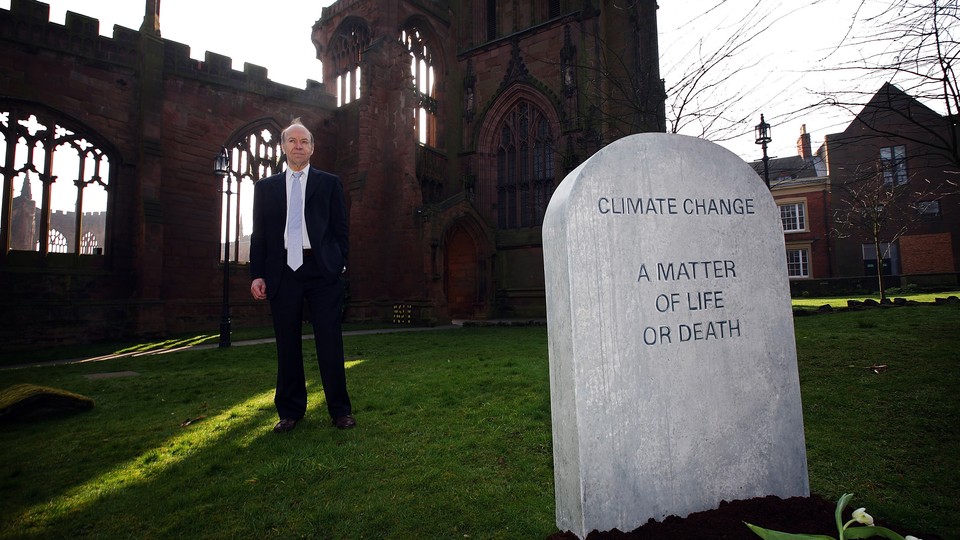 A lot of people following the ongoing fight over the Keystone XL pipeline have heard the words of retired NASA climate scientist James Hansen.
It was Hansen who said fully exploiting Canada's oil sands would be "game over for the climate," a phrase that became a battle cry in the movement against the pipeline.
But while Hansen is a hero to many within the green movement, environmental groups are nonetheless hostile to another Hansen view: that nuclear power is essential to attacking climate change as global energy demand rises.
Along with three other prominent climate scientists, Hansen penned an open letter to environmental groups in November about nuclear power, warning that "continued opposition ... threatens humanity's ability to avoid dangerous climate change" and urging them to push for "development and deployment of safer nuclear energy systems."
No sale. Major groups such as the Sierra Club, Greenpeace, and the Natural Resources Defense Council haven't budged in their opposition to a nuclear build-out.
"The [Sierra] Club recently reviewed our entire energy policy, including nuclear, and concluded that it is not only a bad deal for public safety and the environment, but it also doesn't work economically," said Maggie Kao, a spokeswoman for the Sierra Club, one of the country's biggest and most politically influential green groups.
The unwavering opposition among several major environmental organizations isn't sitting well with Hansen, and he's comparing them to, yes, the very global warming skeptics they often lampoon.
"It is analogous to climate deniers. Their minds are made up, facts don't matter much," Hansen said in an email exchange.
Hansen told National Journal he hasn't had discussions with green groups on the topic since he wrote the letter along with scientists Ken Caldeira, Tom Wigley, and Kerry Emanuel.
"I cannot change their position. That change will require pressure from environmentalists. People need to understand the situation and put pressure on the environmental organizations, for example by withholding financial support until they become (honestly) open-minded and scientific," said Hansen, who left NASA last year but remains affiliated with Columbia University's Earth Institute.
Hansen doesn't think getting environmental groups to embrace reactors is a lost cause. "I am hopeful that some of them are beginning to change, but it is too early to tell."
He also believes that there's more support among the green-minded than the formal positions of environmental groups might suggest. "Environmental groups and environmentalists are two very different entities," said Hansen, who first testified about global warming before Congress in the 1980s.
"It seems to me that there are a lot of environmentalists who are beginning to look into the facts and appreciate the potential environmental advantages of intelligent development of nuclear power," he said, calling rejection of nuclear a de facto acceptance of hydraulic fracturing for gas and continued reliance on coal.
To be sure, there's a long list of financial and political barriers to building new reactors in the United States.
Steve Kerekes, a spokesman for the Nuclear Energy Institute, the industry's main trade group, said environmental opposition isn't anywhere near the biggest hurdle to building the first new U.S. reactors in decades.
Even a major antinuclear group isn't claiming that activists are what's hindering the industry's long-hoped-for but slow-to-materialize "renaissance" of new U.S. construction. "Wall Street and Main Street have both rightly abandoned nuclear power," said Jim Riccio, a nuclear-power analyst with Greenpeace.
The U.S. natural-gas boom has driven down gas costs and helped make the fuel highly attractive to power companies, while renewables like wind and solar — though still a very small fraction of U.S. electricity — are on the march too. The Japanese nuclear disaster also put a spotlight on safety concerns.
And growth in U.S. power demand is slow, which Kerekes points to as a key reason why the number of reactors under development is at the lower end of the industry's earlier forecasts.
Just a small handful of nuclear projects are going forward. Power companies Southern and SCANA are building four new reactors in Georgia and South Carolina, while the Tennessee Valley Authority is completing construction of a reactor that it had abandoned in the late 1980s.
Would support from green groups help spur development of more plants? "It couldn't hurt," Kerekes said.
Hansen argues that antinuclear activists have "surely" been a key factor behind the slow pace of new reactor development.
Right now nuclear plants provide roughly one-fifth of U.S. electricity. The Energy Department's statistical arm, in a recent forecast, predicted that nuclear's share will actually dip in coming years and then rise after 2025 as more generating capacity comes online.
But the increase won't be enough to make nuclear a bigger part of the overall U.S. mix. The department predicts that nuclear plants will supply 16 percent of U.S. power in 2040. Kao, the Sierra Club spokeswoman, said the nuclear argument is a sideshow. "Outside of a couple nuclear plants, nothing is moving forward, and this is only a live debate for pundits and industry lobbyists," she said.
"I don't know when our next assessment will be, but the economics, public safety, and environmental factors going against nukes seem unlikely to change for some time," Kao added in an email.
However, a few contrarian environmentalists are continuing to try and move the needle on nuclear energy. They argue that it's a crucial tool to bring the reductions in carbon emissions needed to avoid the most dangerous warming scenarios. New reactor technologies, they say, mitigate the safety risks and address waste problems.
The 2013 documentary Pandora's Promise makes the case for nuclear power on climate grounds. The film includes pronuclear commentary from Michael Shellenberger, cofounder of the Breakthrough Institute, an environmental think tank prone to telling big green groups that, basically, they're doing it wrong.
Ted Nordhaus, Breakthrough's cofounder, said environmental groups' hostility toward nuclear power gives them a big credibility problem when it comes to offering a "plausible path to mitigate emissions."
But he also sees a subtle shift. "We're not hearing much of the old scare tactics about low-level radiation exposure and meltdowns but now greens are just doubling down on the economic arguments," Nordhaus, the group's chairman, said in an email. "This, sadly, still constitutes progress."