GOP to Colleagues: Increase Debt Limit or Harry Reid Will Do Worse
House Republicans are trying to scare their members into voting for a debt-ceiling increase.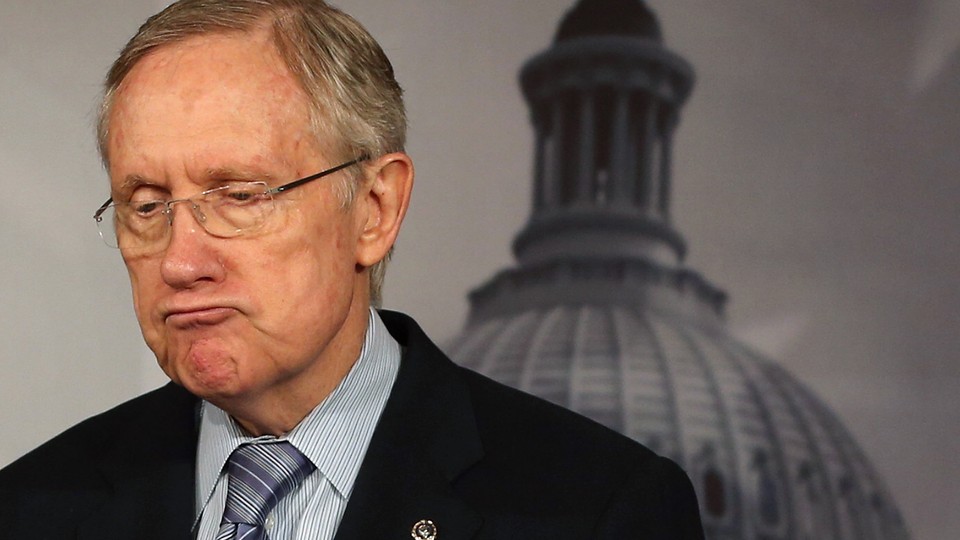 Worried that they don't yet have the 218 votes to pass a debt-ceiling increase within their caucus alone, House Republican leaders are trying a new tactic to get their members on board: fear. But that fear may be misplaced.
After meeting with members, leadership has learned it does not have sufficient Republican votes to pass a debt-ceiling increase with either the Keystone pipeline or changes to the Affordable Care Act's risk corridors attached. Earlier this week, those were the two most common measures cited by House Republicans as potential offsets for increasing the debt limit. But a Congressional Budget Office report showing that the health care provision will actually reduce the deficit on its own if left in place, and members' feelings that they will likely get Keystone anyway and should ask for more within the context of the debt fight, have reduced support for both provisions.
Seeing a ticking clock on the wall — Treasury Secretary Jacob Lew warns that the debt limit must be lifted by the end of the month, at the very latest, to avoid default — House leadership and a number of Republican members have pushed the idea in recent meetings that if they don't act on the debt ceiling soon, Senate Majority Leader Harry Reid will. And, they warn, he'll attach an extension of unemployment insurance benefits, guaranteed to gain traction with Democrats in both chambers, but also guaranteed to cause heart palpitations among Republicans because it may not be paid for.
"We have to recognize that we're not the only people who can play offense," said Rep. Tom Cole of Oklahoma, who is close to House leadership, on Wednesday. "If the Senate wants to start moving, it could. And far better for us to have the initiative, so to speak, than be sitting here reacting to whatever the Senate sends over."
That fear could get more Republicans on board with a debt-ceiling agreement — perhaps even a clean increase — but the threat appears to be an empty one.
Reid likely doesn't have the votes for an unemployment-insurance extension to begin with. And the Senate is already scheduled to take up a three-month fix on Thursday.
Senate Democrats are not discussing such a debt-ceiling plan with anyone, according to a senior Democratic aide. And they would look hypocritical trying to do so, after spending the past several weeks calling for a completely clean increase in the nation's debt limit.
House Republicans are still uncomfortable with the concept of a clean debt-ceiling increase. While hard-line conservatives, convinced that they won't get what they want from leadership anyway, are pushing for a clean increase just to end the battle, leadership is worried about the idea of forcing dozens of GOP members into the vulnerable position of having to join Democrats on the vote.
"The very people that are recommending that would be the first people to condemn the folks that vote for it."¦ When you recommend a clean vote with no effort, you're just basically saying, 'But 20 or 30 of you guys can go off and get beaten to death, and we don't really care whether you do or not,' " Cole said.
House leaders haven't yet given up on getting to 218 with Republicans alone, however. And they're considering a dizzying number of provisions to attach to the debt-limit increase to get there.
The Washington Post reports that members are looking at a plan that would tie a fix for cuts to military pensions in a larger debt-ceiling package. The cuts, which were part of December's budget agreement, face major opposition on both sides of the aisle and a fix could attract sufficient votes in both chambers. But Republicans want any fix to be paid for.
That also represents a slap in the face to House Budget Chairman Paul Ryan who championed the COLA cuts in the budget negotiations late last year.
Another option would be an extension of the "doc fix" formula that reimburses physicians under Medicare. The fix also has strong bipartisan support and could be helpful in bringing members of both chambers on board. A three-month fix was included in the budget deal that passed Congress in December, while members continue to haggle over a longer-term solution.
Neither option, however, would reduce the impact of raising the debt ceiling. And neither comes close to the "Boehner rule," hatched in 2011, which mandates that any increase in the debt limit be offset by similar spending cuts. That informal rule remains popular among House Republican members.
"I think there are things that could be in place there that would make a large bipartisan vote likely. But they're not the kind of things I'd prefer. I'd prefer to do something that actually lowers the debt or lowers the deficit," Cole said. "But I don't think that's going to be possible."