Does Obama Have What It Takes to Pass a Trade Pact?
Unlike Bill Clinton, this president is skipping opportunities to press the issue.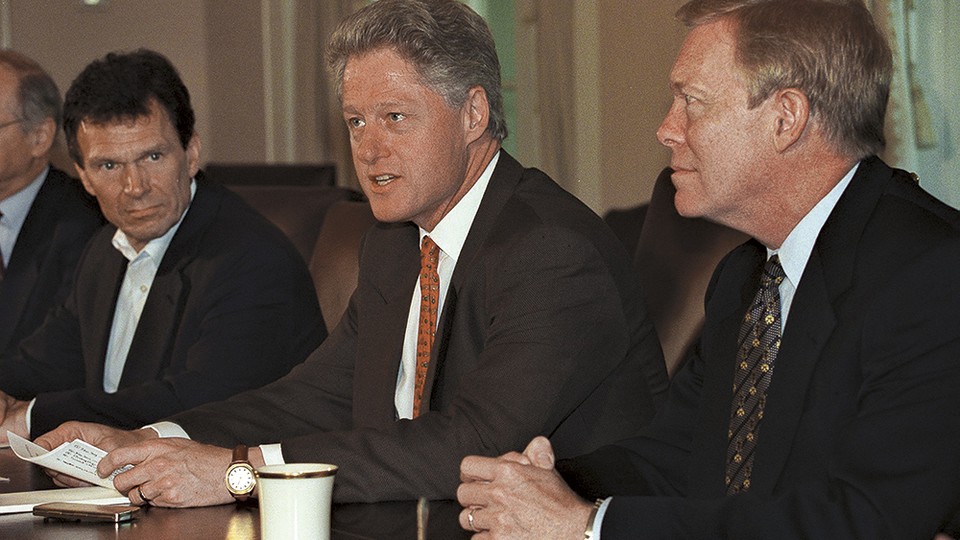 My long-scheduled interview was not going according to plan. Breaking news had intervened; Americans the night before had watched in horror as crowds dragged the body of a dead U.S. soldier through the streets of Mogadishu, Somalia. This was President Clinton's first chance to voice his anger about the infamous Black Hawk Down battle, and that's what he did. When the presidential limousine reached the airport in Los Angeles, a White House aide indicated the interview was over before I could broach other topics. "I'm sorry we didn't get to NAFTA," I said apologetically as I reached for the door. The president, who had been somber up to that point, smiled for the first time. "But I want to talk about NAFTA," he said enthusiastically, blocking my exit. And, ignoring the entreaties of his aides, who wanted Air Force One to take off, the president kept me in the limo for another 20 minutes, holding forth on the trade pact he was trying to push through Congress.
The point was inescapable: This was a president who deeply believed in the trade fight and wasn't going to miss any chance — even when it wasn't politically opportune — to discuss it. Times have changed.
Today the question concerns the Trans-Pacific Partnership involving 12 nations, including Japan, accounting for 40 percent of world trade, and the Transatlantic Trade and Investment Partnership talks that began last July between the European Union and the United States. In trade shorthand, they are TPP and TTIP. And they are DOA in Congress unless President Obama can find the votes for TPA (trade promotion authority, formerly called fast-track.) Yet unlike Clinton, he is skipping opportunities to press the issue.
Obama calls himself a free-trader, as all 12 of his predecessor presidents since the Great Depression did. But he is ambivalent in a way those presidents weren't, which makes it harder for him to win over skeptical Democrats in Congress. They find it easier to listen to organized labor and a progressive community that sees trade agreements like NAFTA, TPP, and TTIP as giveaways to big corporate interests.
The focus of the battle today is trade promotion authority because European negotiators say they won't make concessions if American lawmakers will simply rewrite the treaty terms. TPA would prevent that. But many in Congress felt burned by NAFTA and are unwilling to surrender any of their power to any president, much less a president lagging in popularity who doesn't seem to care all that much.
Yes, Obama did mention trade in his State of the Union address — barely, a mere 56 words in a 7,130-word speech. "We need to work together on tools like bipartisan trade promotion authority to protect our workers, protect our environment, and open new markets to new goods stamped 'Made in the U.S.A.' " Not exactly the hard sell.
Clinton, by contrast, staged the single most effective event of its type in the past several decades — an East Room gathering to which he brought three former presidents (George H.W. Bush, Jimmy Carter, and Gerald Ford) to lobby for the pact. Clinton's speech that day was so passionate and so persuasive that Bush, still stinging from his defeat less than a year earlier, commented almost in awe, "Now I understand why he's inside looking out and I'm outside looking in." But Clinton didn't stop there. He gathered members of the Kennedy family to suggest that JFK would have backed NAFTA, and he reached out to Republicans, telling them he would not campaign against them if they voted for the treaty.
It was another era. Today's Republicans would be disappointed if Obama did not campaign against them. And where Clinton's goal was getting 100 Democratic votes in the House, backers of TPA today would like to get 50. Clinton ended up getting 102; Obama would be lucky to get 10.
Further complicating Obama's task is the makeup of the Republican caucus. In 1994, most Republicans practiced the chamber-of-commerce brand of conservatism; in 2014, the tea party defines the caucus. Its adherents like low tariffs, seeing them akin to low taxes, but they also distrust treaties and what they see as a surrender of sovereignty. And they really hate anything Obama backs, no matter how ambivalently.
A partial explanation for that ambivalence is that the president seems to view trade treaties in a fundamentally different way than Clinton did. "He is interested in trade if there is a larger geopolitical goal behind it," says one business lobbyist working with the White House on trade. "So TPP is about the pivot to Asia. TTIP is primarily about China and a better transatlantic relationship. What gets him excited is the big picture. For him, it is more a foreign policy issue than it is an economic issue." The lobbyist added that he sees an ongoing battle inside the White House between policy and political advisers. "I was told, 'Trade only costs us political capital, and we don't have any to spare.' "
It's true: Progressive have proved very organized and very effective against TPA, stressing a conflict between trade treaties and the president's campaign against income inequality. "You can either take on income inequality or you can try to pass these trade agreements. But you can't do both," says Neil Sroka, communications director at the liberal Democracy for America.
The president will have to choose. The odds are against him prevailing on trade. But he has no chance at all if he doesn't take a page from Clinton's playbook, find his voice, and start making an effective case.