Crude Rush Becoming an Explosive Issue
Volatility of oil from North Dakota eyed as key factor in recent fiery train crashes.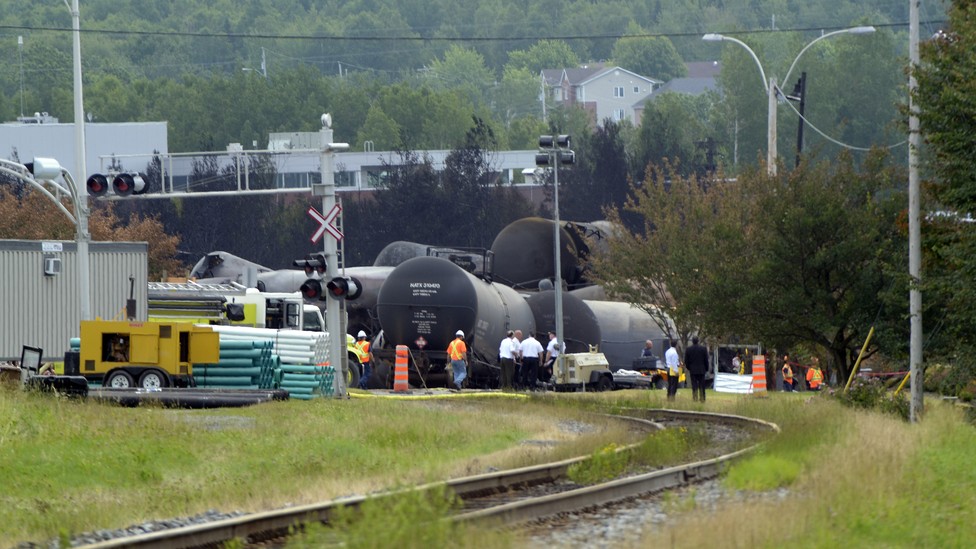 In the roiling debate over oil-by-rail safety, concern over the volatility of crude pulled from North Dakota's Bakken Formation is increasingly taking center stage.
A series of derailments involving tank cars carrying crude oil from the region have sparked massive explosions, including one in Lac-Megantic, Quebec, in July that resulted in dozens of fatalities and another that forced the evacuation of Casselton, N.D., in late December. The accidents sent shock waves across the country, in part, because while crude is flammable, it typically isn't explosive. In response, federal regulators are sounding alarms.
"Recent rail crashes involving Bakken crude have indicated that the type of product moved in the region may be more volatile than other crude oil, which is why properly classifying hazardous materials is a vital first step in minimizing risks," said Cynthia Quarterman, administrator of the Transportation Department's Pipeline and Hazardous Materials Safety Administration.
PHMSA wants its warning to carry weight. And in a show of seriousness, regulators announced plans on Tuesday to fine a number of oil and gas producers, including Hess and Marathon Oil, for classification and shipping violations. The fines result from an agency investigation that indicates improper labeling and classification of crude may be widespread.
PHMSA also issued a safety alert last month that Bakken crude, much of which is extracted through hydraulic fracturing, or fracking, may be more volatile than conventional crude.
"What we're seeing with Bakken crude is that it acts more like gasoline than heavy crude," said the head of the National Transportation Safety Board, Deborah Hersman.
Shippers are required to determine the composition of the crude before loading it onto the rails. This determines what kind of tank car is used. But in the rush to bring the oil to market, public safety advocates say shippers may not be properly testing and classifying the crude. And that could be deadly. In the case of the Lac-Megantic accident, for example, Canadian safety inspectors later determined that the crude oil had not been properly labeled and packaged.
"To transport it safely, you have to make sure that it's been tested and appropriately classified, because that's the only way you can be sure that it's being put in the right kind of car," Hersman said. "And we're not seeing that happen on a consistent basis."
Representatives from the oil and natural-gas industry who are evaluating safeguards for crude-by-rail shipments also say that oversight of shipping and classification is at the top of their list.
"We're having ongoing conversations about how to make these shipments safer, and we spent the last couple of days in meetings talking about testing and classification," said Jack Gerard, president of the American Petroleum Institute, the largest trade association for the oil and gas industry.
Enforcement may be inadequate, however.
"It's one thing to have rules and regulations on the books, but the problem right now is the follow-through. If there's not continuous, effective monitoring, then there are going to continue to be accidents," said Lloyd Burton, professor of environmental policy at the University of Colorado (Denver).
There's also the question of why Bakken crude is so volatile.
PHMSA is testing samples from the region to find out more about its makeup. An investigation currently underway by the National Transportation Safety Board looking into a derailment in North Dakota is also likely to provide some answers.
There is growing consensus that the volatility is naturally occurring.
"What we're seeing is a lot of volatile chemicals and explosive gases mixed in with the crude that's coming out of North Dakota," said Scott Smith, chief scientist at Water Defense, a nonprofit dedicated to promoting clean water. "In my opinion, though, this has nothing to do with the chemicals that get used in fracking. It's just what's coming out of the earth."
All of this is important because a surge in U.S. oil and natural-gas production resulting from advances in drilling techniques has led to an exponential increase in the volume of crude being moved by rail. North Dakota is now the second-largest oil-producing state in the country after Texas, and the vast majority of crude moving out of the state is being transported by rail.
As regulators and industry stakeholders drill down on classification and labeling, they're also engaged in a much larger conversation over how to stop derailments.
"Testing and classification is one of the issues that we're looking at right now, but it's just one piece of the puzzle," Gerard said. "There's prevention, so you've got to make sure we keep the trains from going off the tracks in the first place, then there's mitigation that comes down to tank car design, testing, and packaging, and finally there's the response mechanism. And we've got to make sure we're getting all of it right."
For now, crude-by-rail safety is sure to stay in the spotlight.
In addition to the increased scrutiny given to the issue at DOT and within the industry, lawmakers are also clamoring to talk about how to make shipments safer.
Both of North Dakota's senators, Democrat Heidi Heitkamp and Republican John Hoeven, have put pressure on DOT to finalize a rule that will strengthen safety standards for tank cars commonly used to transport crude.
Heitkamp said in an interview this week that Sens. Mark Warner, D-Va., and Roy Blunt, R-Mo., have promised to hold a hearing on the issue in the Senate subcommittee overseeing rail safety.
"I anticipate notice of that soon," Heitkamp said. "I imagine we will hear more about that in the next couple of weeks."