Cory Gardner's Run Shows GOP Expects a Promising Year
Top-tier candidates continue to jump in, as Obamacare weighs down Democrats.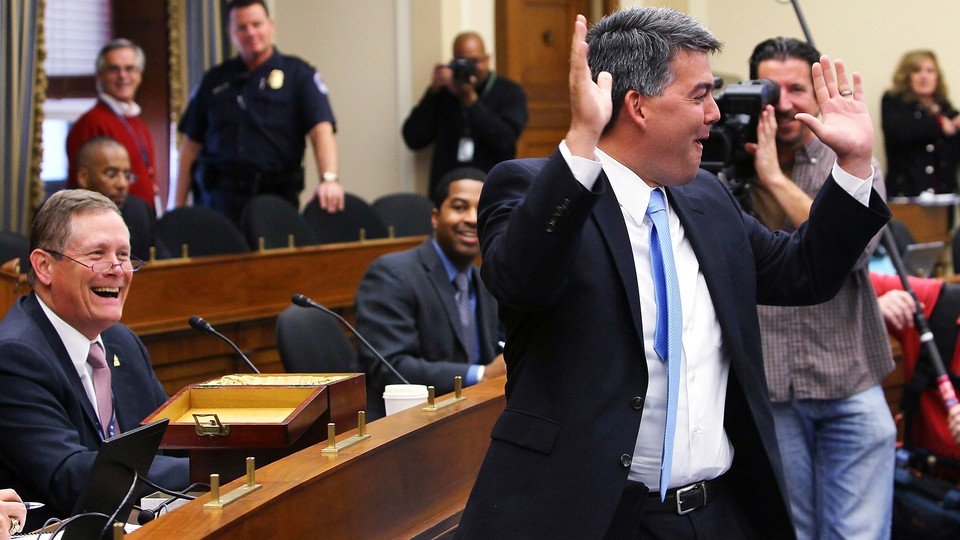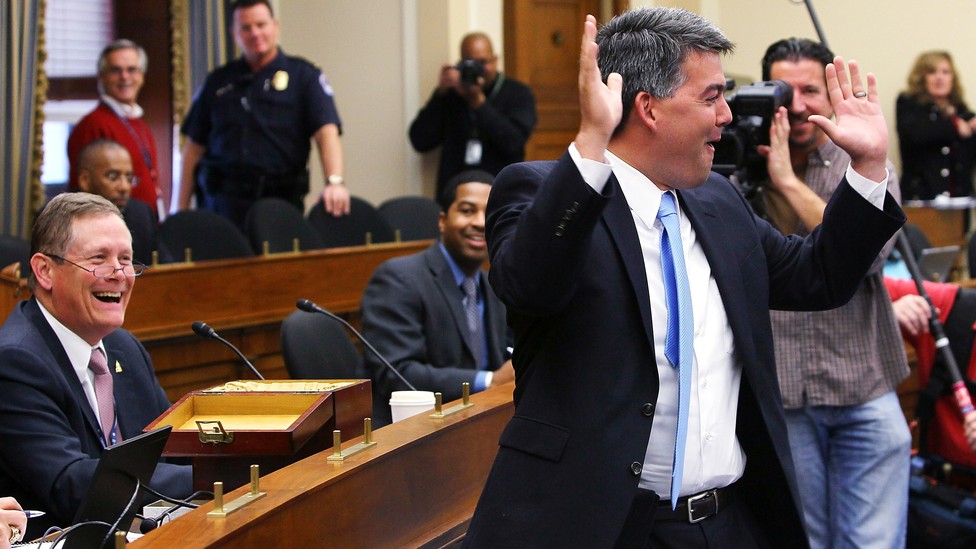 Surprise decisions by a slew of top-tier Republican challengers to enter this year's Senate race show that the GOP really does believe Obamacare's disastrous implementation will deliver a sweeping set of victories in November.
The best and most recent example came Wednesday, when The Denver Post reported that Rep. Cory Gardner of Colorado will challenge Democratic Sen. Mark Udall. The move shocked Washington's political establishment: Not only was the two-term congressman risking what looked like a bright future in the House, but he had announced last year that he wouldn't run for Senate. At the time, Udall looked nearly impossible to defeat in blue-trending Colorado.
But that was before Obamacare's website malfunctioned and people lost their health insurance, a political boondoggle that has dragged on Democrats' poll numbers everywhere. Now, Gardner clearly sees a path to victory that wasn't there before Obamacare's troubles — one wide enough to risk his political future on. And he's not the only Republican to make that calculation.
Former Republican National Committee Chairman Ed Gillespie also unexpectedly launched a campaign earlier this year, taking on Democratic Sen. Mark Warner of Virginia. The popular incumbent had drawn little opposition before Gillespie's entrance, but Gillespie said the Affordable Care Act gave him a chance at victory. And though he might ultimately pass on a campaign, Scott Brown's potential run against Democratic Sen. Jeanne Shaheen in New Hampshire has been encouraged by sinking Democratic approval numbers.
But it's one thing to argue, as Republicans have for months, that they're poised to win big because an unpopular issue is dragging down the opponent. It's another thing entirely for credible Republican candidates to bank an entire candidacy on it.
"Over the last few months as we've watched Obamacare and the president decline and a commensurate decline in Udall's numbers, there's been almost a, 'Darnit, why don't we have a stronger candidate get in this race?' " said Dick Wadhams, a longtime GOP consultant in Colorado. "There was not a clear-cut challenger out there with the stature to raise money and articulate issues."
"Well, we've got that today," he added. "Cory unites the party, and appeals to all those critical swing voters. He's just a game-changer."
GOP hopes were boosted further when the party's 2010 Senate nominee, Ken Buck, announced he would end his campaign against Udall and run for Gardner's old congressional seat, according to the Greeley Tribune. His exit will help the GOP avoid a messy primary. State Sen. Owen Hill and state Rep. Amy Stephens remain in the primary, but GOP insiders in Colorado expect Stephens — the nominal choice of the establishment who has struggled to raise money — will bow out of the race soon.
The GOP needs to win back a net of six seats to take control of the Senate majority. Gardner's entrance represents, to date, the high-water mark in the Senate Republicans' attempt to expand the 2014 map beyond the core group of seven red states defended by Democrats (Alaska, Montana, West Virginia, South Dakota, Louisiana, Arkansas, and North Carolina). Along with the emergence of Republican Terri Lynn Land in Michigan, the party has three credible candidates running in blue states controlled by Democrats — and four if Brown runs in New Hampshire.
The GOP isn't the favorite to win any of the blue-state campaigns, at least not yet. But their candidates will put Democrats on the defensive.